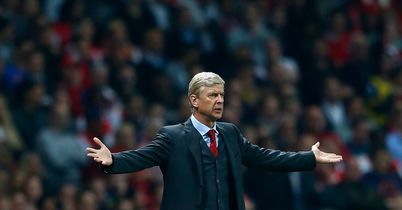 Mark Holmes suggests the end is nigh for Arsenal manager Arsene Wenger, but says Brendan Rodgers deserves more time at Liverpool.
End is nigh for Wenger
Arsenal captain Mikel Arteta declared himself "shocked" on Saturday after the Gunners were beaten 2-1 by Manchester United at Emirates Stadium despite dominating possession and creating several good chances.
He put the first goal down to "bad luck" but did at least acknowledge a lack of "ruthlessness" in front of goal had ultimately cost them the game.
On the one hand it is easy to feel sympathy for Arsenal: they
were
the better team and should have won the game based on chances created, but on the other it is hard not to give more credence to the words of the club's shareholder Alisher Usmanov,
who has spoken of a failure to learn from mistakes and hinted that Arsene Wenger finds it difficult to accept his
.
He also admitted Arsenal "need to strengthen every position" to challenge the top clubs in Europe, although he hinted at a frustration that Wenger has not spent all of the money available to him in recent times.
It is the most damning indictment of Wenger's management of the club yet.
There is little doubt the Frenchman had his hands tied for several seasons while the club paid off their new stadium, and he deserves enormous credit for consistently delivering Champions League football during that period.
There is no longer a lack of finance to blame, though - that has been made quite clear by all at the club - and so it is becoming increasingly hard to point the finger at anyone other than Wenger for the deficiencies that continue to exist in the team.
Arteta may have been shocked by the defeat to United, but few others will have been surprised to see them miss chances - they have not bought a natural goalscorer since selling Robin van Persie - and pay the price for being too open at the other end - Wenger's refusal to spend serious money on the spine of his team looks more ludicrous by the passing week.
There is every chance that Arsenal will once again recover to secure a top-four spot but, even if they do, Usmanov's comments put forward the clearest argument yet that perhaps the end is nigh for their long-term leader.
Rodgers needs time at Liverpool
After Liverpool suffered their sixth defeat in 12 Premier League games on Sunday, several historical Brendan Rodgers quotes began to do the rounds.
One was made prior to the game against Chelsea in April when the Reds' title charge was first derailed.
"Look at Tottenham. If you spend more than £100 million, you expect to be challenging for the league," Rodgers had said, justifiably, in an attempt to reduce the pressure on his side.
"It's not difficult to coach to just get 10 players right on your 18-yard box," Rodgers said after the game, which Chelsea won 2-0, going on to say Liverpool's game is "based on being offensively creative as opposed to stopping."
He also said Chelsea's approach would "prepare us for Crystal Palace", but Rodgers clearly did not learn the lessons of that crushing defeat at Anfield and has still not learned them now.
Liverpool continue to play attacking football and continue to leave themselves open at the other end, with the difference between this season and last simply that Luis Suarez and Daniel Sturridge are not around to mask the long-standing defensive issues.
Rodgers believes it is easy to defend in numbers; with Suarez gone, Sturridge out injured, Raheem Sterling out of form, and several summer signings still finding their feet, perhaps it is an approach he should consider to steady the ship.
At the very least he must consider a change in personnel - Liverpool fans believed he had dropped players for
that
game in Madrid, but that Dejan Lovren continues to be picked ahead of Kolo Toure, who was excellent at the Bernabeu, is beginning to seriously grate Reds fans.
However, despite all his mistakes and his failure to learn from them, it is unfair that Rodgers is already starting to come under pressure from sections of the media and the supporter base.
Chris Bascome, for instance, who falls into both categories, says,
'there is so much to repair at Anfield the construction company looking at the new Main Stand may need to look closer at the plans.'
Yet on the eve of the new season he had
tipped Liverpool to finish third
and said there was
'no reason why Liverpool can not be a threat again this season'.
He also said it was 'illogical' to 'presume Liverpool will ape what happened at White Hart Lane post-Gareth Bale'.
He was not a lone voice. Most Liverpool fans were happy with Rodgers' transfer dealings back in August, all and sundry had hailed their attacking approach to the game last season, and on these pages at least there was plenty of confidence the team could challenge for the title again.
Just 12 games into the new league season, with a raft of summer signings still adapting, the loss of Suarez still being felt, Sturridge out injured and Sterling out of form, is it really that much of a surprise that Liverpool are struggling? And what could Rodgers do about any of those factors?
Defensively he undoubtedly needs to have a rethink - out-of-form players cannot continue to be picked, and there may need to be a realisation that Steven Gerrard is simply not the right man for the holding role - but Liverpool are no worse defensively this season than they were last.
Rodgers has a lot to learn but he at least deserves time to prove his approach to the game can deliver results - without Suarez - once Sturridge is back, Sterling rediscovers his form, and new players have truly settled in.
Handbags
The football media loves to be permanently outraged, and that was perfectly highlighted by the reaction to three off-the-ball incidents in three separate Premier League games over the weekend.
The most high-profile saw Jack Wilshere shove his head into Marouane Fellaini in response to the Belgian going down rather easily to win a free-kick during Manchester United's win at Arsenal.
The general consensus was that Wilshere was extremely fortunate not to be sent off, with referee Mike Dean bizarrely deciding against even a booking despite his clear view of the incident.
Fellaini, meanwhile, was
comically praised for his honesty
despite the myriad of sly offences he gets away with on a regular basis, including a push on Kieran Gibbs in this very game that led to United's opener.
Still, by standing tall amid Wilshere's attack Fellaini did at least ensure criticism was rightly aimed at the perpetrator. Unlike Jan Vertonghen.
The Tottenham defender was kicked off the ball by Hull's Gaston Ramirez but because he drew attention to it by falling to the floor - if, indeed, he was not genuinely felled by Ramirez's hook, which is not certain - it is he rather than the perpetrator that has come in for criticism.
Both Wilshere and Ramirez were guilty of offences which in the current age of fussy refereeing were worthy of red cards but in reality were relatively mild acts of petulance that should both have been punished by yellow cards. The outrage that follows such mild acts of aggression is quite bizarre.
The third incident of the weekend saw Everton midfielder Kevin Mirallas scythe down West Ham's Morgan Amalfitano before exchanging shoves with James Tomkins, who hilariously fell to the floor clutching his face.
This was the one incident in which both players received the correct punishment, Mirallas a booking for the foul, and Tomkins a booking for the attempt to con the referee.
The fact that the two players were in actual fact likely booked for a shove apiece only serves to highlight the inconsistency in the way these incidents are dealt with - and viewed by the media.