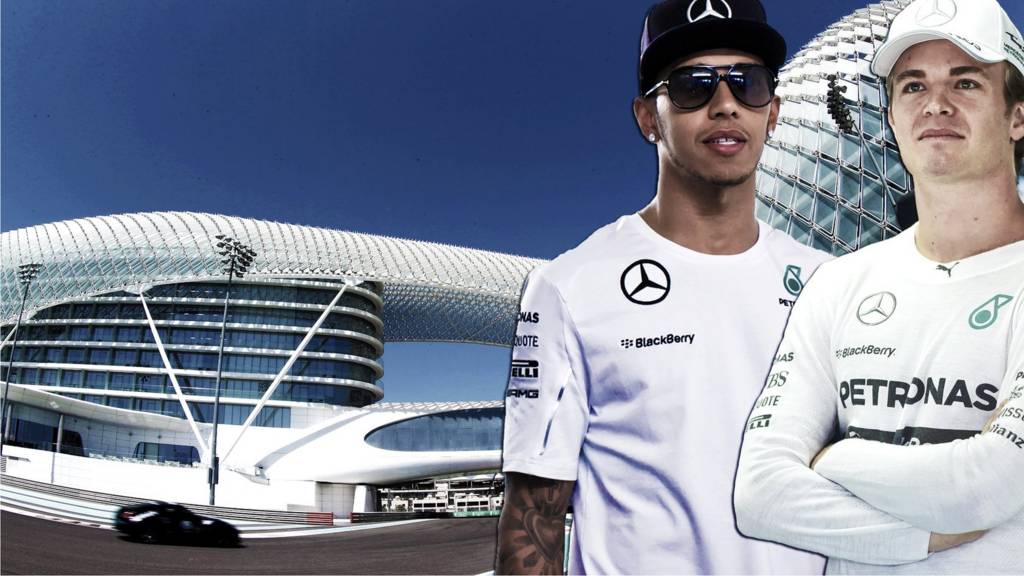 Right then, time for this session to get interesting. Williams' Felipe Massa is the first of the frontrunners to put on the super-soft tyres for his qualifying-simulation run.

The Brazilian is told to get straight into the run and do three timed laps.

"Red Bull looked decently close to Mercedes on race pace on Friday but neither driver seemed to have much confidence they could challenge them, nor did they appear to have the inclination. 'I don't really want to interfere with Mercedes in the race,' said Sebastian Vettel (pictured).

"'It would be nice to race them and beat them, but I think realistically they are a bit far away.' Team-mate Daniel Ricciardo, right behind Vettel in fifth place in second practice, said: 'Mercedes are … yeah I won't even mention them! But anyway, they're fighting for the title so we'll let them go, but as for the rest it looks pretty tight as always for third place.'"

Sydney River:

Wonder what colour trousers Eddie & DC will be sporting this weekend? Where does one actually buy yellow or pink trousers?

If Nico Rosberg wins the title on Sunday, only two other drivers in the sport's history will have started more grands prix before winning their first World Championship.

Those two drivers are both British - Jenson Button (who won the 2009 world title after 169 starts) and Nigel Mansell (pictured, who triumphed in 1992 after 176 starts).

Matt: F1 needs Lewis to win this championship to make right the questionable decision on double points!! By far the superior driver.

It's a glorious day in Abu Dhabi, but it's worth noting that conditions will be significantly different by the time qualifying comes around.

The floodlights will be on, as darkness falls, and crucially, the track temperature will be much lower than it is now. It'll be much warmer than it is in the UK, mind.

"There was a yawning chasm between Mercedes and the rest on Friday, but the expectation is that Williams will fill that on Saturday. They did not have the best of days. Cooling holes cut into the car's bodywork led to an unforeseen problem - a build up of pressure inside the bodywork that led to a sidepod being ripped off on Valtteri Bottas's car, an incident which would have been repeated with Felipe Massa had the Brazilian not spotted the beginnings of it and slowed down. That cost the team all of first practice, and in the second session neither driver was happy with his car. It was not, a Williams man grumbled, a good day."

Fernando Alonso's session is over, the Spaniard has changed into his civvies and is sat at the back of the garage, sunglasses on, obviously.

His Ferrari team have decided to change the engine, following yesterday's problems, but it's within his allocation so he won't get a penalty.

That said, the team are keen to save mileage ahead of tomorrow's race, hence his early finish in this session.

Lewis Hamilton can't beat his team-mate this time around, the Mercedes driver slotting into third 0.128 seconds off the pace.

Here's how they stand: 1) Ros 2) Alo 3) Ham 4) Bot 5) Mas 6) Vet 7) But 8) Rai 9) Kvy 10) Ric

Nico Rosberg goes fastest on the soft tyres with a 1:42.635, 0.018 seconds quicker than Fernando Alonso, who set his lap on the super-softs.

It's been a quiet session for Lewis Hamilton and Nico Rosberg so far, but they've both just headed out on the soft tyres. Thirty minutes gone, but 30 still remain.

The German has the most retirements during 2014 with seven and is facing his first campaign without scoring a point since 2008.

Worse still for Sauber, the Swiss team are facing the first pointless season in their existence as an F1 constructor since making their debut back in 1993.

Sutil is currently 16th fastest, 2.9 seconds off the pace and three tenths slower than his team-mate Esteban Gutierrez.

Vivienne Marcheline:

Its has to be Lewis!! No question! He earned it throughout the #F1 Season!! His reward is the #Champion

Matt:

Rosberg pole, Lewis win.

Lisa Holmes:

Depends if Mercedes let Lewis Hamilton down or Nico's dirty driving comes into play!! If all is fair, it's Hamilton's for sure!

Here's an interesting stat for you - the driver who tops this session has only taken pole position six times in 18 races so far this season.

Just six drivers have topped the times in FP3 - Lewis Hamilton, Nico Rosberg, Fernando Alonso, Sebastian Vettel, Daniel Ricciardo and Valtteri Bottas.

Max Chilton is in the Abu Dhabi Grand Prix paddock, perhaps hoping to do a deal to keep him in the sport next season. The Briton is without a drive after Marussia went into administration and subsequently folded.

Mercedes:

Opening FP3 runs complete - no times set but all in working order. Feedback and setup tweakery before we let 'em at it...

He's currently second quickest, eight tenths off the pace set by Fernando Alonso, who completed his lap of 1:42.653 on the faster super-soft tyres. That looks like it was his qualifying run.

Phil Slocombe:

Lewis Hamilton looks unfazed by the fact this is the biggest race for the championship; he has put the pressure on Nico during FP 1& 2.

What the papers say

The final race of the season is understandably front-page news in the Gulf, with

Gulf News carrying an interview

with the BBC's David Coulthard, who believes Lewis Hamilton would be a deserving winner of the title because of his superior record (see 09:45 entry) to his rival and team-mate Nico Rosberg.

It is also the dominant story in a lot of the British newspapers, with the

Independent asking if

Lewis Hamilton will be Britain's unappreciated double world champion, while the

Daily Mail's Martin Samuel says

"Hamilton is cold and spiky, but that's why he is a winner".

Lotus:

Safe to say that it won't rain this session.

Fernando Alonso's time of 1:44.581 is currently good enough for top spot. Daniil Kvyat is second, three tenths off the pace, with Jean-Eric Vergne third and Jenson Button fourth.

Lewis Hamilton and Nico Rosberg headed back to the pits without setting a lap time.

"There was a lot of attention on McLaren on Friday here, the team bringing a new Red Bull-inspired front wing as they look to 2015. Kevin Magnussen ran it and professed that he 'thinks it's positive for the future'. The wing is a different approach to aerodynamics than McLaren have pursued in recent years, in that it aims to produce more consistent downforce, so the car is more usable, rather than higher peak downforce but with the risk of instability. It worked exactly as the team expected, Magnussen said.

"But they will not use it again this weekend as, on the current car for which it was not designed, it is slower. It was a terribly fractured day for Jenson Button, with the first session lost to a suspension problem and half the second to a hydraulics issue, he does not have the time to experiment with new parts. Button was doing his best to keep smiling, though. Asked if there were any positives from the day, he said: 'There's a good selection of ice-creams and I liked my coffees, so that's a positive, I guess.'"

Title contenders Lewis Hamilton and Nico Rosberg are out and about. Soft tyres are the order of the day for now. Expect to see the super-softs later in the session.

Fernando Alonso is the first man to set a timed lap, the Ferrari driver keen to make up for lost time after failing to set a lap time in second practice on Friday following an electrical problem.

Go! Go! Go!

The final, er, final practice of 2014 is under way with the Williams of Valtteri Bottas the first man out under bright blue skies.

The Abu Dhabi GP organisers know how to put on a show. As well as the on-track action, a series of concerts close out each day. Yesterday, DJ Armin van Buuren was in action, with The Who and Pharrell Williams set to take the stage over the next couple of days.

"Pole position would mean a lot to both Mercedes drivers this weekend - but who is going to get it? Nico Rosberg will want it because it gives him the best possible chance to win the race - which he realistically needs to do to have a chance of winning the championship. Lewis Hamilton will want it for pride reasons - he has been out-qualified by his team-mate this season overall - and because he wants to go out in style, by taking the title with a win, rather than following Rosberg home. Although he has hinted he will do exactly that if necessary. Who is favourite to start at the front of the grid?

"After Friday, you would have to say Hamilton. He edged Rosberg for fastest lap in both sessions, was quicker on low fuel, and by a much bigger margin on high fuel (although this was probably too big a gap to be properly representative, as something like 0.5secs a lap). He was working the tyres less - uniquely suffering front degradation when everyone else was struggling with the rears. And he simply looked more impressive, especially in the final sector of the lap here, where he has always been spectacularly good. 'I always love driving this track,' Hamilton said, 'but the car is the best I have ever driven here. It is really fantastic. It is very close between us and I am just working away to chip away at it.'"

So here we are, at the final race of the season. And what a season it has been. Where has the time gone, eh? Well now seems like a good time to reflect on the best moments of 2014. The BBC F1 team have done it already - and you can watch their memories here. Fire over your thoughts via the #bbcf1 hashtag, texting 81111 (UK only) or leave a comment on the BBC Sport Facebook page.

Carl Dolan:

Excitement mounts here in Abu Dhabi #bbcf1 - unfortunately means I am missing the #Bromsgrove Xmas light switch on with my family.

In a season where 450 points have been up for grabs, just 17 separate Lewis Hamilton and Nico Rosberg. Who deserves the world title? Well here are the stats - I'll let you decide.

Mercedes:

Chairman Niki up early to oversee the morning fire up!

So final practice will kick off at 10:00 GMT with live coverage on BBC Two, the video console at the top of the page and on BBC Radio 5 live sports extra. That session will last an hour and provide the teams with one final chance to tinker with their motors. We'll also see drivers complete a qualifying-simulation run, on the super-soft tyres, ahead of the final qualifying session of the year.

"The sun is shining as it does on, well, just about every day here in the Gulf and the stage is set for a fantastic showdown in qualifying as the sun sets on Yas Marina later on. The atmosphere has been building through the weekend, and tension is mounting as the decisive moment of this particularly intense and focused title battle approaches.

Lewis Hamilton or Nico Rosberg? The two Mercedes team-mates have one more hour of practice, starting at 1000 GMT, to hone their cars ahead of qualifying. Friday was advantage Hamilton, by the smallest of margins. But who has done what Hamilton described as their 'homework' best overnight. The next hour or so will provide vital clues."

Pressure? What pressure? It's 'just another weekend' according to Lewis Hamilton, who along with title rival Nico Rosberg plays down their day with destiny.

Hello and welcome to the penultimate day of the Formula 1 World Championship. After eight months and 18 races, we have arrived in Abu Dhabi with the title fight still alive and kicking.

Lewis Hamilton leads Nico Rosberg by 17 points. Ordinarily, that would mean the Briton needs just a sixth place finish tomorrow to guarantee the title. But this isn't an ordinary race. Oh no.

We have double points, leaving 50 points on the table for the winner. That means Hamilton needs second, if Rosberg wins. So folks, it's all to play for.

Lewis Hamilton nailed it on Friday, laying down a marker as he headed both practice sessions. Can he carry that momentum into final practice and more crucially qualifying later today?