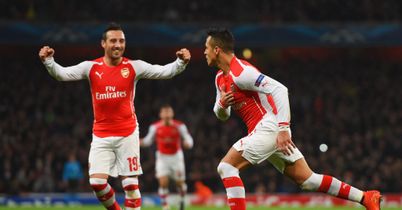 We assess all the permutations affecting Arsenal, Chelsea, Liverpool and Manchester City ahead of Champions League Matchday 5.
Six teams have already sealed their place in the last 16, but there are still 10 spots up for grabs and plenty of clubs can secure progress on Matchday 5.
Arsenal and Chelsea are leading the way for the Premier League and can both make it through to the knockout stages in their next match, while Liverpool and Manchester City have a bit more work to do if they are to join their domestic rivals.
We assess all the permutations – who can go through and who might go out – ahead of Matchday 5 of the Champions League group stage…
Group A
Atletico Madrid v Olympiakos
Malmo v Juventus
A draw could be enough for
Atletico Madrid
to seal their place in the last 16 if
Juventus
fail to win in Malmo, but victory would mean they will definitely go through. Victory for
Olympiakos
in Spain will not be enough for the Greek side to guarantee progress because Atletico face the Italian champions in Matchday 6.
Malmo
will be eliminated with anything but victory over Massimiliano Allegri's men.
Group B
Basel v Real Madrid
Ludogorets v Liverpool
Real Madrid
are already through, and can confirm their place as group winners by securing at least a draw in Switzerland. The second spot is still attainable for all three of the other teams, but if
Basel
avoid defeat to Carlo Ancelotti's men then
Liverpool
will go out if they lose to
Ludogorets
, who also face elimination with defeat.
Group C
Bayer Leverkusen v Monaco
Zenit v Benfica
A draw for
Bayer Leverkusen
will be enough to progress, but if Benfica do not win in Zenit the Germans will go through regardless. Because
Monaco
play
Zenit
in the final matchday, defeat for
Benfica
in Russia will result in their elimination.
Group D
Anderlecht v Galatasaray
Arsenal v Borussia Dortmund
Borussia Dortmund
are already through and will progress as group winners with a draw at Emirates Stadium. A draw would also suit
Arsenal
, who just need a point to make it into the last 16.
Anderlecht
and
Galatasaray
both know failure to win means they will be eliminated, while the victors will also need the Gunners to lose.
Group E
CSKA Moscow v Roma
Manchester City v Bayern Munich
Bayern Munich
can relax knowing they have definitely topped the table, but the rest of the group isn't so simple. If
Manchester City
fail to beat the Germans, they could be eliminated as
Roma
can qualify with victory in Russia.
CSKA
, meanwhile, can qualify for the last 16 on Matchday 5 if they beat the Italians by at least four goals and Man City do not win.
Group F
Apoel Nicosia v Barcelona
PSG v Ajax
PSG
and
Barcelona
are already through to the next round and are now battling it out for top spot. If Luis Enrique's men fail to win, victory for the Parisians would ensure they win the group, but it's more likely to go down to their meeting in Matchday 6.
Apoel
and
Ajax
are fighting for the Europa League place and the Dutch champions will take third if they win in Paris and the Cypriots lose.
Group G
Schalke v Chelsea
Sporting Lisbon v Maribor
Chelsea
are in the best position to go through and can advance with a game to spare if they win in Germany.
Schalke
currently occupy second spot but everyone can still go through, although defeat for
Maribor
at
Sporting
means they are definitely out of the running.
Group H
BATE Borisov v FC Porto
Shakhtar Donetsk v Athletic Bilbao
Porto
are definitely in the last 16 and they can go through with victory at
BATE
if Shakhtar do not win against
Athletic Bilbao
, who have already been eliminated.
Shakhtar
can join the Portuguese club in the last 16 with a point at home to Athletic.