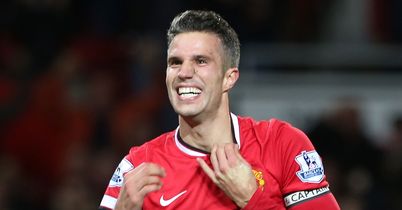 Manchester United manager Louis van Gaal says Robin van Persie is struggling for confidence in front of goal and admits the striker had "a very bad game" against Arsenal last weekend.
Van Persie only touched the ball 13 times against his former club, three of which were while taking corners, before Van Gaal replaced him with 18-year-old James Wilson for the last 15 minutes.
Indeed, in the whole of 2014, the Dutch striker has scored only eight goals in 21 Barclays Premier League games.
Van Gaal said: "I do think 13 is few for a striker. I want to improve that. You can count his touches on the ball but more important is how he is playing.
"It was a very bad game for him. That is why I changed him. When I change a player, it is not because he is the best player on the pitch. You are doing something wrong. I believe in the players. When I change them, normally, it is because they are doing something not good in their performance.
"When you pick up this match it is easy to put a question about 13 touches. Okay. But strikers do not touch the ball often. That is their profession.
"Now I have a surprise for you. I had an international striker, Mario Gomez. He touched the ball nine times during Bayern Munich matches in my time."
Asked what Van Persie needs to do to get back to the level of being the best striker in England, the United boss added: "It is a question of confidence, or maybe scoring a wonderful goal at the right moment.
"You know how strikers are. They have to score goals. They feel like that. It is not that I am asking that. I have said they have to be an attacking point and help our team in the third and fourth phase. For me, it is not important who scores. The team has to score."
Van Gaal also warned Van Persie that he will have to fight for his place as he prepares to welcome Radamel Falcao back to his squad after injury.
Falcao's loan spell at Old Trafford has been disrupted by injuries, but Van Gaal is hopeful he will be in the squad for today's visit of Hull.
Asked if Falcao's return would increase the pressure on Van Persie, Van Gaal said: "Every player in my selection has to fight for his position and I shall always take the best of the players and it must also be suitable for the mix of players. So it is also an obligation of a player that he does that."