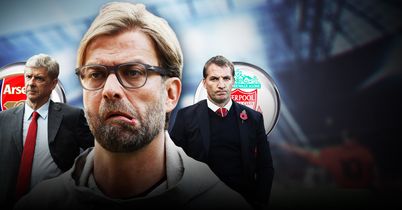 With Jurgen Klopp linked with Arsenal and Liverpool, Matt Stanger and Adam Bate present the cases for and against the Borussia Dortmund boss.
The Case for Klopp
So here we are again. It's late November, Arsenal are in crisis and that sound you can hear is Hewlett-Packard furiously printing 'Wenger Out' on A4 sheet after A4 sheet.
This is what football reduces us to: middle-aged men spending their short winter evenings carefully conveying their frustration in glorious Comic Sans. No, you can't finish your school project, Thierry. Daddy's got some very important work to do.
It does seem that Arsenal are crawling towards a crossroads at which point Arsene Wenger may very politely be begged to move upstairs, or leave, or just stop making the same exasperating mistakes year after year. Eventually the time will come when Ivan Gazidis must pluck up the courage to grab a quick word. Surely it has to.
Arsenal have been a living fossil for the past decade, perfectly captured by the last week which brought a soul-crushingly predictable defeat to United and news of Abou Diaby's inclusion in the Champions League squad ahead of Olivier Giroud.
Forget the prognosis of the striker's ankle injury, presuming that Diaby is going to be fitter than any other human at any given time is the sort of show of faith that landed the club in this mess. It's admirable that Wenger affords that level of trust, but it's also death by a thousand cuts.
Despite Alisher Usmanov's tasty comments on Monday, Arsenal are likely to stick with the man they handed a new three-year contract back in the summer when he was sowing seeds of sadness by failing to address the defensive shortage and lack of steel in midfield.
But there is a tempting alternative to persisting with Wenger which appears to be considered with all the solemnity of the nuclear option at the Emirates.
One of the greatest things about the game is its tendency to throw up 'sliding doors' moments. On Wednesday, Arsenal and Klopp will meet at the Emirates.
Perhaps they'll brush hands, perhaps Klopp will get all giggly and say something Arsenal finds adorable. Who knows? But there has been no better opportunity for the two to get romantically entwined.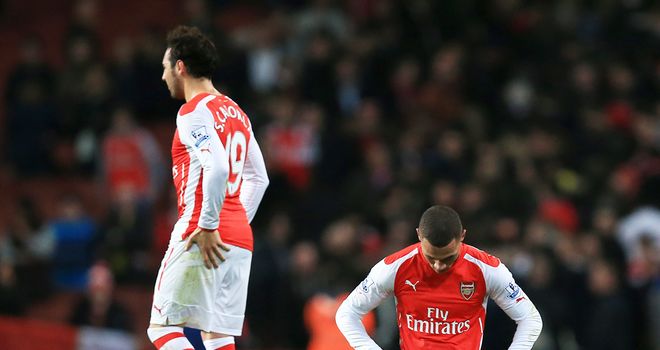 On the previous occasions Klopp has managed against Arsenal, his commitment to Dortmund has been unyielding.
But then Bayern scorched the earth, Dortmund stopped winning, relegation became an unexpected yet suddenly very real possibility and Klopp said this: "I think it (England) is the only country where I should work, because it's the only country I know the language a little bit, and I need the language for my work. If somebody will call me, then we will talk about it."
That's right, he actually said it. For once it isn't conjecture or something conjured up by superbrilliantfootierumours.net (who also do a great trade in Vines and amusing tweets you've already read on Twitter); Jürgen Klopp genuinely said those words, issuing a pretty unequivocal come-and-get-me plea to the Premier League.
Of course, Arsenal may have concerns over Dortmund's current Bundesliga form, but it would be deliberately obtuse to ignore Klopp's success over the past six seasons.
Despite Bayern dwarfing Dortmund's spending power, Klopp has led the club to two Bundesliga crowns, the DFB-Pokal, two DFL Supercups and the Champions League final. And all this was achieved with a brand of enthralling flowing football that used to be Arsenal's hallmark.
With Liverpool also thought to be monitoring his situation, this may be Arsenal's only chance to capture theoretically the ideal replacement for Wenger.
This isn't United following Sir Alex Ferguson with David Moyes; Klopp possesses the power of personality to walk into the Emirates as Wenger did Highbury in 1996, embrace the club's culture, and yet be strong enough to impose his own ideas. Ideas that have been successful elsewhere at the highest level.
In truth, this should no longer be the big decision that has been billed. Gazidis ought to be tempted to throw a net over Klopp on Wednesday night and get him to dot the Us there and then.
If Arsenal lose again, it will be difficult to stem the tide of anti-Wenger sentiment. Change is needed and, after making himself available, Klopp is the man to bring it.
The Case against Klopp
With Liverpool making their worst start in 22 years and Arsenal fans having to go back another decade to find a more miserable opening to their campaign, Jurgen Klopp's arrival on English soil is beautifully timed for everyone but Brendan and Arsene.
A flash of a grin and that roaring laugh will likely see a swooning English media fall for the charismatic German all over again.
His Borussia Dortmund side visit the Emirates as the top dogs in Group D and one of only three teams - alongside Real Madrid and Bayern Munich - with a 100 per cent record in qualifying. Fresh in the mind too is the 2-0 win that Dortmund conjured up in their previous meeting when they played with the sort of verve and panache that's become a mere memory in north London.
But there's a small problem with the notion of Klopp as panacea for the problems facing Arsenal and Liverpool. Notably that Dortmund's crisis is every bit as troubling as the ones threatening to engulf those colleagues in England that some would have him replace. Twelve games into the Bundesliga campaign and Dortmund are in the bottom three with just 11 points.
Ten games into the season and the German media was abuzz with the shocking statistic that this was the club's worst start in 48 years - alarming given that BVB have actually been relegated in that period.
More pertinently, they have already lost as many games - seven - as in any of the four previous seasons under Klopp. "It's anything but good, what has happened," said the man himself.
Dortmund started badly with a home defeat to Bayer Leverkusen and it's got worse from there. Klopp insists he's in control of the situation, but after calling a home defeat to Hamburg at the start of October "rock bottom" and going so far as to suggest he'd already identified the solution, Dortmund promptly went and lost the next three league games.
A manager can only get away with that talk - attempting to draw a line in the sand - once or twice before the blip becomes a malaise and people begin to doubt he has the answers.
Dortmund have long been better when hitting teams on the counter-attack, but chances to do so are now limited in the Bundesliga as their rivals know what to expect.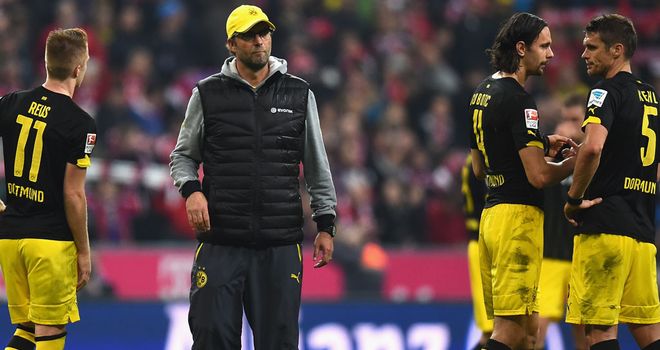 Klopp's focus is on imposing his team's will on the other side through a pressing game that relies on players able to work harder than their opponents.
But there are those now questioning whether Klopp has a Plan B - an ironic criticism given the long-held belief that Wenger pays too little attention to the tactics of the men in the other dressing room.
Rodgers too has been accused of being found out, creating a picture of the Premier League that suggests the would-be-philosophers are languishing while that arch-pragmatist Jose Mourinho is left chuckling from his lofty position at the top of the table at the golden prison his rivals have constructed for themselves.
Klopp was long seen as the alchemist able to bend those prison bars to his will, not only replacing star players such as Nuri Sahin and Shinji Kagawa but even able to bring them back to the Westfalenstadion with nothing to show for their travels but a fistful of dollars and a host of recriminations.
But just as Rodgers has found the departure of Luis Suarez a bitter blow, the exit of Robert Lewandowksi might be one too many for Klopp to deal with. Ilkay Gundogan is reportedly doing interviews revealing his plans to leave, while only an unfortunate injury is likely to keep Marco Reus in the Ruhr beyond 2015.
This is not an attempt to besmirch the reputation of a coach who has achieved marvellous things - those accomplishments will not be erased whatever happens next at Dortmund.
But it is a reminder to fans of Arsenal and Liverpool that any hope there is a coach out there ready to transform their fortunes with a smile and a quip might not be as straightforward as a Champions League group stage table can make it look.