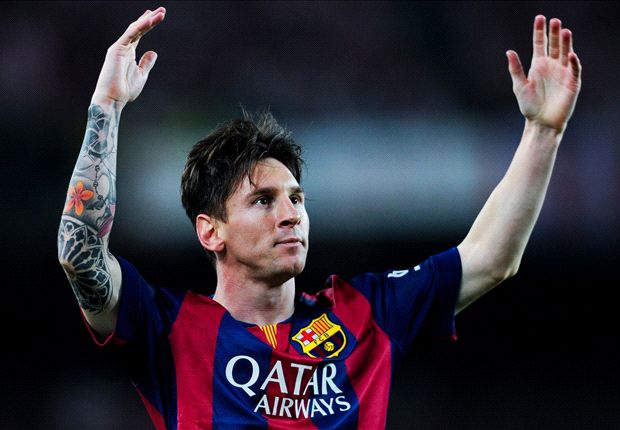 The transformation is total. After starting January on the Barcelona bench amid a fall-out with Luis Enrique and having been blighted by fitness issues as well as suffering World Cup disappointment in the previous year, 2015 began ominously for Lionel Messi.
But five months down the line, the Argentine attacker is back to the peak of his powers and on the brink of leading the Catalan club to an unprecedented second treble as the Blaugrana prepare to face Juventus in the Champions League final on Saturday.
With three goals in his first six games for Barca in 2014-15, it was something of a slow start for Messi this term. But the Argentine soon resumed his habitual scoring streak in November and December, hitting three hat-tricks in four games - against Sevilla, APOEL and Espanyol.
Not that it's all about goals with Leo, anyway. The current campaign has seen the birth of a more mature Messi, now not only a devastating
delantero
but a peerless playmaker, too. Even when he was not scoring so many earlier on in the season, he was hitting Hollywood passes to his team-mates, taking out defenders with astonishing angled balls only he could conjure up.
"Every year he surprises us," Diego Simeone told
Goal
in his latest Champions League column. "Now we expect him to do something different in every single game."
And more often than not, he does. Last Saturday's stunning strike in the Copa del Rey final against Athletic Club at Camp Nou was described as "from another galaxy" by Luis Enrique, while Barca president Josep Maria Bartomeu called it "one of the best goals in the history of football". It sounds like an exaggeration, but it probably wasn't.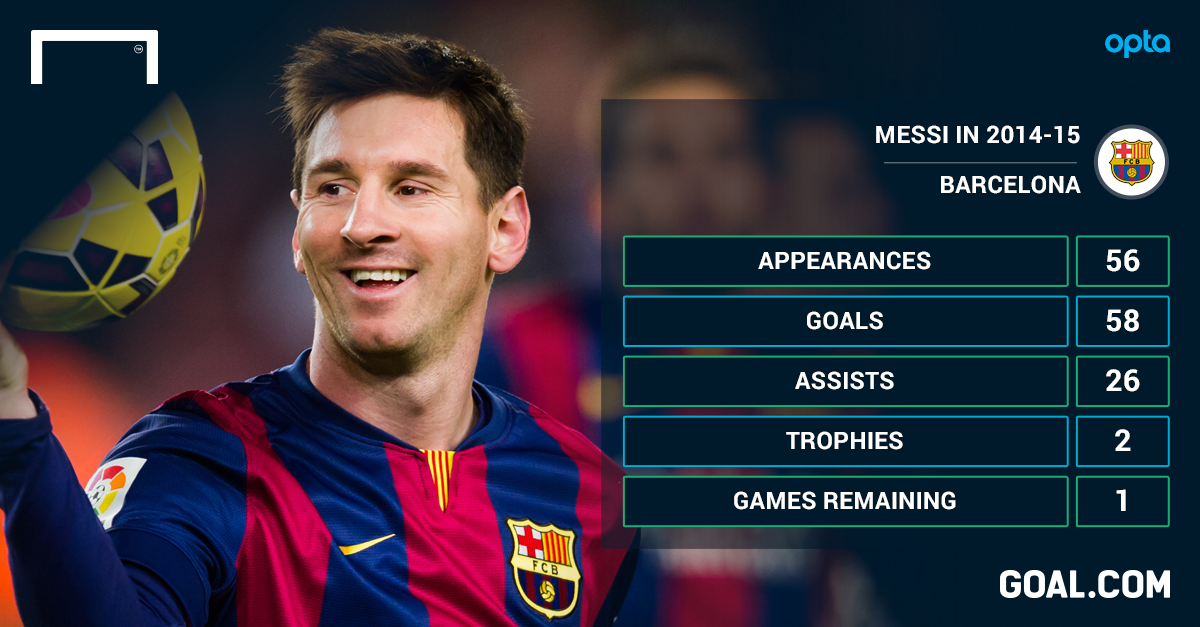 Luis Enrique must take credit for how he has handled this squad since the winter discontent in the Catalan capital, yet it was the players themselves who came up with the idea of Messi returning to the right flank and Suarez starting as an orthodox centre-forward.
"Honestly, I just ended up in the central position during a game by chance, and Leo said to me: 'Stay there'," the striker said in April. "Afterwards the coach saw that we had come up with a good solution by ourselves and we started trying it out. No one officially made the decision, but obviously from then on it was the coach who started playing me as No. 9."
Messi's pallid performances out on the right in the Tata Martino era must have dissuaded Luis Enrique from opting for that particular tactical tweak, yet it works wonderfully with the tireless contribution, commitment and competitiveness of Suarez in a central role, with Leo given license to drop deep and make the play as he sees fit.
"He sees things before anyone else," Simeone added. "That's why he is the best in the world."
In 2015, there is little doubt that last statement is true. And even though he will finish the campaign some way short of his incredible 73 goals in 60 games in 2011-12, this term has seen Messi receive greater help from his fellow forwards in front of goal than during Pep Guardiola's final campaign, while he has also evolved into much more of an all-rounder - a more complete version of an already astonishing player, a fantasy footballer who continues to raise the bar with his sparkling skills.
So forget the numbers. If, as expected, Leo leads Barca to their second treble in six seasons on Saturday, this term will surely have been his greatest of Messi's magical career at the Catalan club. And that's saying something.