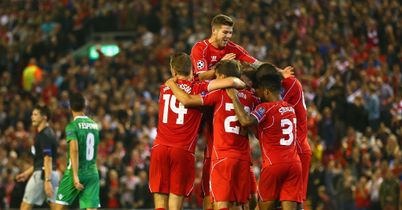 Mark Holmes faces The Farm frontman and Liverpool fan Peter Hooton in this week's prediction challenge, with both men backing the Reds to win.
This season, our man Mark will take on someone from the world of music or celebrity every Friday to predict the outcome of the 10 Premier League games that weekend.
Every correct result is worth one point, while every correct scoreline is worth three points. We will keep a tally throughout the season to see how Mark fares against all of our guests.
After a 13-3 win in week 12, Mark now has 88 points for the season, 25 more than the guests' 63.
West Brom v Arsenal
Mark:
The win over Dortmund in a week will have helped, but Arsene Wenger needs a run of good results in the Premier League to stop the fans from really turning. This should be the first step.
0-2
Peter:
Both teams have lost their last two Premier League matches but I think Arsenal will just be too strong for West Brom, who've only won one of their last six home games.
1-2
Burnley v Aston Villa
Mark:
Burnley defended magnificently at Stoke last weekend and also have a striker who can score goals in Danny Ings. Villa lack that threat in attack but have played pretty well in their last three games and can get a point.
0-0
Peter:
Burnley are in a run of form, winning their last two matches. but Villa need something from this game.
2-2
Liverpool v Stoke City
Mark:
Stoke seem to do exactly what you expect them to this season, winning at Manchester City and Tottenham but losing at home to Aston Villa, Leicester and Burnley. As a Potters fan myself, I hope the theme continues this weekend!
2-0
Peter:
We are desperate for a win, and hopefully the exertions in Sofia won't have damaged our prospects. I would like to see Rickie Lambert and Fabio Borini up front to see if they can form some sort of understanding.
2-1
Manchester United v Hull City
Mark:
They aren't quite 'back' yet, but United's win at Arsenal last weekend will give everyone huge confidence that they are on the right track again. Steve Bruce, meanwhile,
could find himself in trouble
if results don't improve soon.
3-0
Peter:
United's home form is pretty good and they will be confident after their win against Arsenal so I can only see a home victory.
2-0
QPR v Leicester City
Mark:
QPR are gradually improving, but Leicester seem to be going the other way and could well finish the weekend bottom of the Premier League.
2-0
Peter:
QPR's home form has been reasonably good whereas Leicester have struggled away from home so it's a home win for me.
2-1
Swansea City v Crystal Palace
Mark:
Palace were fantastic against Liverpool last weekend but, remarkable as it may sound, this is a much, much tougher game.
2-0
Peter:
Swansea are a decent side at home, winning four of their last six home games, whereas Palace tend to struggle on the road.
3-1
West Ham v Newcastle United
Mark:
Newcastle are going for a seventh straight win and might well fancy their chances of getting it with a few key players possibly out for West Ham. The Irons are strong at home, though, and can nick this.
2-1
Peter:
I never thought I would be saying this but Newcastle are the form team at the moment. However, West Ham are strong at home so a draw is more than likely.
2-2
Sunderland v Chelsea
Mark:
Don't ask me why, but something in my gut tells me Chelsea could slip up here. It certainly won't be easy for them but, to avoid looking daft, I'll go with the form book.
1-2
Peter:
Chelsea seem to be unstoppable at the moment and I think they will just be too strong for the Black Cats.
0-2
Southampton v Manchester City
Mark:
This is a real opportunity for Southampton to prove they can last the distance this season. Win this and they will have to be taken seriously as top-four contenders. Unfortunately for them, City simply can't afford to lose - and won't.
0-2
Peter:
Southampton's home form has been tremendous recently - they've won five of their last six home games - but I think City will put an end to that run especially with the firepower of Sergio Aguero.
1-2
Tottenham v Everton
Mark:
This, for me, is the hardest game to predict of the weekend. Both teams played in Europe on Thursday, and there isn't too much between them in terms of quality, but the fact that Spurs' Europa League game was at home sees me leaning towards them.
1-0
Peter:
Everton's away form has been good recently, and Spurs are struggling at home, but with Everton having travelled to Germany for the Europa I think Spurs might get a draw.
2-2
How did you come to support your club and what are your favourite memories from your time as a fan?
My grandad and dad were both born in the shadow of Anfield and were both staunch Liverpool fans. My earliest memory as a child was going to the ground for reserve games with my grandad. My dad has been a season ticket holder since the 1960s and still goes but only if its 3pm on a Saturday.
I've got so many memories over the years but I would say the best 'experience' was beating Roma in their own stadium to win the European Cup in 1984. As far as the city of Rome was concerned they had already won it and we were the 'sacrificial lambs'- they even had flags all around the city with Roma Campioni 1984 on them, so to win there was unbelievable.
Who have been your biggest heroes during your time supporting the club?
I loved John Barnes; he was quite simply unplayable around 1988/89. I never thought we would witness Brazilian skills at Anfield but Barnes delivered on that score.
Many fans put Dalglish down as the best ever Liverpool player but I tend to go for Barnes; he used to simply walk/ghost past defenders and did things with the ball that we had only seen on Brazilian documentaries.
What do you make of the current team? What are your hopes for the season?
It's been a very disappointing season after the rollercoaster of last season but we just need to grind out a few results. I think it was a mistake to buy so many players with 'potential' but that is the strategy of the American owners, i.e. to buy young 'potential' on lower wages.
It would have been better to go for three proven Premier League players. The buys may or may not come good but I don't think you can buy via a 'transfer committee'; it should really rest with the manager not accountants!
Everyone has a soft spot for another team. Who's yours and why?
It's probably Hibs at the moment because my mate John Doolan is their first-team coach. He was at Wigan last year and it's no surprise that when he left their form suffered.
What's going on for you at the moment?
We've played a few festivals during the summer time over the past few years and have recently helped re-record All Together Now with the Peace Collective and 60 Under-12s from the Premier League Academies and the Bundesliga (two from each club) to commemorate the 100th anniversary of the 1914 Christmas Truce.
So many artists got involved to raise awareness and funds for the British Red Cross and the Thorncliffe Trust. It's an eclectic mix including Suggs from Madness, Mick Jones from The Clash, David Gray, Gabrielle, Amelle from The Sugarbabes, Clean Bandit, Gorgon City, Julian Lennon, The Proclaimers, Alexandra Burke, Holly Johnson, Englebert Humperdinck, John Power, Jon McClure from Reverend and The Makers, Shara Nelson from Massive Attack, I Am Kloot, Garry Christian, Jona Lewie, Leo Sayer, Jah Wobble, Jermaine Jackman from the Voice, Jane McDonald, Paul Potts...the list goes on!
Text GET PEACE to 84222 to buy the single and help @PeaceForXmas up the charts at Christmas. You will receive the track on 15/12/2014.
This season Mark has been most overly optimistic about Arsenal, who have claimed some 12 points less than he has predicted, but has seriously underestimated the abilities of Southampton, who have won nine points more than he has predicted.
Attempt to predict the scores of this weekend's games yourself in the comments section below - and be sure to tell Mark next Friday if you better his score.