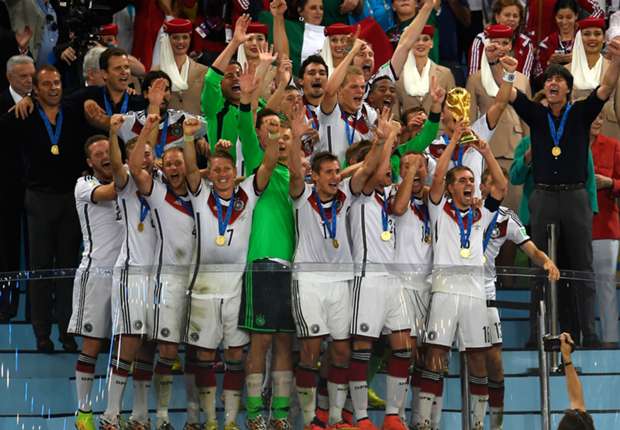 After Wednesday night's elimination from the Africa Cup of Nations, Nigeria must turn inwards to find a suitable football programme that will ensure growth at all levels of the ...
POLICY
| By Destiny Okeowo
Eight countries have won the World Cup, out of the eight; five have won it multiple times and three nations just once. The unique thing which a majority of winners have possessed is an easily identifiable style. Brazil, for many of their domineering years, had a style we all call the
Samba
. The Germans, the recent winners, are known to be mechanically superior to opponents and work hard like machines.
Italy is known for its close defensive units, it plays like a family, and they stay together with discipline. Argentina plays good football relying on one very dependent player with exceptional football skills. Spain, a recent winner brought to the game a tempo not seen before at this level. They were committed to passing and ball possession, waiting for the opponent to make a mistake. They enjoyed arguably the best six years of any national team in history (the European Championship title in 2008, the World Cup in 2010, and the EURO 2012 crown).
The above shows that winning teams all play to styles that are culturally conducive to them; the Italian culture of family, the Brazilian culture of entertainment and dance, the German culture of hard work and the Spanish culture of patience and discipline.
In the same breath, Nigeria once upon a time played football to our cultural traits. We were aggressive (in control), we were enterprising (think of Odegbami, Adokiye, Finidi, Amuneke and Keshi) and we entertained (Okocha, Kanu). But our recent football teams have failed to play to a Nigerian style. The influx of European football on television and the exportation of our players to these European leagues have seriously damaged our football identity. Today, our national team is unpredictable, lacks confidence and is a shadow of a team that was ranked fourth in the Fifa Rankings 20 years ago.
After our crash from qualifying for the 2015 Africa Cup of Nations, this is the time to completely revamp Nigerian football with a style that is home-grown, designed by Nigerians and taught at all levels of football development in Nigeria.
The country needs a road map to football development; it needs a football curriculum that will be used by every football teacher/coach in the country, we need a coaching academy where all our coaches will be 'indoctrinated' with our football curriculum and style and, finally, start to build a coaching ladder for our national team coaches; we need a succession line to the position of Super Eagles head coach
The Super Eagles |
Played without self-confidence and are unpredictable
Situational Analysis
When Germany did not advance out of the group stage at EURO 2000, the German federation immediately knew that they had a problem and they came up with a plan to solve what they determined as a German football problem. Germany was known to have a hard working team with physically gifted players but with very limited technical skills. They out-worked opponents and had won three World Cups by the year 1990, but that was not good enough for a country with pride and success at almost everything from industry to medicine.
The formula for correcting German football failures were simple; breed technically gifted players, continue to scout physically domineering players and upgrade coaching to the highest levels possible within Europe. Today, no country in the world has more graded coaches in the world. Germany outpaces England by four to one in UEFA licensed coaches at all levels and we can see the difference in outcomes in world football.
Our situation is very similar to the German situation of 2000; we lost our way right after we won Gold at the Atlanta Olympics in 1996. Though we qualified for the 1998, 2002, 2010 and 2014 World Cups, the teams we produce are a shadow of what we had in 1994 and to an extent at the 1996 Olympics. Again the formula for Nigeria ought to be simple; identify players early, teach them the Nigerian style, train as many coaches as possible into the Nigerian system.
STRATEGY
Design Phase
The Nigerian Football Federation must call and host a football coaching convention/symposium. The goal should be to bring as many coaches as possible to a single venue to address the problem of Nigerian football through the eyes of coaches and coaching. This body will identify problems and challenges in the coaching fraternity. The body will pick three to five coaches of different backgrounds as part of the design team to design the football coaching curriculum and teaching notes. This design should be done with the help of an academic, a teaching and curriculum development consultant.
Teaching Phase
Coaching is teaching; so our coaches must be taught how to teach football using the newly developed teaching manual. The federation and the coaching association must come together to make a success of football coaching in Nigeria. Decisions will be made on how many levels of coaching the federation wants (one to four), level one being the highest level attainable within the country. Football coaching must be made a respectable profession, not just through high salaries but through acquired football knowledge. The federation must commit to this teaching phase; it must place emphasis on elevating good football teachers and enact a mentorship program.
Implementing Phase
The Nigeria Institute of Sports (NIS), universities, and all academic institutions that offer any kind of football coaching must incorporate the newly designed football manual. They must all follow the curriculum of teaching football the Nigerian way/style. The federation must also establish weekend classes for aspiring coaches that do not attend any formal institutions; such coaches must be taught the contents of the new Nigerian football. The federation must also hire and train football instructors or master coaches who will deliver the programs.
In concluding, the Nigerian football situation is an aberration; we have done relatively well even when we have no plans for football development. All developments in sport are done through the teaching methods employed. The teaching is based on a local design, the design is done according to cultural traits and its success will depend on a compulsory application. If Nigeria wants to become an elite football nation, i.e. one regularly advancing to the quarter-finals of the World Cup, we have no choice but to quickly develop our football education program.