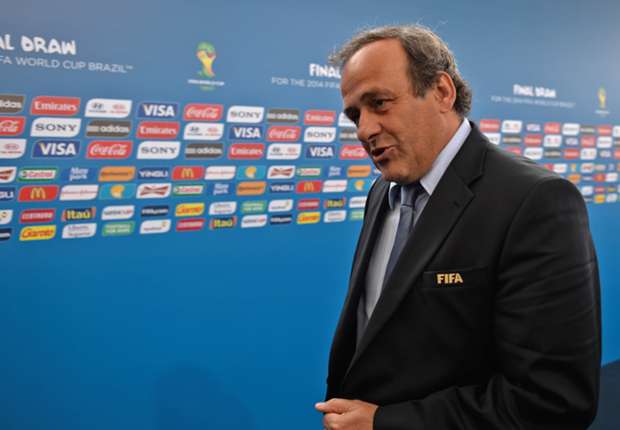 The former France international believes that while Cristiano Ronaldo and Lionel Messi are worthy candidates, the accolade should go to one of Joachim Low's men
Uefa president Michel Platini believes that this year's Ballon d'Or should go to a member of
Germany
's World Cup-winning squad.
Real Madrid's prolific forward Cristiano Ronaldo is widely expected to retain the prize after firing the Spanish side to 10th European Cup last season, while four-time winner Lionel Messi is also in contention after breaking the Liga and Champions League all-time goalscoring records.
Messi, of course, also led Argentina to the final of the World Cup but Platini believes that the Ballon d'Or should go to one of the men who lifted the trophy in Brazil.
"Several players deserve the Ballon d'Or, but I'm of the opinion that in a World Cup year this award should go to a world champion," the Frenchman told
Sportmasta
.
"This is in line with what I said four years ago when, in my opinion, the prize should have been awarded to a Spanish player."
Meanwhile, Platini reiterated his view that Fifa should release Michael Garcia's report on alleged corruption during the voting process for the allocation of the 2018 and 2022 World Cups to Russia and Qatar, respectively.
Garcia presented his findings to Fifa earlier this month but the American attorney has since distanced himself from the conclusions drawn from his investigation by Hans-Joachim Eckert, the head of Fifa's ethics committee.
"I would like the report was published in its entirety, always in line with the rules of the Ethics Committee," the European Championship winner stated.
"And of course, if there was something wrong, there should be a new vote."
Regarding the Qatar World Cup, Platini also stood by his assertion that the tournament should be staged in winter to reduce the risk posed by the country's searing summer temperatures - even if it would affect the schedules of Europe's top leagues.
It is absolutely clear that the World Cup should be played in winter and I am sure we will find a solution bringing together all members of the football family around the same table, for the sake of the players, the fans and the World Cup," he concluded.