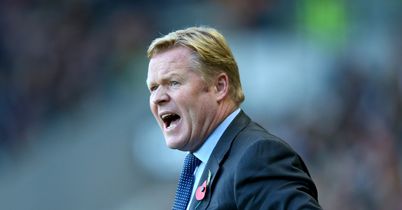 Ahead of Southampton's game at Aston Villa, Adam Bate considers whether Ronald Koeman's men have what it takes to last the pace at the top.
"Southampton is not depending on one person," said Ronald Koeman when asked about the departure of head of recruitment Paul Mitchell.
With Saints sitting second in the Premier League, he might as well have been talking about his own arrival as replacement for Mauricio Pochettino.
Despite the concerns that accompanied the high-profile exits in the summer, the changes at Southampton now look like savvy squad reconstruction dressed as a fire sale.
Perhaps most importantly, Koeman has retained the best qualities of Pochettino's team and built on it.
The Dutchman has spoken a lot about tempo this season, and there appears to have been a conscious effort to maintain the key elements of the pressing game that was forged under his predecessor.
It's reaped dividends, for while the 8-0 win over Sunderland provided the headline stat, defensive discipline has been the underlying story behind their successful start to the campaign.
Fraser Forster has brought added reliability in goal, while Nathaniel Clyne and Ryan Bertrand have provided unstinting energy and enthusiasm in the full-back positions.
The arrival of Toby Alderweireld from Atletico Madrid has proven a more than adequate replacement for Dejan Lovren, and Jose Fonte is in the form of his life. But it's about far more than just the defence.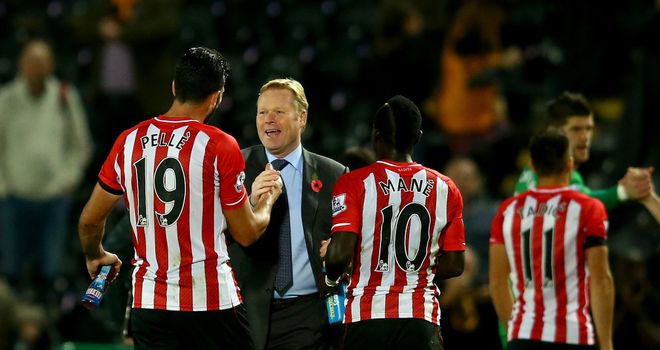 "We worked very hard in the pre-season about our organisation in the team and when you don't have the ball and how you have to defend," says Koeman, quoted in the Southampton Daily Echo. "It's teamwork and it starts with the forwards and how they do pressing, how compact you play, and it's great because clean sheets make winning games."
There have been seven of them in their first 11 games - particularly impressive given that no other team has managed more than five - and it's no coincidence either.
Going into Monday's game against Aston Villa, Southampton have faced the fewest shots of any team in the Premier League. This is a well-drilled side playing to a plan.
No mistakes
Remarkably given their aggressive approach, they've all but eliminated error from their game.
Indeed, according to Opta, Southampton are the only team in the division yet to make a mistake leading to a shot or a goal. Every other side has made at least a couple of these errors, with Liverpool racking up as many as 17 of them.
The team with the most tackles? Southampton. And yet they also boast the best disciplinary record.
The fact that Koeman's side have also attempted the fewest dribbles in the Premier League might suggest he has fashioned a group of robotic automatons programmed to play risk-free football, but the truth is rather different.
In fact, the Dutchman has fused freedom with discipline. For example, having recognised the need for goals from midfield he's encouraged a more expansive approach that means for all Graziano Pelle's impact, they are far from reliant on the forward. Only league leaders Chelsea have as many different goalscorers so far this season.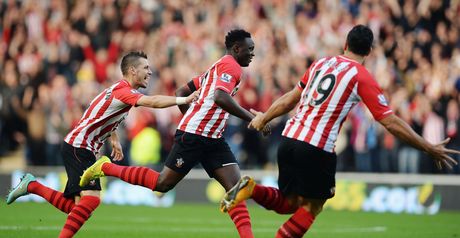 The midfield trio of Morgan Schneiderlin, Victor Wanyama and Jack Cork contributed just four goals between them last term but have already doubled that tally for 2014-15 in the first 11 matches.
"We gave the midfielders the freedom to go up and to score goals, because we can't live from one player who scores all the goals," said Koeman.
"We need more players scoring goals, because that's a quality of a team, and we work on that every week. It isn't a surprise that now Cork is scoring, Wanyama is scoring, Schneiderlin is scoring, because we like that and they get that freedom to do that. If you have a good rotation in the midfield it's always difficult for opponents."
The midfielders are clearly enjoying themselves and all the indications are that this is a happy group.
"The best quality of this team, is really the team spirit, what they show every day," said Koeman, and for once it is not mere lip service. Southampton's players volunteered for extra training after beating Arsenal in September and duly followed up with another win over QPR.
Will this enthusiasm allow them to continue to operate at such extraordinarily high levels?
The consistency of the team selections - eight players have played in every Premier League match so far - will certainly be tricky to maintain as they kick off a sequence of 10 games in just 39 days. But the lesson of the summer is that losing key personnel need not derail their hopes.
For all Pelle's goals, Dusan Tadic's creativity and the burgeoning international career of Clyne, the real story of Southampton is that they are greater than the sum of their parts. As Koeman says, their success is not dependent on one man.
Win at Villa on Monday to move nine points clear of Manchester United in fourth and it's a philosophy that might just take them further than anyone at St Mary's dares to dream.