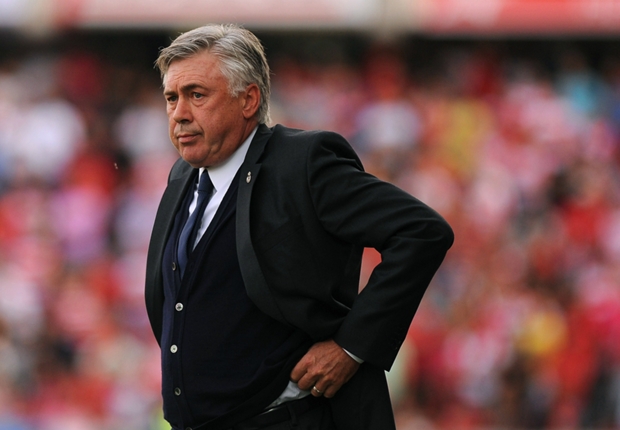 The Madrid coach is the latest to attack the Uefa president, while the Champions League holders have hit out at the Frenchman with an official statement as well
Real Madrid
coach
Carlo Ancelotti
has hit out at Uefa president Michel Platini in the wake of the Frenchman's comments that a German player should win the Fifa Ballon d'Or rather than
Cristiano Ronaldo
.
Platini stated earlier this week that a Germany international should scoop up the individual award following their successful World Cup campaign, thus causing unrest in the Madrid camp, with Alvaro Arbeloa and Fabio Coentrao both attacking the Uefa chief for his "campaign against Ronaldo".
Ancelotti has now also come to the defence of his star player and has stressed Platini should have kept his opinion to himself.
"I share Arbeloa's opinion. I don't think Uefa's president should opine about the Ballon d'Or," Ancelotti said at a press conference.
The Madrid coach then went on to praise Lionel Messi, but refused to discuss the Argentine's chances of winning the prestigious award.
"Messi is fantastic, but I will not speak about what Barcelona are doing for the Ballon d'Or."
Meanwhile, Madrid have backed Arbeloa, Coentrao and Ancelotti and have released a statement condemning Platini's comments.
"In response to the comments made by the president of Uefa, Michel Platini, concerning the winner of the Ballon d'Or," the statement reads. "Real Madrid C. F. would like to outline:
"Firstly, its surprise at the repeated comments regarding his personal preferences over the choice of the winner of the Ballon d'Or, particularly given that he is the head of European football's principal body, where our understanding is that the strictest impartiality should prevail.
"Secondly, the Ballon d'Or is an individual rather than collective prize which is awarded annually to the best player in the world, and we believe that, in order to maintain its prestige, those who participate in the vote should take into account exclusively the individual professional achievements of the players.
"Finally, we believe that Cristiano Ronaldo has without doubt had his best ever professional year individually, and has claimed the Champions League, the Golden Shoe and the record for the highest goalscorer in an edition of the Champions League, as well as the Copa del Rey and the top-scorer award in La Liga. In the current season, he has won the European Super Cup, scoring both goals in the match, and is achieving spectacular figures such as his 20 goals in the first 12 matchdays of La Liga, which confirm his great moment of form and ensure that, more than ever, he is deserving of the Ballon d'Or."