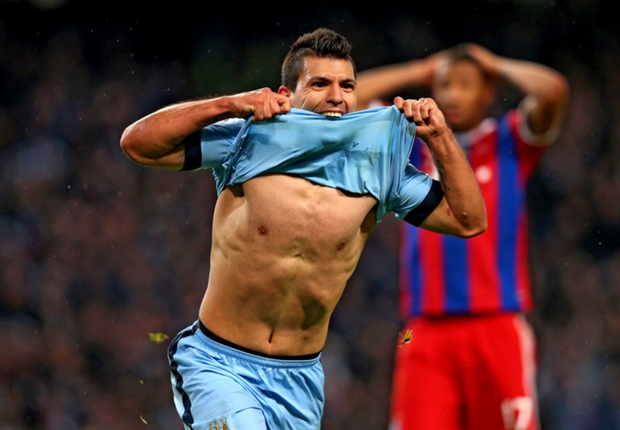 Frank Lampard
believes
Manchester City
team-mate
Sergio Aguero
should be considered in the same bracket as
Cristiano Ronaldo
and
Lionel Messi
.
On the same night that the Barcelona ace scored three against APOEL to become the Champions League's all-time leading scorer, overtaking Real Madrid legend Raul's record, Aguero was bagging a hat-trick against Bayern Munich to keep City's qualification hopes alive.
And Lampard is confident that the former Atletico Madrid striker, who tops the Premier League's goalscoring charts this season, can mimic his compatriot's accolades if he maintains his current form, maintaining he is of a similar quality to him and Cristiano Ronaldo.
"I think it's in his hands," the veteran told reporters. "It's a big call to make. Ability-wise, from seeing him at close quarters, he's in that bracket.
"If he can carry on with this form, doing it week-in and week-out, which he is doing, then people will talk about him in the same breath as them.
"I haven't been fortunate enough to play with those two - I've admired them from afar - but, in terms of ability, he's certainly right up there."
Lampard does not believe that there is an out-and-out striker who can touch Aguero right now, though he admits that he will always see Didier Drogba, at his peak, as "the greatest".
He continued: "[Aguero]'s top of the world football strikers. When you have people like that, it makes things easier because Sergio takes the majority of his chances - he took every one of his chances against Bayern.
"World-class strikers help you win games, win points and go through. I'm fortunate enough to have played with Didier Drogba, who, for me, was the greatest [striker], but it's very hard to compare those two because their style is so different.
"But in terms of pure finishing, electric pace, in my first few days training here my friends and other people were asking 'who does this or that in training?' and I said 'this Aguero is just different class'. He's proved that. He can't stop scoring."