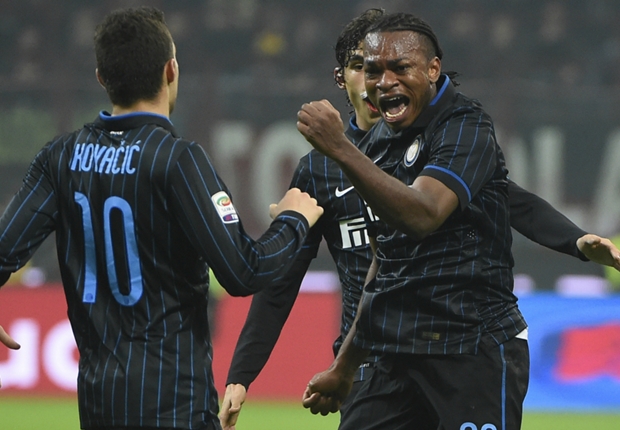 Roberto Mancini
's second coming at
Internazionale
was remedied by a daisy-cutter from the edge of the box in the
Derby della Madonnina
on Saturday. Wheeling away was the stocky frame of midfielder
Joel Obi
, not since 2005 has a Nigerian regaled San Siro with celebratory acrobatics. Fittingly, just like Obafemi Martins before him, Obi has found himself linked to Premier League side Newcastle United in recent times.
Obi is a player that is hard to judge. Absence makes the heart grow fonder, and in many ways, his abilities seem lionized as a result of his myriad absences.
So, where does fact touch down and myth take off?
To simplify, he is the Nigerian version of a player like Jack Wilshere: blessed with talent that can define a generation but perpetually injured. Away from the realm of intangibles, there are many similarities to their styles as well.
He showed up on Nigeria's radar in 2011, then just 20, following an abject campaign at the World Cup in South Africa by the Super Eagles. Erstwhile coach Samson Siasia was keen to incorporate young Nigerian players playing abroad, a policy which also saw him woo former Arsenal youth player Chuks Aneke.
He had only made his league bow with Inter four months earlier, but no one was raising eyebrows when he started the next 11 games; so seamless was his adaptation to international football. Ultimately, his run with the Super Eagles was cut short by injury in 2012, he would not start another game for team till 2014.
In his absence, the national team became African champions and his place in midfield was taken over by Ogenyi Onazi. They are entirely contrasting players; the team had to adjust its dynamics for Obi's absence. That said, the Lazio man performed admirably alongside John Obi Mikel as a defensive screen, offering the sort of security that the pairing of the two Obis could not in failing to qualify for Afcon 2012.
Obi | The Nigerian Wilshere
That team coached by Siasia was brilliant going forward, but lacked the cornerstone of previous sides under the leadership of the former Nantes player. He ideally prefers to work with two disciplined players acting as a screen, and a No.10 who functions as a second striker. Mikel and Obi in tandem went in the complete opposite direction, the result of the falling away of Ebenezer Ajilore and Sani Kaita.
That failure may forever taint the potential of such a partnership, but there is no reason they could not work together in a three-man midfield. Of course this depends greatly on who takes charge of the Super Eagles going forward. Aside a player's potential and application, there is also the question of the coach(ing) getting the best out of him.
In that sense, the sacking of Walter Mazzarri may prove a blessing. The former Napoli boss's insistence on playing Obi as a wing-back was not a stretch: the 23-year-old is energetic, quick in transitions and a fine dribbler. It is however unlikely it would have gotten the best out of him, a fact the midfielder acknowledged following the derby draw, in which Mancini played a 4-3-3.
"We have more options playing with this formation and more alternatives for us midfielders," he told the club's official website.
Now more than ever is the time for the precocious Obi to stake a claim to a place in the team under new management. His well-taken goal has got his foot in the doorway, and if he conquers his injury demons, could see him push on like he has failed to since Rafa Benitez handed him his debut in 2010. This can only be good news for the Super Eagles. In terms of attributes, Obi is rather unique in his ability to change and dictate the tempo of the team in midfield.
His final ball in the attacking third could do with work, and this might ultimately prevent him from being the true heir to Jay-Jay Okocha that many have long sought and heralded. He is a far more disciplined player though, unlike the mesmeric No.10 whose anarchic tendencies prevented him from playing at an elite club.
Can Joel still be the Heir to Okocha?
His return to the Super Eagles against Scotland in May flattered to deceive ultimately. He was clearly unfit and bound to lose his race to be fit for the World Cup in Brazil. Still, Stephen Keshi's unwillingness to discount him without first-hand assessment was telling: it is not a courtesy the Big Boss has been quick to extend during his reign.
"When I first took over (as Nigeria coach), Joel Obi was one of the players I wanted to build the team around," Keshi told SuperSport in April.
With the midfielder fit again and the national team in need of rebuilding, Keshi may finally get the chance.