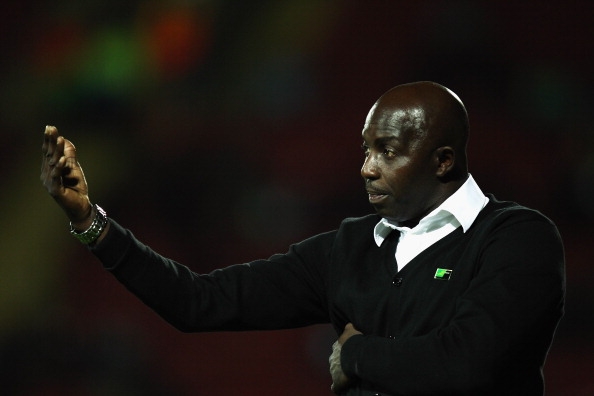 The U23 team coach will hold three sets of screenings of players from the local leagues as he searches for the best legs to prosecute the All Africa Games and Olympic Games qual...
Former Super Eagles' Captain and Coach, Samson Siasia has called up 39 players to open a screening camp in the Federal Capital Territory, Abuja on Sunday, with another set of 39 and a final set of 38 to follow in batches.
Siasia has the assignment to raise a squad that will qualify Nigeria for the Men's Football Tournament of the 11th All –Africa Games (taking place in Brazzaville, Republic of Congo in July 2015) as well as qualify for the CAF U-23 Championship (taking place in DR Congo, also next year), and also qualify for the Men's Football Tournament of the 2016 Olympic Games through the CAF U-23 Championship.
The first hurdle is an All –Africa Games qualifying fixture against Gabon, with the first leg away in Libreville towards the end of February, and the return leg in Nigeria early March. The winner of that fixture squares up against the winner of the fixture between Zambia and Madagascar in late March.
The Dream Team, as Nigeria's Olympic squad is known, will then take on the winner among Ghana, Liberia and Congo in the qualifying race for the CAF U-23 Championship in July.
Olympic gold medallists in Atlanta, USA in 1996, the Dream Team faltered at the 2000 Games in Australia, failed to qualify for the Athens 2004 Games, won silver medal in Beijing in 2008 and failed to qualify for the London Games in 2012.
Siasia has explained that each batch will spend only three days in camp before the other, with the selected ones among the lot to convene a proper camp late December. All the players are to report at FIFA Technical Centre, Abuja.
FIRST BATCH (23 – 25 November)
Goalkeepers: Emmanuel Daniel (Enugu Rangers); Kasim Yekini (Bayelsa United)
Defenders: Semiu Liadi (Enyimba FC); Stanley Okorom (36 Lions); Erhun Obanor (Insurance FC); Mohammed Gidado (Wikki Tourists); Etim Mathew (Enugu Rangers); Wasiu Kadiri (Akwa Starlets); Chinedy Okuotu (Insurance FC); Chris Madaki (Giwa FC)
Midfielders: Harrison Madu (Wikki Tourists); Abbas Hussein (Wikki Tourists); Samuel Adegbenro (Kwara United); Ifeanyi Mathew (El-Kanemi Warriors); Nafiu Ibrahim (Kano Pillars); Tiongli Tonbara (Bayelsa United); Paul Onobi (Sunshine Stars); Itchu (Warri Wolves); Emmanuel Obinna (Stationery Stores)
Forwards: Samson Adeleye (Niger Tornadoes); Samuel Agba (Enugu Rangers); Idris Mohammed (Wikki Tourists); Junior Ajayi (3SC); Nuru Adebayor (Stationery Stores); Godwin Obaje (Mighty Jets); Barnabas Imenger (Lobi Stars); Idris Ahmed (Mighty Jets); Uche Ihearulam (Lobi Stars)
Others: Chigozie obi (Calabar Rovers); Ahmed Sani (Unattached); Victor Yakubu (Wikki Tourists); Tunde Afolabi (Spotlight FC); Chukweh Samuel (Bayelsa United); Chinedu Obino (COD FC); Umunna Emmanuel (Zamfara United); Friday Enejoh Jacob (Supreme Court); Ajibola Otegbeye (3SC); Wasiu Alalade (First Bank); Mohammed Wekasiu (El-Kanemi Warriors); Nura Abubakar (Kaduna United); Israel Daniel (Prime FC)
SECOND BATCH (26 – 28 November)
Goalkeepers: Ernest Ejiofor (Giwa FC); Yusuf Mohammed (Kano Pillars); Abiodun Akande (3SC)
Defenders: Abu Daniel (First Bank); Harrison Ibukun (Akwa Starlets); Tobore Jessa (Dynamite Force); Ferin Yaro (Kwara United); Isuku Prince (Insurance FC); Hossiah Haruna (Kaduna United); Zikiye Jonathan (Dolphins FC); Timothy (Gombe United)
Midfielders: Aniefiok Godspower (Akwa United); Monday Mather (Supreme Court); Nzube Anaziemba (Enyimba FC); Ekene Nwabuchi (FPF Academy); Yakubu Alfa (Niger Tornadoes); Buhari Musa (Kano Pillars); Bura Jafar (Bayelsa United)
Forwards: Emem Eduok (Dolphins FC); Ibrahim Shuaibu (Giwa FC); Akpoh Ughe (Nembe City); Leonard Ugochukwu (Nasarawa United); Kufre Ebong (Akwa United); Deenee Usman (Giwa FC); Batoure Yaro (Nasarawa United)
Others: Christian Obiozor (Enugu Rangers); Ifeanyi Enemime (Giwa FC); Azubuike Okechukwu (Bayelsa United); Musa Isa (Gombe United); Ezekiel Mbah (Kano Pillars); Jiya Mohammed (El-Kanemi Warriors); Ismail Ahmed Musa (Enyimba FC); Joseph Nathaniel (Sharks FC); Sunday Adetunji (El-Kanemi Warriors); Azeez Mohammed (Kwara United); Isaac Giwa (Gombe United); Godwin Efiok (Akwa Starlets); Ezekiel Bassey (Akwa United); Yelebe Fanvie (Bayelsa United); Ahmed Yacob (Crown FC); Hakeem Olalere (Prime FC); George Ifeanyi (Enyimba FC)
THIRD BATCH (29 November – 1 December)
Goalkeepers: David Obiozor (El-Kanemi Warriors); Itodo (Enugu Rangers); Anthony Okoro (Stationery Stores)
Defenders: Francis Edem (3SC); Seun Shogesan (Nasarawa United); Nura Mohammed (Kano Pillars); Babatunde Solomon (Nasarawa United); Solomon Kwambe (Sunshine Stars); Namso Edoh (Akwa United); Chima Akas (Sharks FC); Waziri Christopher (Wikki Tourists); Isah Bala (Niger Tornadoes)
Midfielders: Osamudiamwen Adun (Insurance FC); Mohammed Wakeso (El-Kanemi Warriors); Victor Alegbe (Dolphins FC); Alaba Adeniyi (Sunshine Stars); Salau Ibrahim (Sharks FC); Philip Asuquo (Gombe United); Emma Egbese (Nembe City); Okiki Afolabi (3SC); Fuad Ekelojuoti (Stationery Stores)
Forwards: Ajunwa Felix (Akwa Starlets); Omofomwan Freedom (Warri Wolves); John Chukwudi (Kwara United); Arinze Obioma (El-Kanemi Warriors); Chinedu Mathew (Bussdor United); Aliyu Abubakar Ibrahim (Nasarawa United); Adamu Hassan (Kano Pillars); Peter Onyekachi (Abia Warriors); Ibrahim Sulaiman (Shuttle Sport)
Others: Chinedu Chukwurah (Plateau United); Saidu Isah (Plateau United); Saviour Godwin (Plateau United); Azeez Shobowale (Kano Pillars); Idris Aloona (ABS FC); Olumakinde Talabi (3SC); Francis Olanrewaju (Gateway FC): Owolabi Oluwafemi (Giwa FC); Sanni Okeowo (Prime FC); Ibrahim Adewale (3SC); Abdullahi Fatai (Prime FC)