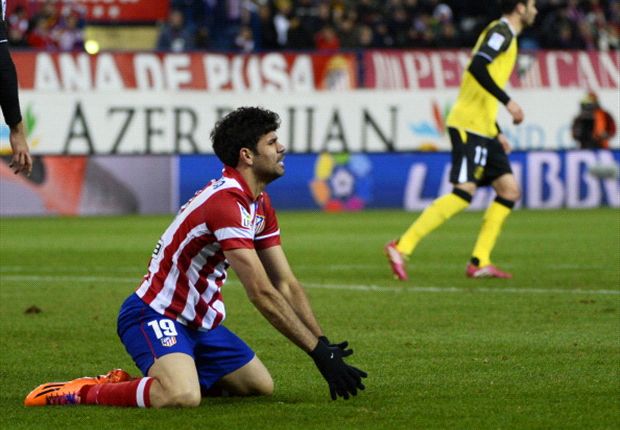 It was their big chance. Just like against Espanyol in October, Atletico Madrid needed a win to take advantage of a Barcelona draw and move to the top of La Liga. But a similar scenario on Sunday brought about an identical conclusion: they blew it.
Barcelona headed to Levante earlier in the evening without both Neymar and Andres Iniesta, but boosted by the presence of Lionel Messi in their starting line-up for a league match for the first time in over two months. So confidence was high - particularly as Barca had humiliated Levante in their opening match of the season with a 7-0 whitewash at Camp Nou.
But it quickly became clear that this match would be different and Loukas Vyntra's early header made life even more difficult. Barca soon hit back from a corner of their own, headed home by Gerard Pique, but the Catalans found themselves up against a solid defensive wall which they were unable to break down again, despite their wealth of talent.
Messi was forced to drop deep to pick up possession and was unable to cause damage far from goal, starved of service from midfield and missing a genuine target man to aim at as a point of reference in attack. In games like this one against ultra-defensive rivals, an orthodox striker would be extremely useful. But Barca don't have one.
Alexis Sanchez seemed to shrink in the presence of his Argentine team-mate on what was a forgettable evening for the Chilean, while Pedro showed glimpses of his ability (including one superb piece of skill to make his way into the area in the first half) and Cesc Fabregas looked likeliest to provide the inspiration the Catalans craved in order to claim all three points as he linked up well with Messi and caused problems with his movement around the box.
But Martino, perhaps looking ahead to his side's midweek Copa del Rey clash also at Levante, decided to sub Cesc and send on Sergi Roberto after 73 minutes. Fabregas, furious, stormed off in anger, slapping the palm of his hand onto the roof of the dugout before he sat down. "I was angry at the game," he said later. "I felt good, we were causing danger, but there was frustration because we were coming close and not scoring."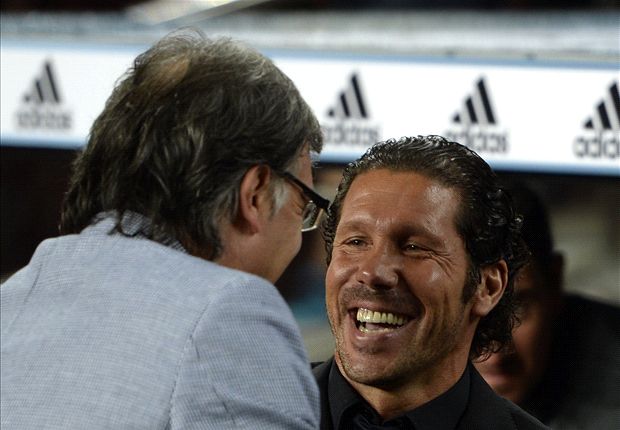 All smiles | But Martino and Simeone were left frustrated on Sunday

Martino then withdrew Pedro and thrust Cristian Tello into action, with the winger's more direct approach almost bringing a goal late in the game. The introduction of Dongou for Xavi also injected pace and vitality into the Barca attack, but by then it was too little, too late and the Catalans were forced to settle for a point which could well have been three had Cesc stayed on.
"I imagine they'll show Cesc's reaction [on television] a lot," Martino said afterwards. "So I will try to watch it as little as possible." And he added: "The championship is very equal: there are 18 rounds left and there wll be more surprises."
One such surprise came straight afterwards, as Atletico Madrid failed to take advantage of Barca's slip-up in Valencia. Having won eight from eight at home in La Liga before last weekend's stalemate with the
Blaugrana
, Diego Simeone's side were pegged back by Sevilla this time in an evenly fought encounter at the Vicente Calderon.
Atleti had looked set for top spot after David Villa slotted home from a corner, but Ivan Rakitic's penalty 15 minutes from time frustrated
los Rojiblancos
in their attempt to move two points clear at the Primera Division's summit.
"It was the match we imagined," Simeone said afterwards. "It was a match that was going to be settled by [small] details and that was the case; a tight match and possibly even an ugly one, with a lot of competition and two teams waiting for the other to make a mistake. We took a point which helps us to be in a privileged place."
Two more points, however, and that place would have been even more privileged. And Atletico, after being held by Barca at home last weekend, again missed the chance to dislodge the Catalans - just as they had as they lost at Espanyol in October following a goalless game for Martino's men at Osasuna that same day.
Unai Emery's Sevilla side are much improved and hard to break down, but Atleti will need to take their chances if they are to have a genuine chance of winning the title - especially as they won't want to travel to Camp Nou needing a win on the last day of the season.
And it may come to that, or at least go to the wire, because only one point now separates Barca, Atleti and Real Madrid (who have made up four points in a week on their two rivals) after 20 rounds of the championship.
"We'll sleep well tonight," Madrid coach Carlo Ancelotti said after his side thrashed Betis 5-0 on Saturday. And following the results for Real's rivals a day later, they should sleep well again on Sunday. Martino and Simeone may not.