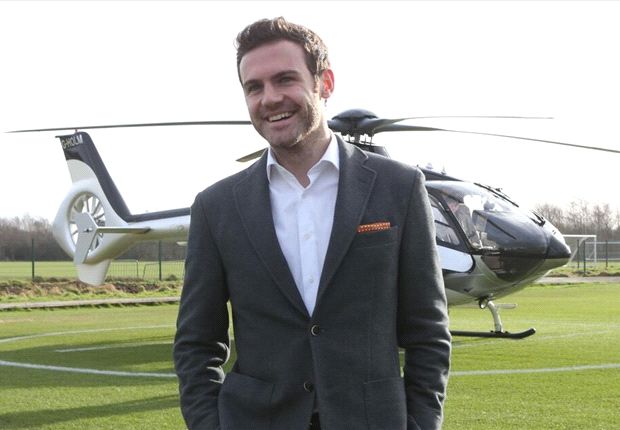 Manchester United
's new club-record signing
Juan Mata
has admitted his surprise that
Chelsea
allowed him to move to Old Trafford.
The Spain international completed a £37.1 million move to the Red Devils on Saturday and could make his debut against Cardiff on Tuesday, becoming the first player in the Premier League era to swap Stamford Bridge for Old Trafford.
When asked if he was surprised that Chelsea allowed him to join David Moyes' men, he told
Sportmasta
: "To be honest it is a bit surprising.
"But I have to say I'm really grateful to Chelsea, to the owner, everyone who works at the club and the fans - they voted me the best player in the last two seasons and I will always be grateful.
"They have been amazing with me. The last six months were difficult as I didn't play as much as I wanted to. I understand it's a team sport so I respected that situation.
"But the chance to come to Manchester United was a great moment for me to carry on with my career and join another massive club."
Mata also says the huge price tag, which topped the £30.75m United paid for Dimitar Berbatov in 2008, will not affect him and that he is looking forward to getting started at United.
"I know it is a big price but I'm confident that everything is going to be okay. I will try my best as I always have done," he added.
"The squad and the manager are very good and the fans are unbelievable – we have everything to be successful.
"It's a very happy day for me, meeting my team-mates, the manager, seeing the training ground. It's a massive club and I feel very proud to be here."
The Spain international is now looking forward to meeting his new team-mates and is relishing the opportunity to supply some of the club's established strikers.
"Obviously for a player like me who is trying to score goals, assist goals and be a creative player it's going to be amazing to play with those kinds of players," he said.
"Wayne Rooney, Robin van Persie, Adnan [Januzaj], [Antonio] Valencia, Chicharito, [Danny] Welbeck... they are all top-level players and I will try to do the best for the team.
"I think I can play in the three positions behind the striker. I played on the left when I arrived at Chelsea, this season I have played on the right and last season, which was probably the best season of my career, I played behind the striker. But it doesn't matter as long as I play."