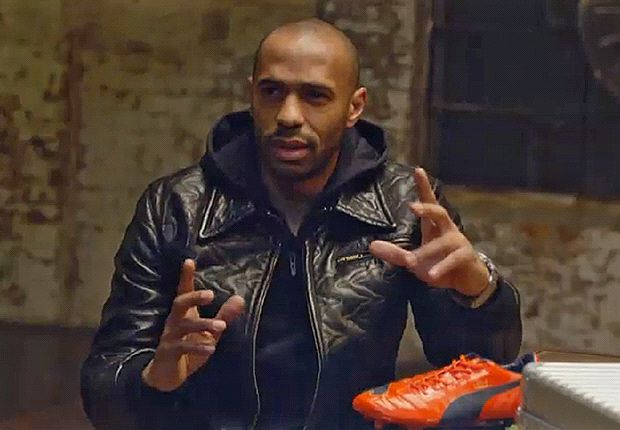 Thierry Henry believes Arsenal have what it takes to hold off Manchester City and Chelsea and clinch a first Premier League title in 10 years.
The former Gunners striker says he has full faith in manager Arsene Wenger, pointing to their form already this season as an indication as to what they are capable of.
"I can say right now that everybody is expecting Arsenal to collapse, just as they were expecting it earlier in the season. But they didn't," Henry told
Sportmasta
in an interview at a launch event for the
PUMA
evoPOWER
boot. "They are still somehow keeping up the pace in the Premier League, and every time they have been in a situation where they have to answer back to Man City and Chelsea, they have done it.
"Hopefully, they can carry on doing that. As an Arsenal man and a fan of the club, I want them to carrying on doing that the whole way and make sure they can win the league.
"The future will tell us if they are good enough, but right now for me, they are."
Arsenal's form this season has surprised many, with the club having gone without a trophy in almost nine years since Henry helped them to win the 2005 FA Cup. But the 36-year-old says that the summer addition of Mesut Ozil has been one of the keys to their improved displays .
"They have more experience now. They all get one more year, and there's obviously the arrival of Mesut Ozil – that was very important for the club," he added.
"With his calmness, his quality on the ball, his vision, he is a great player and can give an assist at any moment. He also has the quality and capacity to score goals at any moment, so it's always great to have a player like that around in the dressing room on a daily basis, and at the weekend at the game."
The ex-Barcelona forward, who is now plying his trade in the MLS with New York Red Bulls, insists Wenger also has what it takes to make the right moves, if necessary, during the remaining days of the January transfer window.
"The boss knows best. People gave him a lot of stick because he didn't win [a trophy] for a very long time, and we all know that Arsenal didn't win for a very long time," continued Henry. "But I don't know if Arsenal needs to buy or not, only he can answer that. But all I can say to you is the squad that they have right now is pretty efficient."
Arsenal are one point clear of Manchester City at the top of the Premier League after 22 matches, with Chelsea a further point behind.