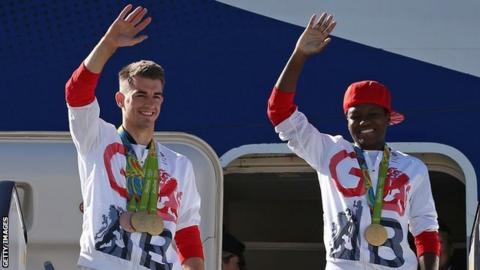 Great Britain's record-breaking Olympics team have arrived back from Rio after landing in London on Tuesday.
Britain is the first country to improve on a home medal tally at the following Games, collecting 67 to beat the 65 from London 2012.
Some team members had returned home already, but 320 athletes and support staff were on British Airways flight BA2016, which landed at Heathrow.
The Boeing 747 had a gold nose cone and a "victoRIOus" livery.
The plane carried back poles for the pole vault, bicycles, javelins and a 6.7-metre sail, while 77 bottles of champagne and a three-course menu were on offer.
Max Whitlock, who won two individual gold medals in the men's gymnastics, and Nicola Adams, who retained her women's flyweight title, were the first two athletes off the plane.
"It's been incredible," said Kat Driscoll, who came sixth in the women's trampoline.
"They played the national anthem before we left. We all got a glass of champagne. It's been a nice celebration.
"Everyone's really glad to be back home but it's been a really nice way to end it."
A total of 67 medals, with 27 golds, put Team GB second in the medal table - above China for the first time since the latter returned to the Games in 1984.
They won gold medals across more sports than any other nation - 15 - and improved on their medal haul for the fifth consecutive Olympics.
Of the 366 athletes who went to the Rio Games for Team GB, 130 of them - just over 35% - returned with a medal, including every member of the 15-strong track cycling team.
Manchester and London will host
events to recognise the success
of Britain's Olympic and Paralympic stars.