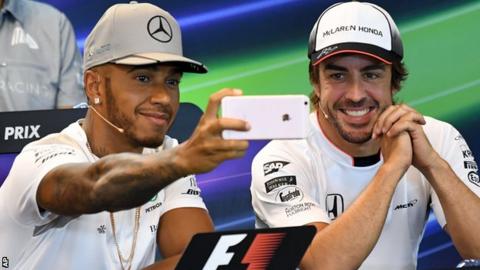 Lewis Hamilton says he will try to limit the damage to his title hopes in Sunday's Belgian Grand Prix after confirming he will take a grid penalty.
Mercedes said it was likely Hamilton would start from "the back of the field or very close".
Hamilton has to use more than the permitted number of engine parts after problems early in the season.
"In terms of winning, that's the goal, but it will be very hard," Hamilton, who has a 19-point title lead, said.
"The gap has closed with the cars. Red Bull have been very quick in some races, and Ferrari, so it will be harder than last year to climb through the field but I will do everything I can.
"It is about minimising the damage of taking the penalty.
"It is a team sport. It is a growing experience for us and we have learnt a lot from the issues we had and hopefully we won't have them again."
Hamilton starts the race with a 19-point advantage in the championship over Mercedes team-mate Nico Rosberg.
Mercedes' statement about the likely extent of the penalty suggests he will be taking two each of a new turbocharger and a new MGU-H, the motor-generator that recovers energy from the turbo.
That would amount to a total of 30 grid places of penalty, according to the rules, but a driver can drop no further than the back of the grid.
A spokesman said: "We cannot be more precise at this stage." He added there would be further information as the weekend progressed.
Hamilton said: "Beyond the penalty, I will try to continue with the momentum I had in the last few races."
Hamilton won six of the last seven races before F1's summer break, to close what had been a 43-point deficit to Rosberg after the German won the first four races, in which the world champion was hit by a string of problems, including the engine failures that have led to his penalty.
'It makes my weekend less difficult'
Rosberg, 31, will see this as an opportunity to reverse the momentum in the title race.
He is the only other driver to win more than one race this season and stands just 19 points behind the defending champion in the standings.
The German said: "It doesn't change the pressure I put myself under because I would love to have a great weekend and win.
"It will make the weekend less difficult for me but it is still a challenge because four weeks ago (at the last race) I finished behind two Red Bulls.
"And I have to reckon with Lewis because there is no reason with a safety car or something why he can't be right in the reckoning."