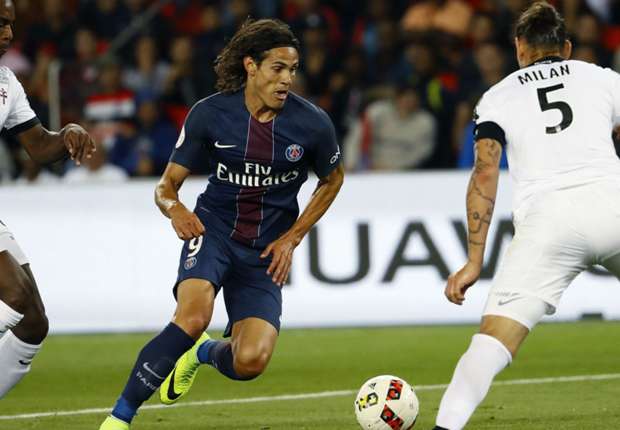 A lamentable display against Metz last weekend was the last thing the former Napoli ace needed as he attempts to fill the Swede's giant boots at the Parc des Princes
---
There is no place for Edinson Cavani to hide. For his first three years with Paris Saint-Germain, he could claim the overbearing spectre of Zlatan Ibrahimovic impinged upon his ability to play to the level expected of a €64 million signing, but the shadow of the Swede has gone and he is currently unchallenged for the No.9 role in Unai Emery's plans.
His first outing could scarcely have gone any worse. While his effort levels could certainly not be questioned, the quality level on display was well short of that expected of a No.9 playing at one of Europe's top clubs. Ibrahimovic, he is not.
Cavani was, admittedly, returning from injury, but the quality of opportunities he passed up against modest opponents was alarming, and for a period it seemed it might cost his side against opponents prepared to defend doggedly. Ultimately Lucas Moura and Marco Verratti got the Parisians out of jail, but a scrappy 2-0 victory was not in the script.
"I know I had a lot of chances," he admitted to the press following the match. "It was only my first match after injury and I hope to improve. I can improve a lot."
And he will have to. In squandering opportunity after opportunity, he became the first player in a major European league to miss, by Opta's standards, three 'big chances' in a single match this season. Indeed, he's the only player to have done this more than once since the start of last season.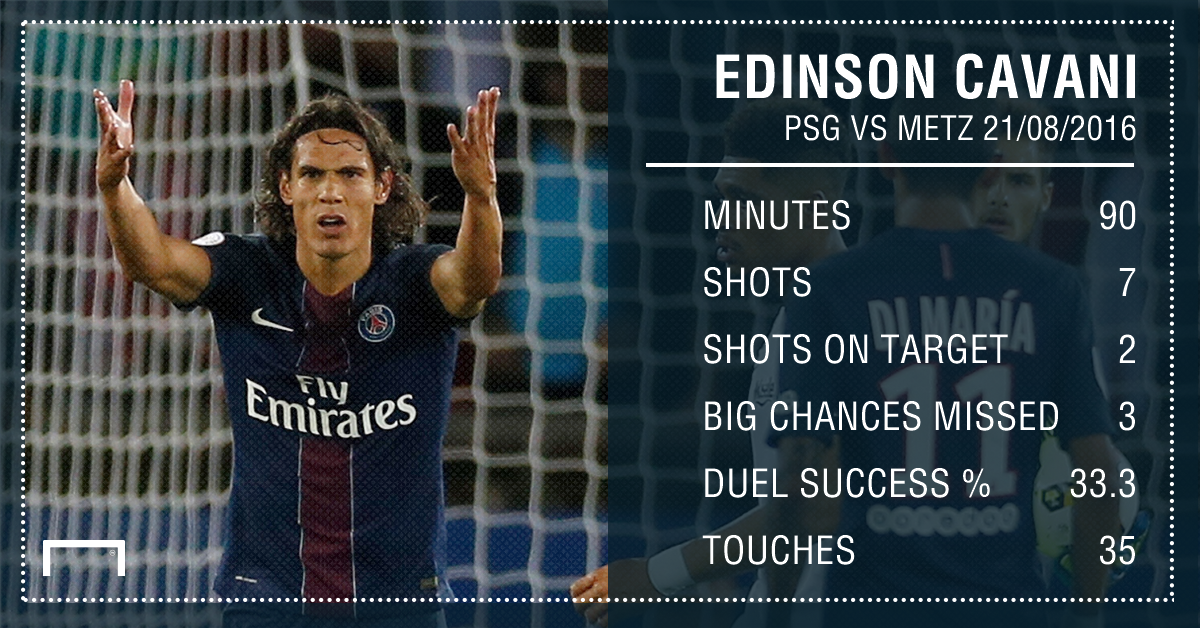 He's nothing if not persistent, but on big European nights, when PSG might only get a couple of openings, such profligacy could be fatal for his side.
The 29-year-old has already earned a reputation of failing when his side need him most. PSG have frustratingly stumbled at the quarter-final stages of the Champions League in each of the last four years, with Cavani anonymous as they suffered a shock 3-2 aggregate loss against Manchester City in the previous edition.
Last season was particularly difficult and saved only by a winning goal against Chelsea at Parc des Princes – though even that probably should have been stopped by Thibaut Courtois. In total, Cavani scored only twice in 10 European outings.
Domestically, his record in big games is actually healthy. In matches against Marseille, Lyon, Saint-Etienne, Lyon and Monaco – arguably PSG greatest competition over the last three seasons – he has scored 19 goals in 32 outings.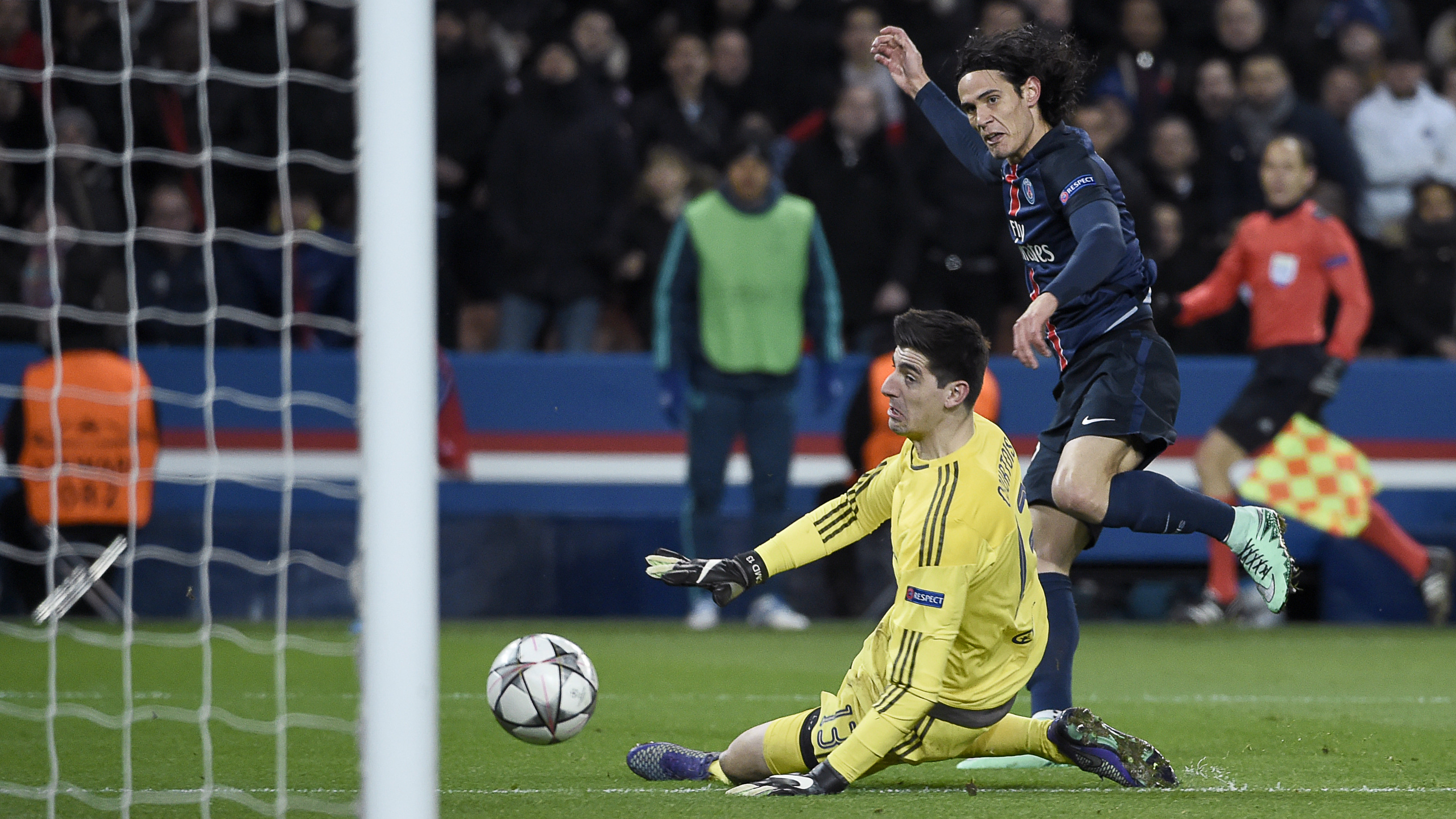 And the squad are still united behind the industrious attacker. "He does incredible work for the team, both defensively and offensively," midfielder Thiago Motta commented. "If he continues to do that, things will happen.
"For an attacker, it's normal to be criticised if you don't score. But at a collective level, his work was very good. I am very sure he'll start to score."
A more selfish approach – like a certain Swede – may benefit him at an individual level and consequently PSG at a team level
.
---
Ibrahimovic might be gone, but he is certainly not forgotten at the Parc des Princes – particularly when he has made an explosive start to life with Manchester United, scoring in three straight competitive outings.
Cavani is inevitably compared to the man he replaced. Not only is Ibra a cult hero in the French capital like few others, he was also supposedly the obstacle to the Uruguay international's relatively disappointing scoring figures.
While the Swede hogged centre stage, the former Napoli man failed to breach the 20-goal mark in Ligue 1 – well below the level he set in Serie A, when he managed 29 in the 2012-13 season alone. Now the focus upon the marksman has increased, and so too has the pressure to perform.
On Sunday, PSG face their first real test of the Ligue 1 season when they travel to face Monaco at their Stade Louis II home, opponents who were one of only two to beat them in Ligue 1 last term. Ultimately this is not the stage that Cavani will be judged on, but a strong display is required to justify the confidence of those who have pinned so many hopes on him.
He has no place to hide. Ibrahimovic has gone but his legacy remains, and over the next 10 months Cavani will - somehow - have to live up to it or prepare for a future elsewhere. All the evidence so far suggests the latter.