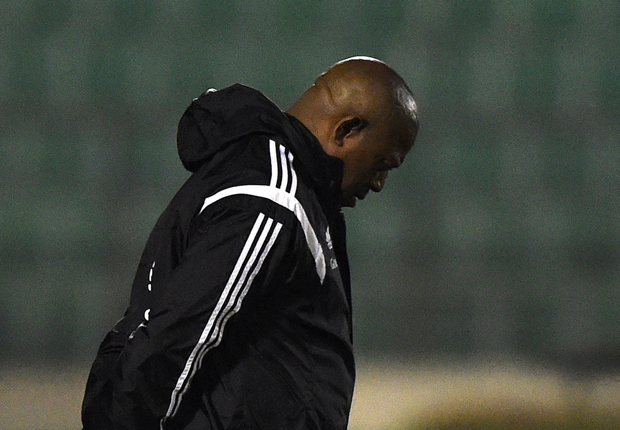 The 52-year-old is fast loosing touch with the financial difficulties encountered by the country's football authorities and might have already taken charge of his final game
SPECIAL By Okeowo Destiny
There are strong indications that
Stephen Keshi
may not return to the
Nigeria
coaching job if his demands are not trimmed to fit into the financial reality of the Nigeria Football Federation.
The 52-year-old is seeking for an improved contract before signing back to lead the Super Eagles to the 2015 Africa Cup of Nations in Morocco.
Having earned 5million Naira a month in his previous spell in charge, the former national team captain has requested for a new pay structure where he wants between 10-15m Naira per month.
However, as revealed by
Sportmasta
last week, the NFF has said it does not have the means to pay the coach more than the 5m Naira that he was paid previously. If they could reduce it further, they would.
Goal has now learnt that the NFF is under increasing pressure from the Sports ministry to cut its spending going into the new year. This will adversely affect the amount of money the NFF is able to spend on competitions and coaches at all levels.
With the increasing profile of other sports like athletics, weightlifting and wrestling where Nigeria picked up important medals at the recent Commonwealth Games in Glasgow, the Sports ministry is looking to concentrate on more than just football.
As preparations increase towards the next Olympic Games in Rio, it is perceived that the Sports ministry and National Sports Commission will look to put more money in sports where the country has opportunity to win medals.
The thinking is that while male football provides just one medal, wrestling, weightlifting, power lifting and athletics will provide better opportunities for Nigeria to make a good showing in Brazil.
Hence, the funding for football in 2015 and beyond will become static. Therefore, there would be no justification for paying Keshi much more than he is already taking, even where it is owed sometimes.
The NFF is also going to find it difficult to raise more money from major sponsors GLO, Guinness and TomTom as they have refused to increase their financial standings due to the allegations of corruption flying around.
Perhaps the falling out with kit manufacturer adidas will bring about a better contract with the other major sportswear companies. This is yet to be seen.
While President Goodluck Jonathan is a keen admirer of Keshi's work and has told the NFF to keep him by all means, the president rarely uses overwhelming influence to get things done and wouldn't do it right now since he understands the limited finances of the sports ministry and the Glass House.
The only option that could see Keshi receive between 10-15m Naira for his new contract is if President Jonathan decides to pay the coach directly from the coffers of the Presidency.
This is also a very unlikely possibility seeing the enormous other issues that Aso Rock is dealing with going into the 2015 general elections.
It is also important to understand that president Aminu Maigari's faction in the NFF does not like Keshi's personality having taken the shine off them following the success of Afcon 2013. This is one of the main reasons why the renewal of his contract was delayed till after the World Cup in June.
Even if the other faction led by vice president Mike Umeh gets into office after the next NFF elections, it will still face the issue of lack of funds to pay Keshi according to his demands.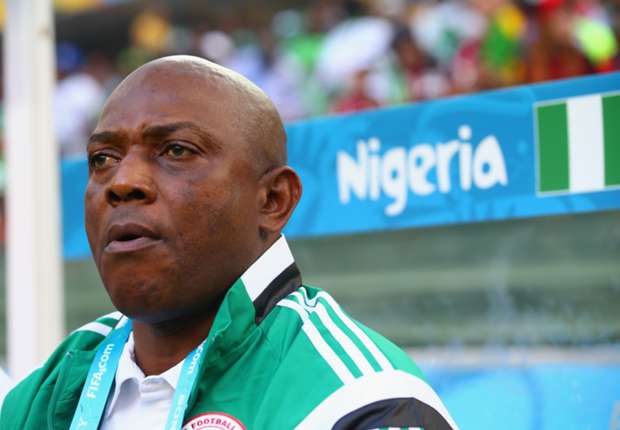 Keshi
| End of an era?
Last week, Keshi's agent Emmanuel Ado stated that the coach will not be taking a slave contract, that anything less would be demeaning to the profile of the highly successful trainer.
Yesterday, Keshi told Brila FM of his frustration with the NFF conditions: "If really NNF is serious, they are not going to propose the same condition that I had for two and half years, expecting me to take it for another four years. That means they don't want me, indirectly they are telling me they don't want me."
He even went as far as saying that he passed up offers from other countries to pursue continuing his job with Nigeria, even picking the squad to play Congo and South Africa for next month's Afcon qualifiers while out of contract.
"I've missed a lot of opportunities from other countries. It's not only South Africa, I had Gabon and co., I can't wait anymore. I wish the team well. I am happy with the players but you know my career also needs to move," he said.
While Keshi has stuck to his guns and wouldn't go back to the 5m Naira he was paid in his previous contract, Sportmasta learnt that there are coaches willing to take the role for 3m Naira.
With another World Cup in four years time, there's no pressure on the NFF since they have just won the Afcon and will gladly give the job to any coach who will work according to their terms.
Keshi's time with the Super Eagles might sadly have come to an uncelebrated end.