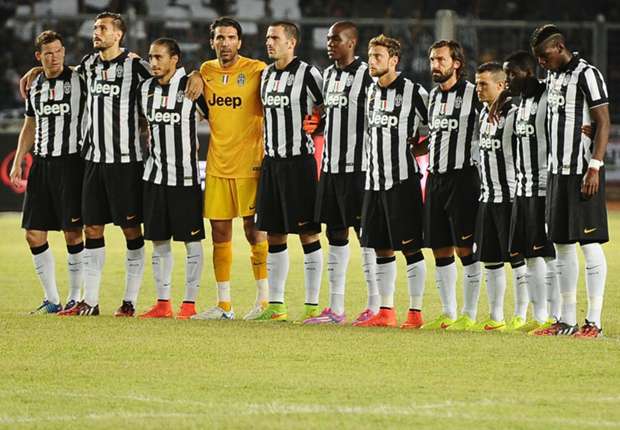 COMMENT: The Giallorossi are following the Old Lady's lead in terms of building their own stadium - the rest of Serie A must now follow suit if Italian football is to rise again
By Sam Praise
A new season. A new dawn? The 2014-15 Serie A campaign kicks off on Saturday evening and Juventus and Roma will both feature, which is fitting, because not only are they the top two clubs in Italy right now, they are also the best run. They represent progress. More importantly, they represent hope.
Juve have long been Italy's club but they have always drawn as much hatred as they have love. The 'grand old lady of Italian football' to some, 'thieves' to others and even 'hunchbacks' to superstitious skeptics. However, while Juve are reviled by many, they are respected by all because of the way in which they have shown the rest of their Serie A rivals the way forward on the road to redemption.
Just eight years ago they were relegated to Serie B for the first time in their history because of the club's involvement in the 'Calciopoli' scandal. Now they are bidding to win a fourth consecutive Scudetto, with their most recent title triumph having come with a record-breaking tally of 102 points. The Bianconeri's return to the summit of Serie A is perhaps unsurprising. They have always been a major name in Italian football. They have the pedigree. However, their current domestic form has nothing to do with their past and everything to do with their willingness to build for the future.
IN NUMBERS
Italian Football's Problems
1
As it stands, reigning Serie A champions Juventus are the only club in Italy to own their own stadium.
2
Serie A will have just two teams in this season's Champions League, Juventus and Roma, following Napoli's midweek play-off loss to Athletic Bilbao.
4
No Italian club has even reached the last four of the Champions League since Inter won the tournament in 2010.
5
According to Uefa's coefficient rankings, Serie A is now the fifth-ranked league in Europe, behind La Liga, the Premier League, the Bundesliga and Portugal's Primeira Liga.
As far back as the mid-1990s, Juventus were dreaming about owning their own stadium. Of course, getting something done in Italy is easier spoken of and it was no surprise that Juve's dream did not become a reality until 2011. However, the Juventus Stadium has proven worth the wait. It is no coincidence that since moving into their own purpose-bulit arena, the Bianconeri have won three successive Scudetti.
Indeed, the Old Lady's construction of their own stadium is unquestionably one of the most signiificant developments in calcio over the past decade. Italian stadia have always been rented off the local council, meaning clubs have never been in a position to generate any revenue from game-related activities. By becoming the first club to own their own arena, Juventus have changed everything.
They are now making money on their ground. And not just on matchdays. The affect has also been felt in the stands, with Juve having wisely decided to do away with the running tracks that for so long have been synonymous with Italian football. They realised from studying other leagues that immediacy equals electricity and Juventus Stadium is renowned for its fantastic atmosphere. Hardly surprising, then, that the Bianconeri's new home has become a fortress.
"Sold out nights are now almost the norm," club president Andrea Agnelli stated in February of this year, "while it is also a victory to see the stadium used seven days a week through our hospitality areas where businesses, sponsors and private parties can organise events.
"We hope that others can follow our example, because the step up Italian football needs goes through investments in new infrastructures."
The good news is that Roma are well on their way to emulating Juve's achievement. The capital club's American owners made a stadium their primary goal upon taking charge in 2012. Now their plans are set to come to fruition in just two years' time. The speed at which Roma's project is progressing would have been unthinkable even just a few years ago but governmental rule changes in 2013 have helped remove some of the red tape that for so long prevented Italian clubs from building and owning their own stadia.
"[The new stadium] is clearly going to give us a competitive advantage," Roma president James Pallotta enthused after the publication of pictures of the club's new stadium. It will be still be some time before the Giallorossi feels the benefits of owning their own arena. There is no quick fix. Time and patience are just as important as revenue and investment. And all four are precious commodities in Italy.
However, after a summer of disappointment of disillusionment in which the national team suffered a group-stage elimination for the second successive World Cup, there is now at least an acceptance that reform is not only desireable, but imperative.
Even the Italian Football Federation's new president Carlo Tavecchio admitted: "The reforms in football must go hand in hand with reforms in the country. If the country is reforming then football must follow as well.
"Perhaps I have taken on a responsibility that is bigger than me and this Federation, but I think there is no other option."
Of course, whether widespread reform is really attainable under a man who has only further sullied Serie A's image this summer is debatable. Still, while Italian football may be in the gutter right now, Juventus and Roma are, at least, looking at the stars.