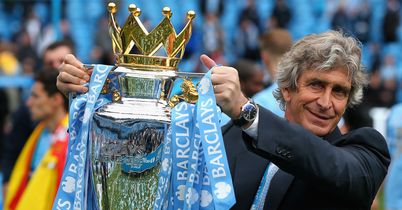 Pellegrini's side were beaten 3-2 at Anfield in April, a result which left them trailing Liverpool by seven points at the top of the table with two games in hand.
But Brendan Rodgers' men managed just two wins in their remaining four fixtures as they lost to Chelsea and drew at Palace, while a six-game unbeaten run saw City storm to the title.
Pellegrini said: "I was not surprised (Liverpool did not win the title).
"I was absolutely convinced when I said the words that I said, 'Careful. It's not finished because they have to play four games more and the pressure, when you are at the top of the table, is increasing after every game'.
"The most important thing for us was not to think about Liverpool, but to think about what we had to do – we had to win the last five games and we did.
"I can't talk about what happened with Liverpool at that moment, but from my experience, when you are finishing the season, the pressure increases for every team, not only for Liverpool.
"Everyone says it's a very difficult league and every team can beat any other team every weekend.
"So when you have to play four more games and you have only two points at the top (over second-placed Chelsea), you cannot be sure of being champions.
"That's why I was sure they weren't going to win the four games they had to play."
Pellegrini has boosted his squad this summer with the arrivals of Bacary Sagna, Fernando, Willy Caballero and Eliaquim Mangala, and he is backing his men to retain their crown this season.
"I think that five or six teams have the option to win the title, but I always favour my players," he said.
"Other teams have strong squads, but, if you are analysing the players, I prefer mine."