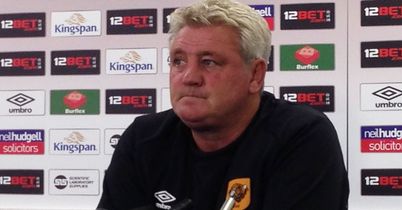 Hull City manager Steve Bruce has admitted defeat in his bid to sign striker Jordan Rhodes from Blackburn.
Bruce is keen to add to Hull's front-line after Shane Long joined Southampton and singled out Rovers forward Rhodes as his number one target.
Rovers reportedly rejected two bids from City but Bruce remained hopeful of signing the Scotland international.
However, Bruce has now thrown in the towel in his bid to sign Rhodes and instead hopes to secure another "fantastic addition" for City.
"It's dead and buried," Bruce told
Sportmastas News
. "It's their prerogative and as I've said we got an indication from Blackburn that they were willing to do a deal.
"That obviously changed within 24 hours and that's their prerogative. If they had said that to start with - that he wasn't for sale, no matter what we wanted to do - then fine, we'll walk away.
"But unfortunately it gets a bit protracted and as I said last weekend, we thought it was close and then all of a sudden things change and he's not for sale, so we'll move on to the next one."
Bruce still remains confident of signing a striker before Monday's transfer deadline but did not want to jeopardise any potential deal by revealing any names.
"We're close to one or two things, very close to one in particular, which will be another fantastic addition if we can pull it off.
"But until it's really been rubber-stamped, I'm not going to say anything."