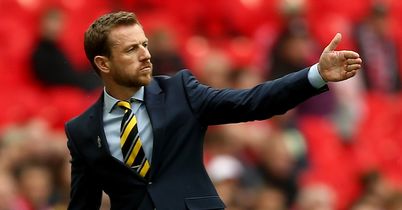 fter a transfer row led to the exit of Tony Pulis, Burton's Gary Rowett discusses how business is done at League Two level in his new column.
Tony Pulis left Crystal Palace by 'mutual consent' last week, apparently after becoming disillusioned with a lack of full control over transfers at Selhurst Park.
In the first edition of his exclusive new weekly column for TEAMtalk, as part of our
Football League Focus
every Thursday, Burton manager Gary Rowett explains why such friction is unlikely to ever occur lower down the league ladder, where sporting directors, financial directors and heads of recruitment are virtually unheard of.
It's tougher at the top
With Tony Pulis used to working in the Football League, it must be quite a different scenario for him at Crystal Palace to be having three or four people above him in the chain of command, and having all of those people as part of a potential deal and the financial side of it.
All of these top clubs have got a director of football, head of recruitment, financial director, chief executive, chairman, owner...there's so many people with a finger in the pie that it must be difficult for the manager.
It's very different at my level. I go to watch games, I speak to the agents, I speak to the players, I speak to the clubs, and I will actually do the deal.
In the summer I sat on a beach in Portugal somewhere writing down potential deals and working out how much it would cost, if we could do it within our budget, and how we could structure those deals.
I quite enjoy that side of it but the higher up you go the more complicated things become. I suppose that's something you have to deal with the higher you manage.
On coaching courses I've been on they talk about managing upwards and making sure you have good relationships with the people above you. It looks like at a lot of the bigger clubs those relationships are never always quite as you would hope.
That's where the problems come when there's not consistency of opinion among those decision makers. You have to have an aim, a target, a philosophy and a plan that everyone works towards.
If there's that clarity it's quite simple, you all work as hard as you can towards that. It's when there are differences of opinion and also different types of egos that the problems come.
Those working at the top of the game have been more successful with more regularity so therefore you probably get more people clashing.
A lot of these Premier League managers are obviously very strong minded people to have got to that position so I'm sure they want to be the ones to make the decisions. But most of the owners are also very successful people and the same thing applies. It's never easy.
I'm very fortunate to be at a club like Burton. Because of our success over the last couple of years I think the chairman trusts my judgement; I've started to earn that trust.
We make the decisions together and I think that's a nice way to be but I'm sure at some point in my career if I ever move on to a different type of club it will be very different and probably much harder to make those decisions.
Transfer process at Burton
We lost our chief scout in the summer so at the moment we've got a couple of lads helping out with the scouting but really it's just me and my coaches going out and watching games every week.
We also have a system called Wyscout where we can access footage of games. An agent will ring me, mention a player's name, and I will go straight onto Wyscout and watch two or three games a day or lots and lots of clips of games.
It's through a combination of using that and also the games we've seen and the players we've liked that we'll set our targets.
For this transfer window, we drew up a list of six players that were our main targets. I'd like to see we drew up another three or four lists in case we had to work down them but we didn't really; we set six targets and worked through those.
We were quite fortunate really. I worked really hard over the summer to meet players and we got most of our targets.
Acquiring those targets takes a degree of realism as to whether you think you've got a chance of getting them so I think that's half the job. You see a player is available in the summer but the reality is that 60 or 70 per cent of the players available are not going to initially step down to League Two.
You've got to have a feel for it and over time you start to get a better idea of who you can get and who you might need.
Once you've got your targets set, sometimes you will literally Google who the player's agent is, just try to find any way of finding out.
Often you don't know who the agent is so you don't know who to contact and end up trying to go through a friend of a friend. It's like a treasure hunt, but suddenly you find a name and that's part one of the process taken care of.
Then if I like a player it's a case of me trying to come up with a deal. I'll go to the chairman with an idea, he might come up with one or two other things, and that's how it works.
I suppose simplistically when you're just dealing with me and the chairman it's quite easy to get deals done but it takes a lot of time and a lot of hard work to make the right decisions. And that's the case with most League Two managers.
Transfer window system works well
If the transfer window was open all of the time, I wouldn't say you could cheat but if a team is struggling they can go and sign four or five players to get out of trouble. In some ways it doesn't need such good management; you don't need to make such good decisions if you've got that money.
I think the current system works quite well for a lower-league club because you've still got an opportunity midway through the season to sell players if you need to for financial reasons, and you've got an opportunity to bring in players, which is also important. You can only play a limited number of loan players so permanent signings are very important.
I also think the emergency loan window is vital for lower-league clubs because if you get an injury to your right-back, for example, you can go out and replace him within a week and get some good players in that way.
That is important because we're not carrying 30 or 40 players like some of the clubs are. We're carrying probably 20 players at the moment, and on Tuesday night against Exeter we had five players on the bench that have been within our youth system in the last year.
It's hard to get massive debts at a club like ours so it's important to be able to use the system to your own advantage.
I can understand the argument and think there's a semblance of sense in limiting the emergency loan window to just one a season so you've got to work with a group of players all season but as a League Two club you are not able to carry a big enough squad to get you through the season without dipping into the loan market as and when you need it.
While it would be okay for the bigger clubs, for some of the smaller clubs like ourselves that would make it very challenging.
Sales sometimes necessary
We sold Billy Kee to Scunthorpe earlier this week. The situation was not a unique one, but he'd been here three or four years and done very well for us.
He didn't start the first three games of the season, he was in the last year of his contract, and we had a very good offer for him, so you have to weigh all of those things up.
Our club is about success but it's also about making good decisions at the right time. Do you turn down good money for someone that could be unhappy for parts of the season and have them leave for nothing in the summer?
You have to look at it and say, 'if we were to get that money, what can we do with it to strengthen us, what do we need as a club or a squad going forward?'
In our case, at least with me and the chairman being in control of those decisions we can make them for footballing reasons.
We can make sensible decisions whereas sometimes higher when players are sold it sounds as though managers don't know they're getting sold. That must be very difficult for a manager to be involved in but thankfully we don't get that problem at our club.