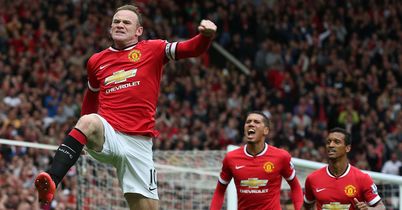 Mark Holmes challenges Catfish & the Bottlemen singer and Manchester United fan Van McCann in round two of the Sportmasta Prediction League.
This season, our man Mark will take on someone from the world of music or celebrity to predict the outcome of the 10 Premier League games every weekend.
Every correct result will be worth one point, while every correct scoreline is worth three points. We will keep a tally throughout the season to see how Mark fares against all of our guests.
After being beaten 10-6 by rapper Franko Fraize in week one, Mark will hope to do better second time around.
Aston Villa v Newcastle
Mark:
This is a tough one to call. Newcastle have bought well over the summer but Villa were impressive at Stoke last weekend and are at home. However, that hasn't always been an advantage for them in the past.
1-2
Van:
Despite Villa beating Stoke I think they'll have a dry one, and they'll probably both concede a goal. I hope Newcastle demolish them, though, as our new guitar player is a Geordie.
2-2
Chelsea v Leicester City
Mark:
Chelsea brushed aside one newly-promoted side on Monday night, and they're unlikely to have too many problems seeing off another at Stamford Bridge this weekend.
3-1
Van:
Chelsea have started class. Costa's gonna turn things up for them. I think anyone will struggle to beat Chelsea this year. Cesc is a naughty signing.
4-0
Crystal Palace v West Ham
Mark:
It's not been the best of weeks for Palace but I still fancy them to edge a win in this one. West Ham played well against Spurs last weekend but they still lack goals.
1-0
Van:
I reckon this will be a stale game. I predict streakers.
0-0
Southampton v West Brom
Mark:
As I wrote last week, I don't think Southampton will be in trouble this season. But West Brom might well be.
2-0
Van:
I reckon two-nil to Sarrrfampton purely because I went them on Footy Manager a few years back and they got me a few runners-up medals.
2-0
Swansea City v Burnley
Mark:
As is the case with most newly-promoted teams, I expect Burnley to struggle away from home this season. They certainly won't find it easy at the Liberty.
2-0
Van:
I reckon 3-0 to Swansea.
3-0
Everton v Arsenal
Mark:
It looks like it may take a while before we see the best of Arsenal, and they go into this one on the back of a midweek trip to Turkey. However, they still look stronger on paper than Everton and will have enough to get a result here, I think.
1-1
Van:
This will be a class game! I reckon a high scorer. I also reckon Wenger will head-butt someone.
3-2
Hull City v Stoke City
Mark:
As I said last week, I'm going to slip up predicting Stoke's results this season! However, I'm staying positive for now as I think Mark Hughes will have learnt a lot from the defeat to Villa.
1-2
Van:
Draw for me. Big shout out to Peter Crouch. He's a fan of the band, and the poor fella keeps buying t-shirts off our merch stand that never fit him.
2-2
Tottenham v QPR
Mark:
I really fancy Spurs to do well under Mauricio Pochettino this season, and I can't see them having too many troubles in this one.
2-0
Van:
This will be a wild one but I reckon Spurs will take it.
2-1
Sunderland v Manchester United
Mark:
I wrote before last weekend's game that it wouldn't be quite as simple as some were predicting for United to stroll back into the top four. However, I still expected them to beat Swansea! Louis van Gaal will have learned a lot from that game, and I think they'll bounce back.
1-2
Van:
Is Van the Man back? If he's back I reckon it'll be 3 - 1. I fancied Fellaini to score a scorpion kick until he got injured.
1-3
Manchester City v Liverpool
Mark:
A lot of people are expecting another thriller but City look so strong now that I expect they'll be able to grind out a victory without too many hairy moments.
2-0
Van:
This will be another good game I reckon. I think it'll be 2-1 to City but I hope Liverpool win as my dad's lost enough hair already.
2-1
Van McCann: This week's guest predictor
Five from Van McCann
How did you come to support your club and what are your favourite memories from your time as a fan?
My dad is a Liverpool fan. I found out at a really young age how good it felt to drive him mad; my mum enjoyed winding him up, too, and advised me to go United, so I did.
Who have been your biggest heroes during your time supporting the club?
I absolutely loved Keane and Scholes. Absolute bricks! Proper A-Z pub crawlers! But Danny Welbeck's my hero at the moment! I just think he's class!
He's one of those players that doesn't know what their doing 90% of the time but if that's the case, then how are defenders supposed to know?
What do you make of the current team? What are your hopes for the season?
I've been away and got back to watch the first game of the season and it was a no starter to be honest. I'm not worried at all as RVP was out and obviously my man Welbz was missing.
For me they're just lacking a bit of excitement. There's no spark there. It'll come but it needs to come early on.
Everyone has a soft spot for another team. Who's yours and why?
Arsenal. I've always loved watching them play. They don't do anyone any harm, Arsenal. They just play s**t hot football but barely win anything so I've always liked them. I love Iriiiin Riiiiiimsey me..... He makes the single ladies cry.
What's going on for you at the moment?
Our album is out next month and we're just about to go on the US and then come back for biggest headline tour we've ever done. I'm excited, man