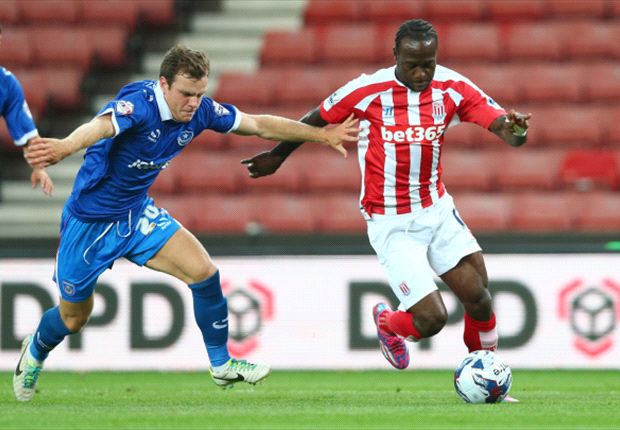 Both Stoke City and West Bromwich Albion will be calling on the services of a pair of Nigerian strikers this season, but who's got the better duo?
DEBATE
By Sam Praise & Atana David
Nigerian forwards appear to be
en vogue
in the Premier League mid-table this season.
Beyond Sone Aluko, who will likely star on the right for Hull City, West Bromwich Albion and Stoke City are both likely to feature a pair of Super Eagles attackers.
At the Albion,
Victor Anichebe
, who arrived last summer, has been joined by
Ideye Brown
. The former Dynamo Kyiv striker may be the Baggies' all-time record signing, but having missed out on Nigeria's World Cup squad, he has a point to prove.
At Stoke City, veteran
Peter Odemwingie
has been joined by
Victor Moses
.
The one-time Super Eagles hero has fallen on hard times of late. He is unwanted at Chelsea and flopped at Liverpool.
He, too, has to reassert himself this season.
In this Debate, two
Sportmasta
writers compare the pairings and argue which duo will be the most potent this term.
Ideye & Big Vic: Opportunity & Responsibility
West Bromwich Albion clung on to 36 points to avoid relegation last season.
Over the summer they moved swiftly to annihilate last season's woes, (only seven wins in 38 English top-flight games) signing Brown Ideye to complement the efforts of a strike force that includes Victor Anichebe.
Coincidence? Certainly not.
With two games and two points already in the bag, the Nigeria duo boast four attempts on goal.

Momentum is gathering speedily, and quite plausibly, it's only a matter of time before they start to find the back of the net.
Within the context of direct importance to a club's overall ambitions, the influence of
Ideye
and
Anichebe
at the Hawthorns far outshines the prospects of their countrymen, Peter
Odemwingie
and Victor Moses, at Stoke City.
On the back of a productive pre-season with the Baggies,
Anichebe
has started both games for Alan Irvine's men. At home to Sunderland, he won a penalty, which
Saido
Berahino
converted. Away to Southampton, which ended 0-0, he was on for 52 minutes—and replaced by…yes,
Ideye
!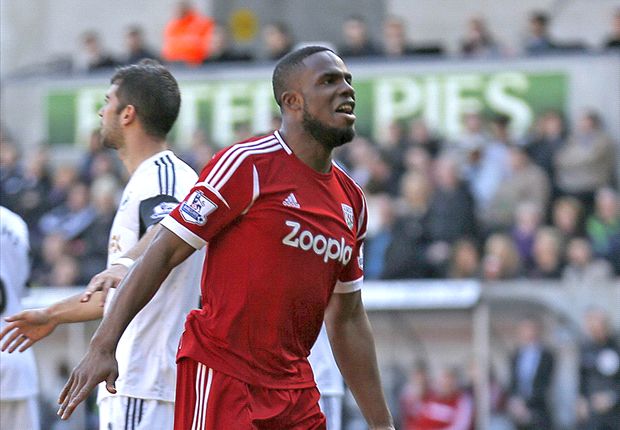 Anichebe |
Hoping to fire the Baggies away from the relegation zone

Irvine, understandably, has gradually eased
Ideye
into the system following his move from Dynamo Kiev, where he scored 33 goals in 78 appearances, to England.
In a 38-miunte run-out on his debut, there were plenty of signs to show that Irvine has struck gold with a potential goal-machine at his disposal.
After
Ideye
replaced
Anichebe
, who led the Baggies in badgering and probing the Saints' defense tirelessly, seven minutes after the break, he almost snatched a late goal—a possible winner—only for Fraser Forster to thwart him.
Ideye's
goal-scoring prowess (which was why West
Bromwich
broke the club's transfer record in the first place) has never been in doubt, and the £10 million-pound man looks every bit a player who will thrive at the Hawthorns. Once he settles in properly, hopefully soon, and scores his first goal, there's a sense he could fire on with inextinguishable confidence—with an eye on a Super Eagles return, of course.
As for
Anichebe
, already tipped by his manager for big things this season, he is set to play a big role for the Baggies.
Unlike the 'wingers' at the Britannia Stadium, who could find themselves on the brinks given the vicious competition for places on the flanks in Mark Hughes's squad,
Ideye
and
Anichebe
are shaping up nicely to play a prominent role for the Baggies this season.
Follow okeowo destiny on

Odemwingie & Moses: Better Together
Stoke's
Nigerian dynamic duo of Peter
Odemwingie
and Victor Moses promises to be quite effective in the Premier League this term.

Here's why.
First off, in comparison to the Nigerian pair at the Hawthorns, there will certainly be a larger window to excel. Considering the skill-sets of Victor
Anichebe
and Brown
Ideye
, it is highly unlikely that both will work well together in tandem.
Anichebe
is the archetypal target man, relying on his physical prowess almost exclusively. He possesses decent pace in bursts, but is not especially clinical.
Ideye
on the other hand, is amazingly mobile and is a workaholic, the sort of striker to lead a press and run defenders into the ground.
They do share similarities: both are big strikers,
not
reliable finishers and
neither is
adept at dropping deep to receive the ball.
This is where
Odemwingie
and Moses as a pair has the advantage.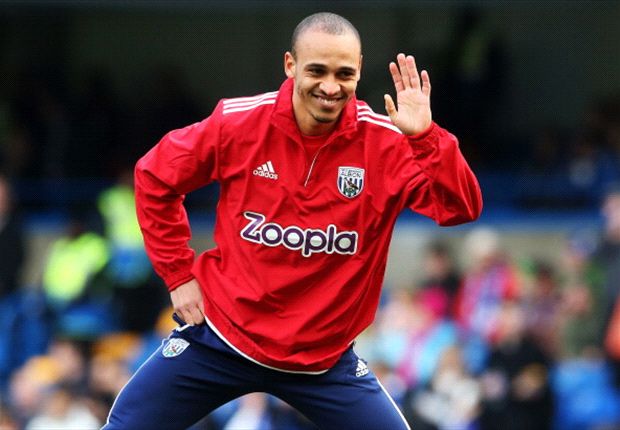 Odemwingie |
Knows what it means to carry the goal-scoring burden in the Black Country

Moses is very much a winger: full of flair and while possessing speed, he prefers to slow the game down before exploding in a burst of movement.
His poor World Cup showing will perhaps cause many to forget, but when the on-loan Chelsea man is sufficiently motivated, he can be a fearsome weapon.
Odemwingie
on the other hand is a player often misunderstood. He exploded onto the scene for the national team as a
pacy
forward, but has spent much of the intervening period featuring as a winger for the Super Eagles. Watch him closely and you will understand his is not especially suited to the role; acceleration is not everything. He is suited to the role of second striker more, not being an especially good dribbler.
This contrast is what gives the Stoke pair an edge.
Odemwingie
finished last season in useful form, forcing his way into the Nigerian World Cup team. He is a proven scorer of important goals, and Moses has the trickery from out wide that is
perhaps absent from the
Brittania
locker
room
.
Moses of course has a point to prove as he aims to salvage a career that is drifting toward mediocrity.

If this does not motivate him, nothing else will.
Also, their differences enhance the likelihood of the pair actually linking up in the same starting lineup, an unlikely possibility for the West
Bromwich
duo of strikers.
The possibilities are truly exciting. What are the odds of a Moses assist for an
Odemwingie
winner in the 93rd minute, I wonder?