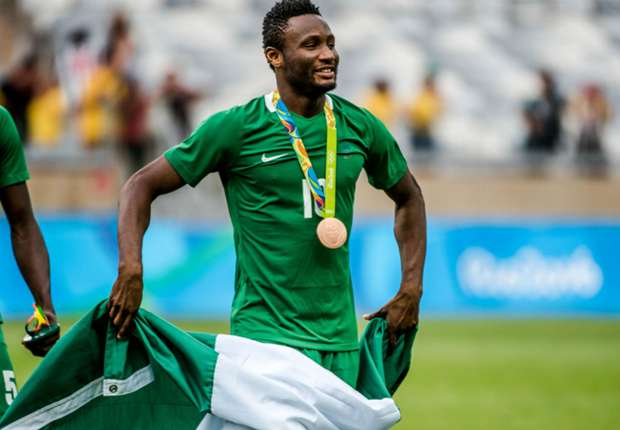 Having led the Dream Team VI to win Rio Olympic bronze, he hopes his Blues' teammates are not envious of his achievement
John Mikel Obi has shown off his latest Olympic medal and hopes that his Chelsea team-mates won't be jealous of his achievement when he returns to Stamford Bridge.
The Dream Team VI defeated Honduras 3-2 in Belo Horinzonte on Saturday to clinch the third place prize.
And the midfielder who scored one goal and assisted four relishes the success and reveals how it would help his career.
"I was obviously very clear before travelling to Brazil that my target was the gold medal, but to get the bronze is still an amazing achievement,' Mikel wrote in
Evening Standard
.
"There was a celebration at the hotel afterwards, we were all jumping around. Everyone was so excited. But we managed to get everyone to sit down together and have a team meal. After everything we have been through, it was great to have something to show for it and we all thanked each other.
"It really is a dream come true for me. I might take the medal to the Chelsea training ground to show to the other players - I hope I don't make them jealous though!
"It's provided me with a nice lift as I return to Chelsea. I will go back to see the manager and see what his plans are for me. I want to get back into training and prove myself. I want to play and help the team to win games."
He continued: "I know it will be difficult because I have missed most of pre-season and the coach has a new way of playing. But it is a positive thing for me that I have been playing well in Brazil and I'm in good shape.
"I will need a few days off first because this tournament has been so draining. I arrive back in London on Wednesday morning and the game against Burnley on Saturday will come too early to feature in.
"The plan is to have a little break, which is why the timing couldn't be better as the season stops for two weeks for international fixtures after the Burnley game anyway.
"It will give me plenty of time to enjoy my bronze medal and reflect on what has been a magical few weeks in my football career," he concluded.