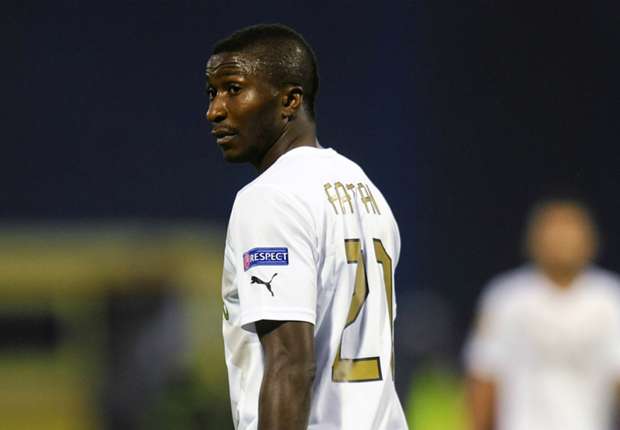 After featuring for the Flying Eagles at the 2009 U20 World Cup in Egypt, the 25-year-old Sparta Prague forward is ready to swap his Nigerian nationality
Former
Flying Eagles
striker Kehinde Fatai is set to play for the Romanian national team after being ignored by the
Super Eagles
,
Goal
can exclusively report.
Goal obtained exclusive quotes from the player courtesy of sport journalist Oma Akatugba's upcoming show, "
African Internationals
".
The Sparta Prague forward confirmed that the Romanian FA have approached him but that his debut is being stalled by the lack of a Romanian passport and Fifa approval. He has lived in Romania since 2007 after moving there to feature for FC Farul Constanta.
"It was last year the Romania FA came after I played some Europa League games for my club in Romania, before I moved to Prague. So the national team coach approached me and talked with me personally. Two days after then, they announced on TV that they want me to play for them and the president of the Romanian federation invited me and had some discussion with me about it. And they went to Fifa to talk about it that they want me to play for them. So [the fact that I'd played] for Nigeria in the youth team, [made them] put in [application] to fight for this," Fatai said.
The only thing holding him back now is a Romanian passport, which should be issued in no time once the global body approves.
"This is what we're waiting for, Fifa has to give them some response in a couple of weeks then I'll take my passport," he said.
The former Astra Giurgiu talisman noted that the Romanians are more interested in his service as a result, he's turning his focus towards them instead of Nigeria.
"I think Romania people are more focused on me because I played for Nigeria in the youth level but since then I think I've been playing every year in the Champions League or Europa League constantly since 2009 but I've never got any calls, nothing, nobody showed interest. I think I don't belong there, and these people here showed more concern and interest."
Fatai, who last played for Nigeria in the 2012 Olympic qualifiers against Tanzania, revealed that his greatest aspiration would have been to play for his country of birth.
"It's my dream since I was little," he said. "I really wanted to play for Nigeria. It was a very very big dream I planned and wanted so much. I got the chance to play in the U20 World Cup with coach Samson Siasia and he discovered me in that tournament. Since that tournament, nobody called, national team (Super Eagles) nobody called. I was only called after then once for the U23 game against Tanzania. Since then it's five years or six years."
The Abuja-born attacker highlighted his consistency with his club side and pointed that as a merit to get a call up from the Super Eagles. Fatai joined Sparta Prague in May 2015 and has scored eight goals in thirteen appearances for his new club.
"I will not say I deserve or maybe they do not think I deserve it. But not all Nigerian football players playing in Europe play in these tournaments [Champions league and Europa league] and I'm not just present there, I am playing very well there, so I think I deserve maybe, I am not saying it is obligatory."
Fatai does not rule out appearing for the Super Eagles if the chance comes up but he would like to be assured that it would be more than a token appearance before abandoning Romania's call.
"I don't know, we are talking about chance, maybe. It is not sure, it is something to think, it has to be real. It's not just like 'Kenny come for this friendly game' or 'Fatai you are invited for just one game', then it will not continue again. I want to play for the national team, I want to play for Nigeria. If it's not working, I will like to play for other countries that want me," he said.
The former JUTH FC player affirmed that he is unperturbed with his omission from the national team and feels that every regular player deserves an opportunity to wear the green and white jersey. Even then, he would continue to be a supporter of the team.
"If it worries me, I won't even go for the last game because I was free in Prague and I went to watch Nigeria in Belgium in their last game and I'm not worried, I'm not upset. It is just that I think everyone that is doing well in his club side like regularly, deserves a chance.
"I don't want to talk about better or something. Just give other people chance or so if they deserve it," he concluded.