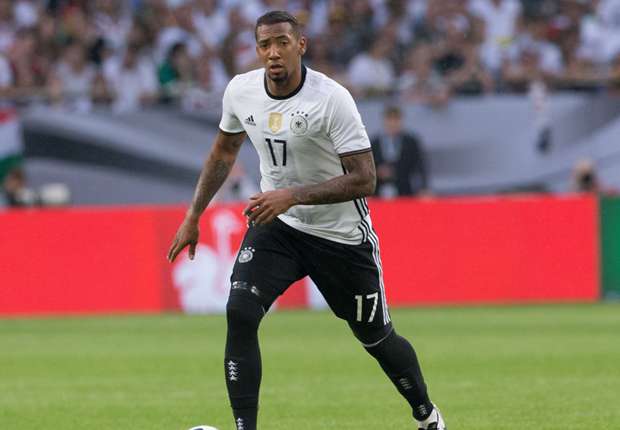 Need a little help deciding which boots are best for you? Give the INTERSPORT Football Boot Finder a go to find your perfect pair
So you want to be the next Jerome Boateng or Laurent Koscielny, two Defensive Rocks of the recent UEFA Euro 2016 tournament in France?
Where to start? Perhaps with your feet, which will be tasked will doing most of the work necessary to ensure your team secures that all-important clean sheet.
There's a lot to consider when shopping for a new pair of football boots, particularly with the continuous advances in technology that have seen the leading sportswear brands pushing the envelope further with every release.
So INTERSPORT is helping perspective future stars of the game select the right footwear for their specific needs with its new Football Boot Finder.
And for those taking their place at the heart of the defence, the INTERSPORT Football Boot Ranking found that the Nike Tiempo, worn by both Germany and Bayern Munich's Boateng, and France and Arsenal star Koscielny, at Euro 2016 emerged as the best fit for the game's defensive rocks in France.
Boateng's Tiempos saw 508 minutes at the tournament and made 42 recoveries for his side before they fell to Koscielny's France in the semi-finals. He made 10 interceptions and won 68.8% if his duel's throughout the Euros to secure a place in the team of the tournament.
He has also shown his effectiveness at the other end of the field, smashing in a fine strike in his side's 3-0 victory over in the round-of-16.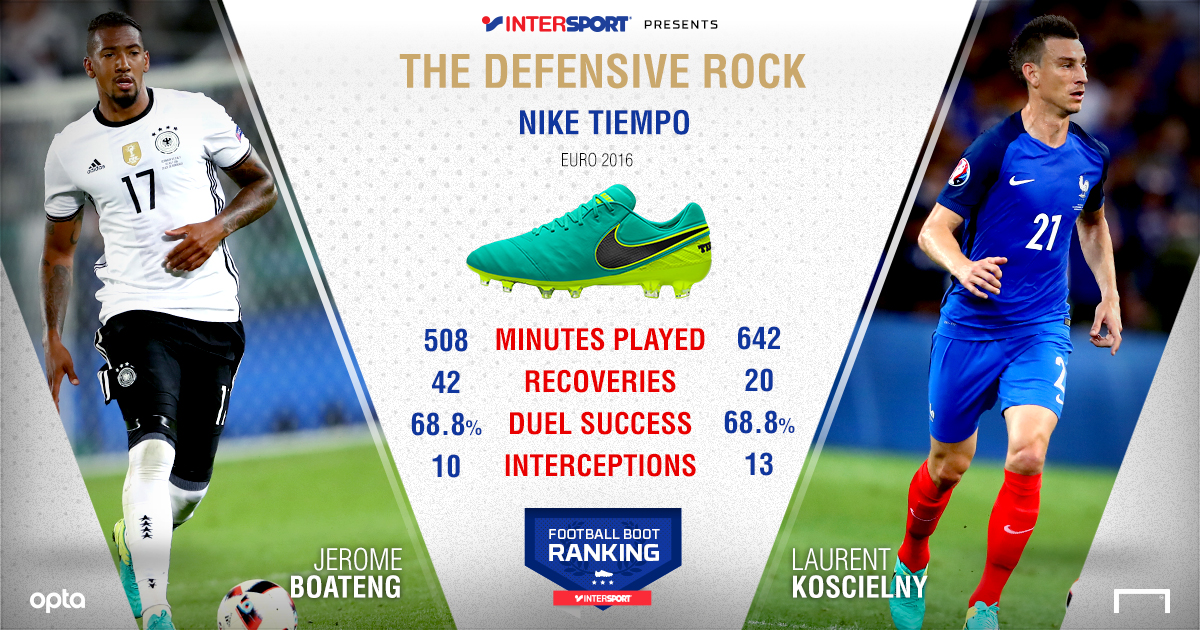 Koscielny didn't find the net but was key in knitting together a make-shift French back-four that was ravaged by injuries in the run-up to the tournament.
The 30-year-old was one of the other major performers for the Tiempos, guiding his side to the final and matching Boateng's duels-won percentage and making 13 interceptions throughout his 642 minutes on the field.
An injury to Boateng against France proved a significant blow to the reigning world champions, who had conceded just once in five matches the Bayern man leading the back-four. It was this form in the run-up to the semis which ensured Boateng made the official UEFA EURO 2016 Team of the Tournament.
Other Tiempo wearers, such as England's Chris Smalling and Spain duo Gerard Pique and Sergio Ramos had comparatively disappointing stints in France, but the likes of Italy's Andrea Barzagli and eventual Euro champion Jose Fonte of Portugal pulled the Tiempo up by its laces
Both Barzagli and Fonte hit double figures in interceptions and made 45 clearances between them for their respective sides to ensure the Nike Tiempo prevailed as the ideal boot for the Defensive Rock.