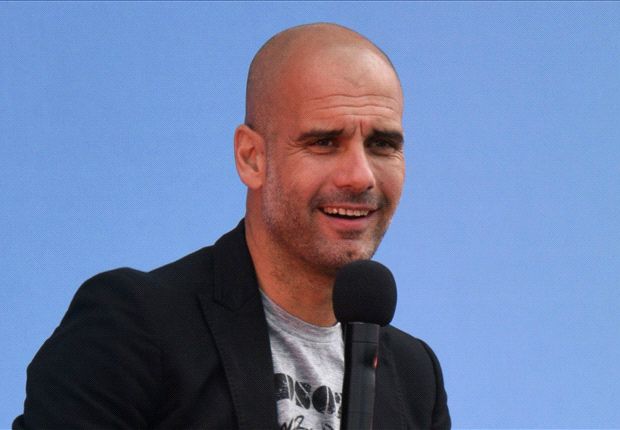 The Catalan was unveiled to supporters at the Premier League club's training ground on Sunday, and he promised to do whatever necessary to get the best from his new players
Pep Guardiola says he will not be afraid to "kick the arses" of his Manchester City players as he bids to get to grips with his new squad.
Guardiola was unveiled to supporters on Sunday afternoon as a weekend-long fan festival at the club's training ground came to a close.
The former Bayern Munich boss officially started work at City on Friday, but with the vast majority of his players either on holiday or involved in international tournaments he will have to wait before conducting many personal introductions.
The Catalan did insist, however, that he would do whatever necessary to get off to a flying start in the 2016-17 campaign.
"You will see what [style] we are going to play in the first game," he told the 5,800 supporters present. "First I have to meet my players and know them. I know them from TV. I have to hug them, kick their arse and after I need time to know them. I have an idea but I need time.
"I played against Manchester City in the last two or three years many times. I spoke many times with Txiki [Begiristain, the sporting director]. I know them, I know their quality but they have to show me, show the fans again. What they did in the past is in the past. The people don't come here to remember what they did. We are here to try again."
Much has been made of Guardiola's tactical approach and the suitability of his possession-based style to the English game, but the 45-year-old insists he will adjust to the qualities of his players, rather than forcing them to take on ideas they are not suited to.
"My tactics adapt to the quality of the players," he added. "I cannot demand something they are unable to give me. I cannot talk about my players if I do not feel it."

READ MORE

|
Guardiola unveiled at Man City
---
Guardiola arrives at City with 22 trophies to his name, having won 15 with Barcelona and Barca B and seven with Bayern, and he insists he is aiming to "prove" himself just as he did at his two former clubs.
"I proved myself in Barcelona and after I proved myself in Germany and I wanted to prove myself in England.
"The players are coming to try every game, every weekend so that the Manchester City people can be proud. We will see what is our level to achieve our battles.
"I want the people who enjoy football to be proud of what we did. After that, maybe we will win our titles. I cannot do that alone. I need the players, the staff. We need our fans. Without that, it is impossible."