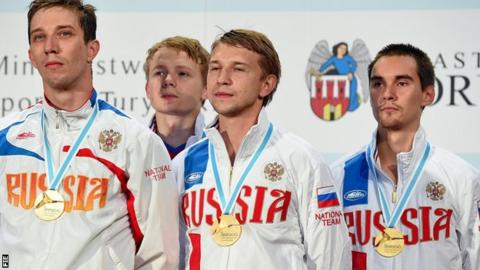 Russia's fencing and triathlon teams have been cleared to compete in the Rio Olympic Games, which begin on 5 August.
Governing bodies are making the rulings following the
damning World Anti-Doping Agency (Wada) report
into state-sponsored doping in the country.
There have been 41 Russians banned from competing at the Games, in addition to 67 out of 68 from the athletics team.
There are 16 Russian fencers due to compete in Brazil, plus four reserves, and six triathletes.
The International Olympic Committee has said individual federations should decide if Russians can compete following Wada's report.
Some international federations have banned Russians from competing altogether, some have issued a partial ban, while others have cleared all Russians to take part.
All Russian athletes from equestrian, shooting, judo, tennis and archery have been given permission to compete.
Athletics' governing body, the IAAF, opted to ban Russian track and field athletes unless they can satisfy strict doping criteria. So far, only one athlete has been able to do that.