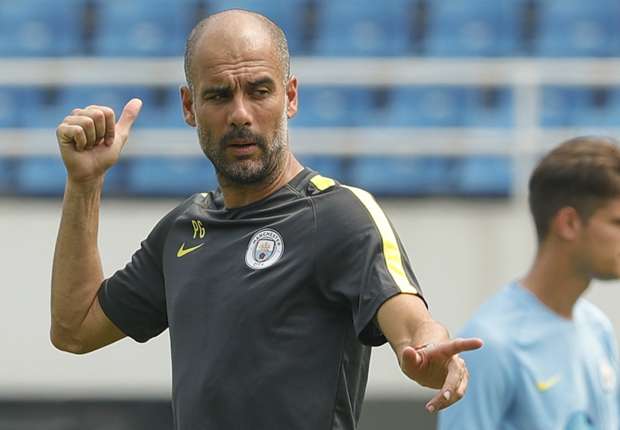 The Premier League side have only played one friendly so far this summer, a situation in which United found themselves against the Bundesliga outfit when they lost 4-1
Manchester City will take part in only their second pre-season friendly of the summer - more than a week since their first - when they take on Borussia Dortmund in the International Champions Cup on Thursday.
Dortmund, by contrast, have already played five friendlies this summer, the last of which was a 4-1 demolishing of Manchester United, who had also only played one match by the time that they took on the German side.
Pep Guardiola's men will therefore be up against it when the two sides meet at the Universiade Sports Stadium in Shenzhen.
City will be without Kevin De Bruyne, who has been given an extended rest by coach Pep Guardiola, while the likes of Sergio Aguero, Joe Hart, Raheem Sterling and Nicolas Otamendi only joined up with the squad less than a week ago and will have had no match practice thanks to the cancellation of Monday's game against United in Beijing.
The Blues were stretched when they took on Bayern Munich at the Allianz Arena last week, deploying Aleksandar Kolarov as an emergency centre-back in a team packed with young talent from the club's academy.
Guardiola is likely to name a similar line-up against Dortmund, who were in irresistible form in their meeting with United in Shanghai.
---
Thomas Tuchel will be unable to call upon City target Pierre-Emerick Aubameyang for this game as the Gabon international has flown back to Europe with his wife due to give birth.
But he will be buoyed by his side's performance against United and especially with the two fine goals scored by new signing Ousmane Dembele, of whom much is expected in the coming years, and Gonzalo Castro.
Roman Weidenfeller played the whole game in goal for Dortmund in Shanghai but his backup, Roman Burki, gave the pre-match press conference and he could be in line for a start.
"Tomorrow it will be a very good test for us, like the first game against Manchester United," he said on Wednesday. "We will do everything for the win."
Tuchel, likewise, is looking forward to locking horns with Guardiola, two months after the teams last met in the DFB-Pokal final, the Catalan's last game in charge of Bayern Munich.
"We played several times, I played with Mainz against him, with Dortmund against him," said the Dortmund boss. "The last game for him as coach was the cup final against us and I look forward to meeting him again tomorrow."
Guardiola, however, may be in a less welcoming mood after his side's plans were disrupted as a result of the sub-standard pitch at the Bird's Nest Stadium in Beijing.
"The pitch was unacceptable," he fumed on Wednesday. "We don't travel all the way to China just for holidays. We came to play two friendly games and I think it was the first time a game has been cancelled here.
"They are looking for hotels, inviting players, but at the end, if the pitch is not good enough, all that doesn't matter.
"For them, the pitch doesn't matter but, for us, it's the most important thing. All the players and the coaches want to play as well as they can. It wasn't the water, it wasn't the rain. It was just the state of the pitch."
Both managers, however, expect the playing conditions in Shenzhen to be considerably better than those in the Chinese capital.