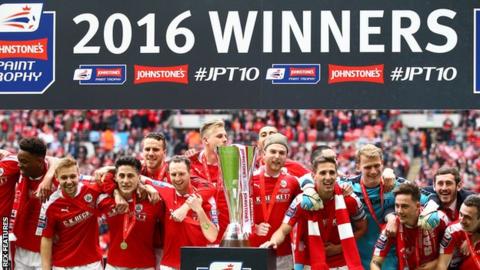 Arsenal, Liverpool, Manchester United, Manchester City, Tottenham Hotspur and Newcastle have rejected the chance to play Under-21 teams in the EFL Trophy.
Sixteen Category One academies were invited to play against League One and League Two clubs as part of a one-season, 64-team competition trial.
Premier League champions Leicester and Chelsea have accepted the invitation.
"If it's a success it will continue. If not we'll review and see where we go," said EFL chief executive Shaun Harvey.
Who has accepted?
Leicester and Chelsea are joined by Southampton, West Ham United, Stoke City, Everton, Swansea City, West Bromwich Albion, Sunderland and Middlesbrough in accepting the initial invitation to join the competition.
Six Championship academy teams will take the places of the rejected teams.
Norwich City, Brighton, Derby, Wolves, Blackburn and Reading have all put teams forward to play in the competition in 2016-17, which has undergone a revamp from the knockout stages of previous years.
Sixteen groups of four teams will each contain an academy side, with the top two from each qualifying for the first knockout round of 32 teams.
Blackburn Under-21s v Reading Under-21s at Wembley?
The final will be held at Wembley and Harvey said two academy teams making the final is "probably one of the biggest concerns we have".
He continued: "If two Premier League clubs get to the final I suspect the reinvention of the competition might have to take another move in a further year.
"We're a long way from that position yet. Clubs have got a lot of distance to travel to get to that final at Wembley, and it'll be very interesting to see how those games work out over that period."
Category One academy teams will have to start six under-21 players in the competition, but the others can be of any age.
Why did clubs reject the invite?
"The challenges we faced were due to scheduling issues that football faces throughout the full season - we are in a position where the EFL Trophy fixtures are played in international weeks," said Harvey.
"Some of the bigger clubs who supply the bulk of players for the international sides - the younger players in particular in that Under-21 age group, Under-17, Under-18, Under-19, Under-20 age groups as well - their players were on international duty so the type of players this competition could have suited may be missing.
"From a competitive perspective I think those clubs who provide the majority of those players took the option that it was probably a step to far at this stage, particularly when the better younger players in those age groups have already been committed to go out on loan to other clubs."
The group stage draw will take place at 10:00 BST on Wednesday.
Barnsley beat Oxford United 3-2 at Wembley in front of a crowd of more than 59,000 in last season's final.