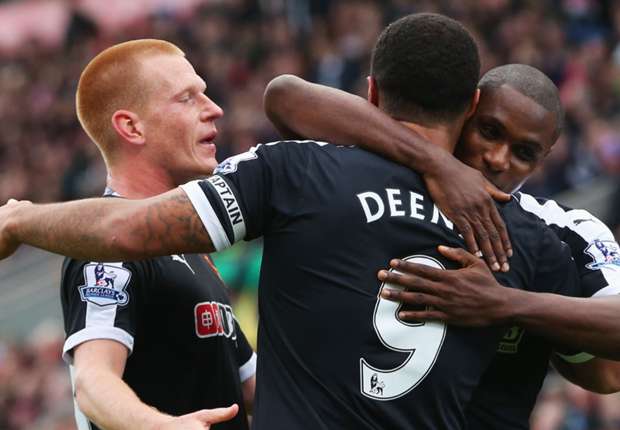 With the Premier League champions, among others, looking to acquire the services of the Watford captain, can the Nigerian repeat last season's impressive displays without his tr...
---
---
Reports of
Leicester City
's interest in acquiring the services of
Troy Deeney
are in wide circulation. The 27-year-old had a brilliant season with the Hornets last term, scoring 13 times in his first-ever Premier League season. His goals, combined with those of strike partner
Odion Ighalo
, kept Watford well clear of relegation trouble all season long; so profound was their impact, in fact, that there was a sense of disappointment to the whimper with which their season ended.
The club consequently declined to renew manager Quique Sanchez Flores's contract, the impression being that an underwhelming end to the season suggests expendability. While the former Valencia head honcho and Hugh Laurie look-alike has quickly taken up alternative employment at Espanyol, it may well be the loss of Deeney that really puts Watford out of joint.
Particularly pertinent will be how a possible departure affects the rest of the playing staff in general, and Super Eagles striker Ighalo in particular. The Nigeria international took to his maiden Premier League season with great aplomb, netting 15 times and 17 in all competitions.
Player Stats — Troy Deeney
General

Games Played

38

Minutes Played

3,291

Starts

36

Interceptions

17

Substitution On

2

Substitution Off

3

Duels Won

48.4%

Aerial duels won

52.6%
Remarkably, eight of these 17 goals were laid on by Deeney, almost half; it is one of the perks of the 'old-fashioned' strike pair--when an understanding is forged, it can be truly devastating having two forwards in close proximity combining. This is especially true since, as modern football grows more and more accustomed to single-striker systems, defenders are less and less conversant with how to deal with this kind of 'unusual' threat.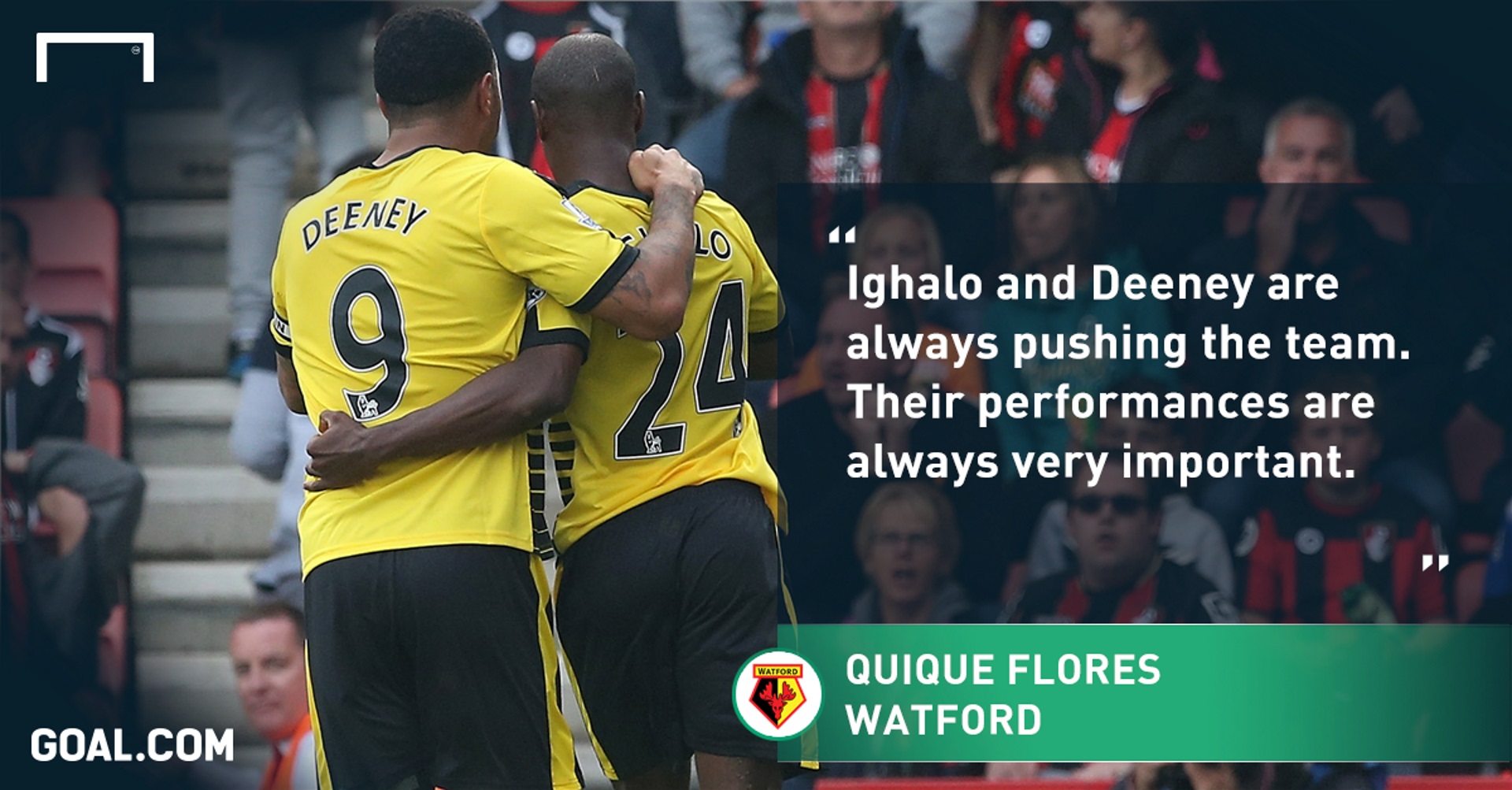 Sanchez Flores, when confronted with the team's poor run in the second half of the season, was candid. "We have one style of play which depends on our strikers, we can't depend on one striker. We try things but we are not this kind of team... We don't have a lot of tools and lots of different responses when we have problems. It is something that is not easy to solve."
Remember when Ighalo's only issue with

@NGSuperEagles

was we needed a Deeney clone? Not scoring with Deeney now; that still the only issue?
Increasingly, it became clear Deeney put in quite a prodigious amount of running and effort to service Ighalo's game. Functioning almost as a midfielder without the ball, and dropping deep to receive possession before seeking out Ighalo on the shoulder of the defence, putting himself about physically; all of these combined to make Deeney Watford's most important player.
It is clear to see just why Leicester, with their hard-running style and eye for quick transitions would want the Hornets' captain.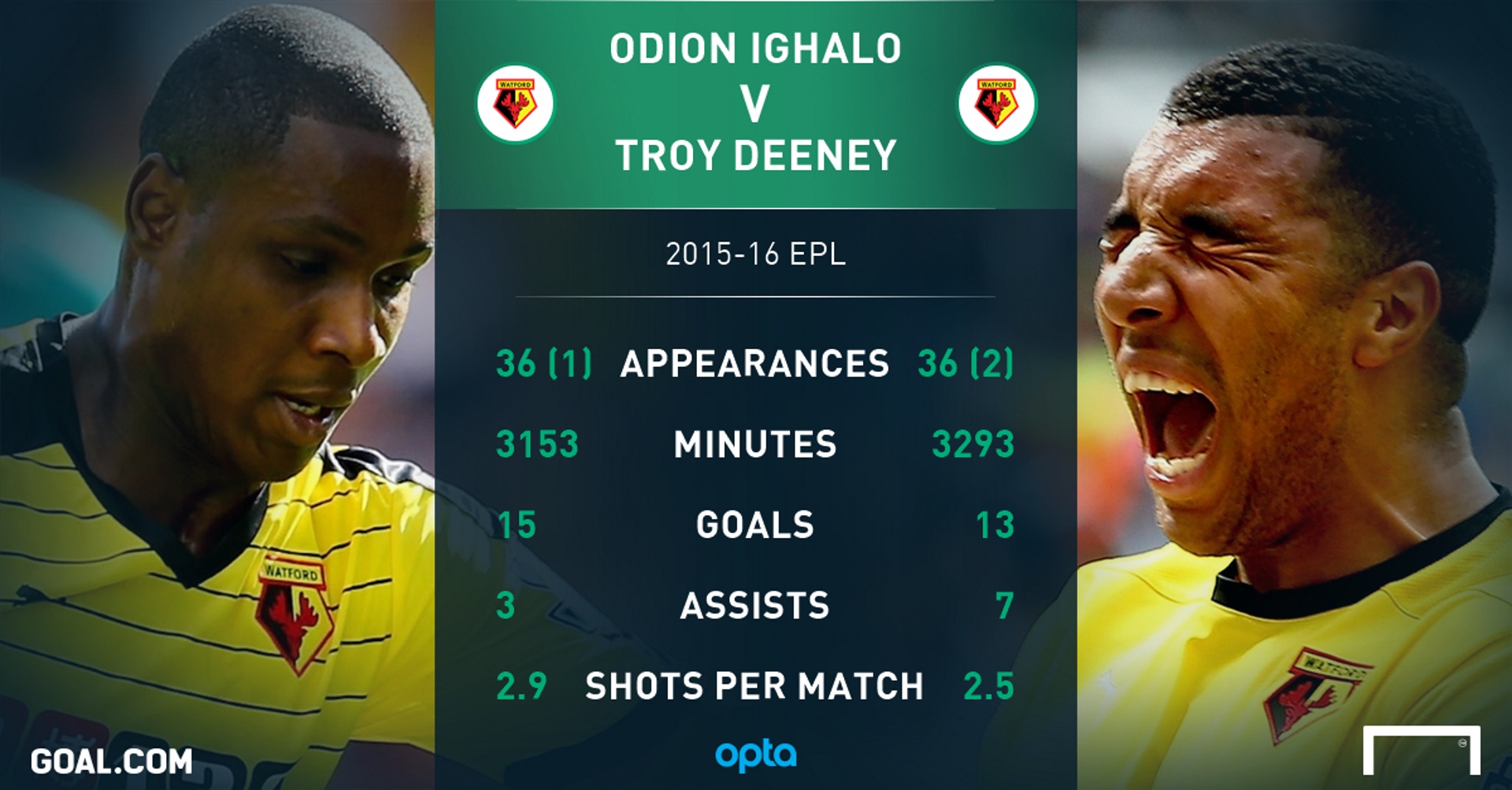 While Arsenal's interest in Jamie Vardy is ongoing, it is more likely Deeney will take up Shinji Okazaki's role, albeit functioning in a more overt productive capacity. Whereas the Japan forward excelled at drifting around in pockets of space to win set-pieces in dangerous areas, as well as offering defensive discipline, Deeney could add to that direct contribution to goals and shot creation.
With Champions League football to come for the English champions, the upgrade in quality is crucial even if the former Walsall man is yet to feature in continental competition.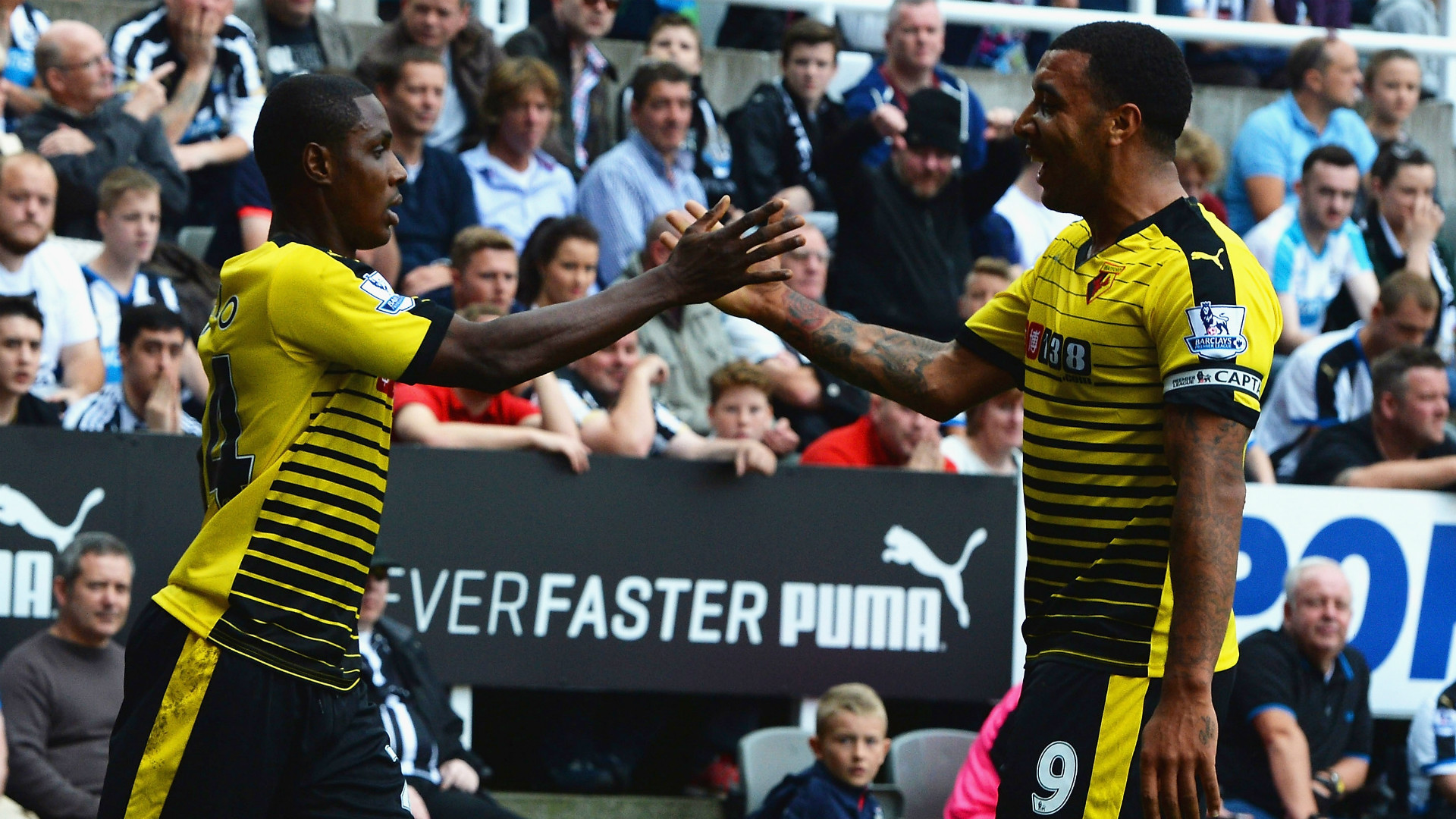 What is uncertain though is quite how Ighalo would get on without his partner.
New manager Walter Mazzari excelled at building a brilliant counter-attacking machine at Napoli, and got the best out of Paris Saint-Germain striker Edinson Cavani in a 3-4-2-1 by getting the limited but energetic Ezequiel Lavezzi close to him. The Uruguayan has looked a veritable husk since leaving--obviously, Mazzari knows how to get his forwards firing.
Will Ighalo be able to build up an understanding quickly enough with a new forward?
Player Stats — Odion Ighalo
General

Games Played

37

Minutes Played

3,151

Starts

36

Interceptions

15

Substitution On

1

Substitution Off

8

Duels Won

36.5%

Aerial duels won

25.3%
This could be the difference between a relegation battle and safety in what is set to be the most competitive Premier League season yet. With the new TV deal set to kick in, spending power will be at an all-time high.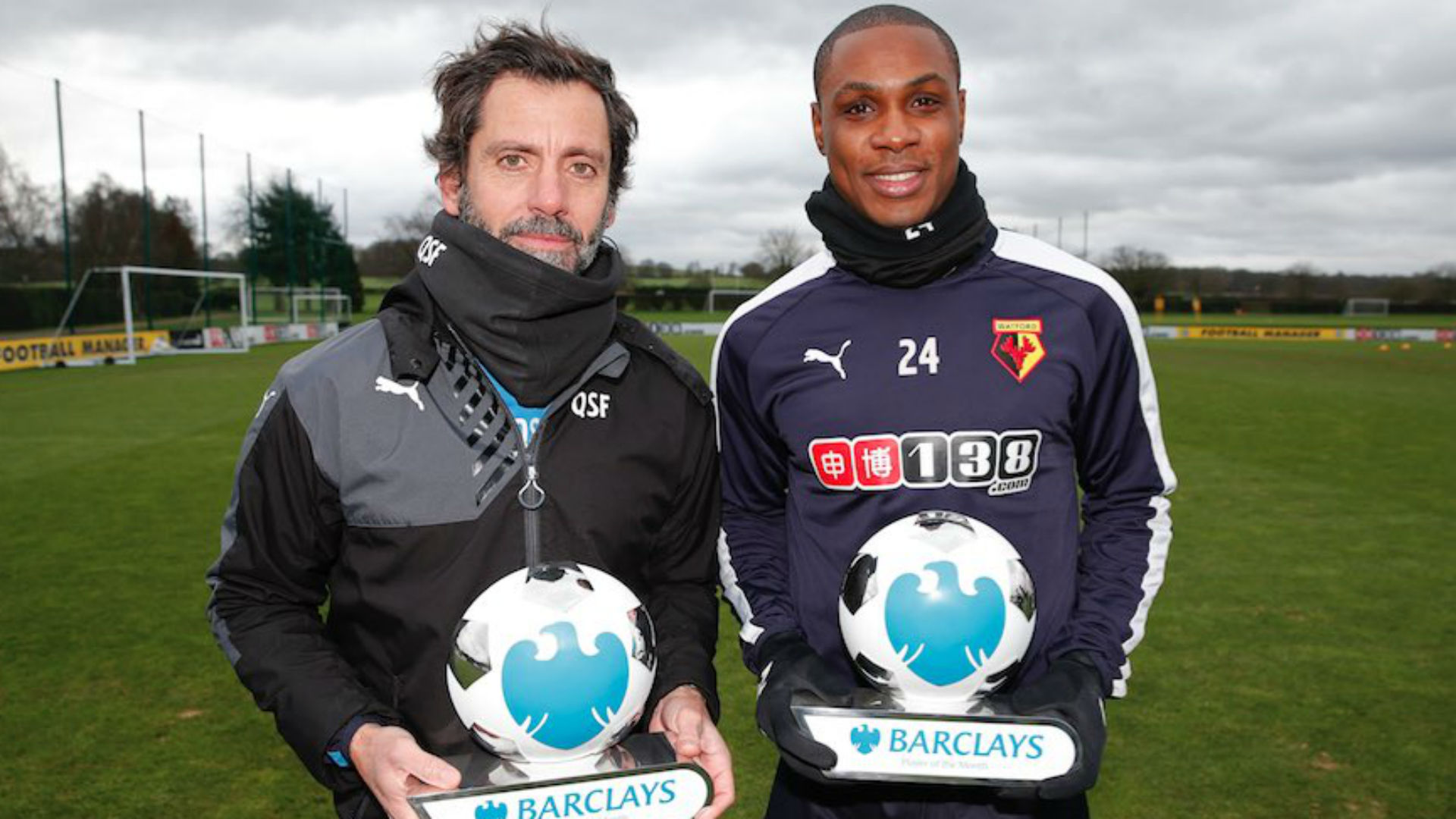 Last season, Watford counted on a fast start to stave off demotion, but with the potential loss of Deeney, breaking the almost telepathic understanding upfront, comes also the fact that whoever is brought in will also need time to settle in.
All these factors considered, it is difficult to see Ighalo getting as much service as last season.
Without his goals, the Hornets may see their form from the second half of last season continue into this. After January, the 26-year-old only scored three more times in the league: did Watford struggle because Ighalo's goals dried up, or did he stop scoring because Watford were struggling?