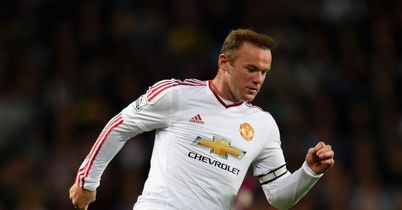 Manchester United moved top of the Premier League with another 1-0 win, but questions persist over the roles of Wayne Rooney and Memphis Depay.
It is often said that winning without playing well is the sign of champions, and United have now done that twice in succession, following up their opening-day victory over Tottenham with an equally unconvincing three points at Villa Park on Friday night.
Back-to-back clean sheets are certainly a reason for Louis van Gaal to feel positive. Chris Smalling's transformation into the club's most reliable centre-half is complete; Matteo Darmian has now put in two very good performances at right-back; Daley Blind has provided a quick retort to suggestions he would prove a liability as part of a back four; Luke Shaw impressed enough both defensively and offensively to suggest he needn't have shied away from taking the No.3 shirt.
The addition of Morgan Schneiderlin as a second holding midfielder alongside Michael Carrick should also not be underestimated when assessing United's new-found defensive solidity but, amid positives at that end of the field - this is the first time they have opened with back-to-back clean sheets in the Premier League since 2005 - the Red Devils are still waiting for their new-look attack to click.
Depay still waiting to spark
Having been positioned in the No.10 position on his debut against Tottenham, Memphis Depay this time began on the left but still failed to exert a great deal of influence.
Adnan Januzaj was handed the central role on this occasion and, despite scoring United's winner, he did not do enough to suggest Van Gaal should perform a U-turn on his apparent willingness to allow the Belgian to join Sunderland on loan. In fact, his performance only highlighted the need to get Pedro through the door before September 2.
Juan Mata, meanwhile, a natural trequartista, toiled out of position on the right wing but helped set up Januzaj's goal with a sumptuous through-ball on one of the rare occasions he drifted into the middle.
Memphis, of course, needs to be afforded time to settle in at a new team, in a new league and new country, but where he should be doing so is open to debate. Whatever the answer, it is hard not to feel Mata is the best option at No.10, for now at least.
Rooney forgets he's a striker
The biggest concern for United fans, however, will undoubtedly be the performance of Wayne Rooney, who didn't manage a single shot at Villa Park. This after he had only two against Spurs last weekend, neither of which were on target.
Worryingly, despite being assured of the central striker's role for the season, Rooney cut a familiar position in midfield, out wide, helping out in defence...just about everywhere, in fact, apart from inside the box. He has touched the ball only three times in the opposition penalty area in 180 minutes of action.
Despite failing to shine in his opening two games, there have certainly been signs that Memphis can have an impact for United, whether that be out wide or at No.10. And the signing of Schneiderlin, not to mention Bastian Schweinsteiger, who again impressed as a substitute, is clearly going to make a huge difference from a defensive perspective.
But Rooney needs to be reminded of his goalscoring opportunities sooner rather than later if Van Gaal's summer spending spree is to pay dividends.
Opta stats
Aston Villa have equalled the longest run of home games without a win versus a single opponent in English league history (20 games - level with Sunderland v Liverpool).
Man Utd have won more games against Aston Villa (33) than any side has against a single opponent in Premier League history.
Aston Villa have won just one of the last 40 Premier League games against Manchester United (L29 D10 W1).
Since he made his Premier League debut on 27/08/2011, only David Silva (40) has more Premier League assists than Juan Mata (36).
Juan Mata has two assists in his last 20 PL appearances - both have come in games against Aston Villa.
Adnan Januzaj scored his first Premier League goal since 5th April 2014 (v Newcastle) - ending a run of 1169 minutes without a goal.
Manchester United have kept a clean sheet in all four Premier League games that David de Gea has missed since the start of 2013-14.
The Red Devils have won their opening two games to a Premier League season for the first time since 2011-12 and have kept two clean sheets in their opening two games for the first time since 2005-06.