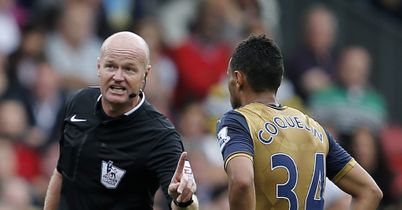 Arsenal's Francis Coquelin and Manchester City's Yaya Toure were lucky to escape the punishment shown to Daryl Janmaat, according to our panel.
Refereeing decisions are regularly the source of debate among fans, pundits, players and managers so this season a five-strong TEAMtalk panel will be passing judgement on every red card (or avoidance of one), every penalty and any other major incident leading to a goal.
We'll also keep a tally of the decisions to go for and against each team throughout the season in an attempt to settle the never-ending debate about whether certain clubs are favoured more than others by Premier League referees.
Week 2
Aston Villa penalty appeal v Manchester United:
The 'you'd see 10 penalties a weekend' argument came up here, but the majority of the panel felt Micah Richards would have had a good chance to score were it not for the blatant holding of Matteo Darmian, who had got himself the wrong side of his opponent.
Verdict: Incorrect decision.
Sunderland penalty appeal v Norwich:
It didn't take us long to agree Billy Jones had dived in an attempt to win a penalty under no contact from Sebastien Bassong.
Verdict: Correct decision.
Daryl Janmaat red card v Swansea:
Having already being booked,
Janmaat even admitted himself
that he was stupid to pull back Jefferson Montero. Two members of our panel felt the fact the offence occurred well within the Swansea half made it a harsh second booking, agreeing with Steve McClaren that referee Mike Jones should have shown leniency, but a majority of three said Jones was right to apply the law of the games. The issue, however, is whether these are applied consistently to every team...
Verdict: Correct decision.
Aleksandar Mitrovic yellow card v Swansea:
He was fortunate not to be sent off on his Newcastle debut last weekend, and four out of five on our panel felt he should have been shown a red card at Swansea too for a stamp aimed at Neil Taylor. Only one felt the lack of contact made the yellow card he was shown the right decision.
Verdict: Incorrect decision.
West Ham penalty appeal v Leicester:
We all agreed that the presence of Robert Huth and the difficulty Kasper Schmeichel faced in getting out of the way of Diafra Sakho meant this was not a red card. However, the fact remains he completely cleaned out the Hammers striker inside the box. None of us could understand why a penalty was not given.
Verdict: Incorrect decision.
Adrian red card v Leicester:
Adrian's high kick on Jamie Vardy undoubtedly classified as dangerous play, but the goalkeeper never took his eyes of the ball. It was a clear accident, and the panel felt a yellow card would have been a more sensible decision that nobody would have argued about. We're not recording it as a decision in Leicester's favour, however, as it did not affect the result.
Verdict: Incorrect decision.
Francis Coquelin escaping red card v Crystal Palace:
While Janmaat suffered from the rules being followed to the letter, Coquelin certainly benefited from some leniency when Lee Mason decided not to show him a second yellow card for pushing over Wilfried Zaha. Is this an example of the favouritism many claim is shown towards the top teams?
Verdict: Incorrect decision.
Fernandinho yellow card v Chelsea:
Jose Mourinho unsurprisingly felt the Manchester City midfielder should have been shown a straight red for his elbow into the head of Diego Costa, but a panel majority felt this was a case of a flailing arm rather than anything intended to hurt.
Verdict: Correct decision.
Yaya Toure escaping red card v Chelsea:
Like Coquelin, would Toure have been shown a second yellow card were he playing for a smaller team? He too pushed over an opponent in front of the referee yet was shown leniency. By the letter of the law, he should have been off, just like Janmaat. We won't record this as a decision against Chelsea, however, as the game was already beyond them.
Verdict: Incorrect decision.
For and Against - After two games
Newcastle
- 2 for
Arsenal
- 1 for
Crystal Palace
- 1 for
Leicester
- 1 for
Manchester City
- 1 for
Manchester United
- 1 for
West Ham
- 2 against
Aston Villa
- 1 against
Chelsea
- 1 against
Crystal Palace
- 1 against
Norwich
- 1 against
Southampton
- 1 against
Swansea
- 1 for/1 against