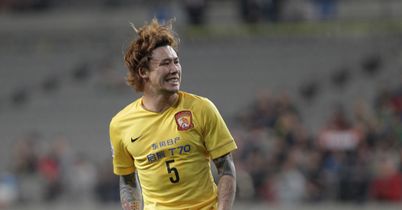 China defender Zhang Linpeng, dubbed the 'Chinese Sergio Ramos', has revealed Chelsea are interested in signing him.
The Guangzhou Evergrande star, who can play at either right-back or in central defence, is regarded as one of the brightest talents in his homeland.
The 26-year-old has claimed the Blues are interested in securing his services before this summer's transfer deadline on Tuesday, although they plan to immediately loan him out to a club in one of Europe's other four major leagues.
The 44-cap China international has been compared both in appearance and playing style to Real Madrid defender Sergio Ramos, with fans giving him nickname 'Zhangmos'.
Speaking to Chinese newspaper Titan Sports, the defender said: "I'm very happy and very excited to finally have this formal invitation.
"I've worked hard and waited these five-six years for my dream of playing overseas, and finally have recognition from the English Premier League.
"Although I'm unable to play Premier League directly, I believe [Chelsea] will have the most professional arrangements regarding my permit. I have no worries at all about the negotiations."
Chinese media believe Linpeng, once described by former coach Marcello Lippi as "the best Chinese footballer in the Chinese Super League", could be the long-term replacement for the struggling Branislav Ivanovic.