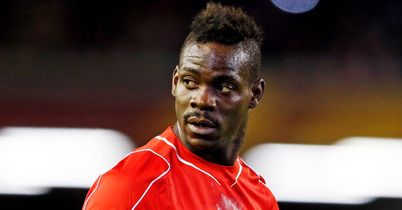 Unwanted striker Mario Balotelli is reportedly due to collect a six-figure loyalty bonus for staying at Liverpool.
Balotelli has been forced to train with the Liverpool youth players, away from the first-team squad, as Brendan Rodgers desperately looks to move him on.
One option is to loan out Balotelli on a season-long deal, making a contribution to the player's wages. That's a similar agreement to the one Manchester City did with Emmanuel Adebayor.
However, Rodgers has another reason for trying to move Balotelli out of the club during this summer. The Daily Mirror reveal that the Italian will be due a substantial loyalty bonus should he remain at Anfield after the end of the current transfer window.
That would smart considerably, given the manner in which Balotelli's relationship with his manager has soured.
The Mirror also write that 'Sources close to the controversial player insist that no matter how far into the wilderness he is thrust, he is prepared to stick it out at Anfield and pick up his pay-cheques'. That seems like something a source close to Liverpool would say, not Balotelli.