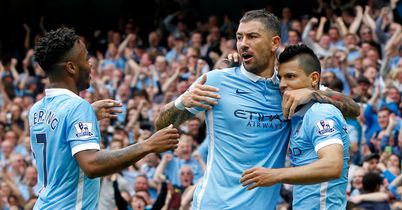 Everton, Manchester City, Leicester and Norwich were the week's main Power Rankings winners, with Manuel Pellegrini's side now second overall.
We're not going to be petitioning FIFA for a change to the points system any time soon, but imagine if points were awarded based on the difficulty of the result achieved.
So, as an alternative to the official table, this season we'll be using an algorithm based on bookmaker odds and winning margins to award points from 0.5 up to 10, ensuring the teams that attack and go for glory with the odds stacked against them are rewarded more than those teams that claim their points through a series of 1-0 home wins over the league's struggling teams.
*Following feedback we received last week, we have slightly altered our algorithm, meaning Aston Villa, Crystal Palace, Leicester, Liverpool and Manchester City all claimed an extra point for their wins.
Week 2
Everton - 7:
Roberto Martinez's men were firm outsiders going into Saturday's trip to Southampton yet left St Mary's with not just a win but an impressive 3-0 one.
Manchester City - 5:
Manuel Pellegrini's side also claimed a 3-0 win over the weekend, over one of their main title rivals to boot, earning the Citizens the second highest score of gameweek two.
Leicester - 4:
The Foxes had lost on seven of their last eight trips to Upton Park and were expected to do so again against a West Ham side that shocked Arsenal on the opening weekend.
Norwich - 4:
Norwich were slight favourites to win at Sunderland, but a two-goal winning margin earns Alex Neil's side bonus points.
Stoke - 3:
They claimed only a point in reality, but coming from two goals behind to hold Tottenham at White Hart Lane earns Stoke three Power Rankings points.
Swansea - 3:
A straightforward home win over Newcastle sees Swansea pick up three points, exactly what they claimed in reality.
Arsenal - 2:
Arsene Wenger's side, however, claim only two points for their narrow win at Crystal Palace having been odds-on favourites.
Manchester United - 2:
Now four points down on their actual points tally, United's lack of goals is costing them points early on. They won 1-0 at Aston Villa.
West Brom - 2:
We suspect Tony Pulis would like this - West Brom ground their way to a point at Watford but claim two points in the Power Rankings.
Watford - 1:
The newly-promoted Hornets, however, claim only a point having been favourites to win at Vicarage Road.
Tottenham 0.5:
A two-goal win over Stoke would have earned Spurs three Power Rankings points but their collapse sees them claim only a half point.
Power Rankings
Power Rankings, 2015-16
Team
Power Rankings Points
Official Points
West Ham
10
3
Manchester City
9
6
Swansea
8
4
Everton
7.5
4
Leicester
7
6
Aston Villa
5
3
Crystal Palace
5
3
Manchester United
4
6
Norwich
4
3
Watford
4
2
Liverpool
3
3
Stoke
3
1
Arsenal
2
3
West Brom
2
1
Newcastle
1
1
Southampton
1
1
Chelsea
0.5
1
Tottenham
0.5
1
Bournemouth
0
0
Sunderland