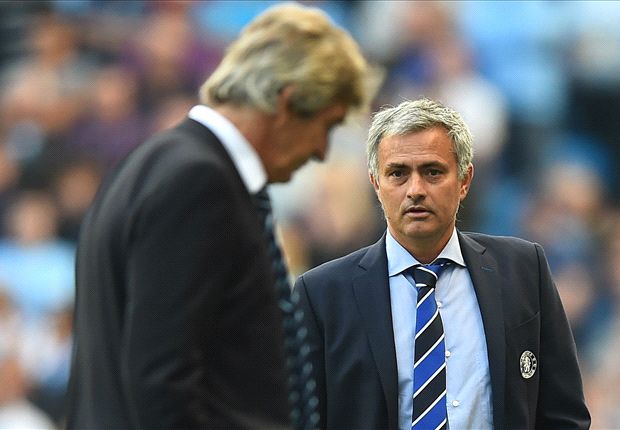 DOSSIER: The two title challengers made contrasting starts to the new season, but will the champions brush aside recent controversies to frustrate City yet again?
"Pre-season is fake," declared
Jose Mourinho
during an off-season of toil for
Chelsea
. It was a comment that turned out to be truer for some clubs than others. While the Premier League champions continued their lacklustre form as the curtain was raised on the new campaign, their shortcomings quickly buried behind a smokescreen of controversy,
Manchester City
laid down an early marker as they raced to the top of the table.
Manuel Pellegrini's side had been prematurely written off after a horrific first-half showing against Stuttgart in their final friendly, conceding four times within 37 minutes, but delivered the most complete and dominant performance of the opening round of fixtures to reassert their title credentials – and that was despite last season's top scorer, Sergio Aguero, only being fit enough for a place on the bench.
The team looked reborn compared to last season, with Yaya Toure, fully fit and well rested, displaying the predatory instincts and dynamic play that many thought he was no longer capable of, while David Silva plotted and schemed around him and Raheem Sterling provided the direct running and terrifying pace an ageing side had previously been bereft of as they forfeited their crown.
The champions, meanwhile, looked lethargic and leggy against Swansea, and Mourinho's side-line hysterics and post-match medical team rantings appear to have been designed as much to divert attention away from his team's ails as to ignite a much-needed spark. His teams have always looked to harness adversity, to such an extent that you wonder if it has now become a necessary component of any title tilt.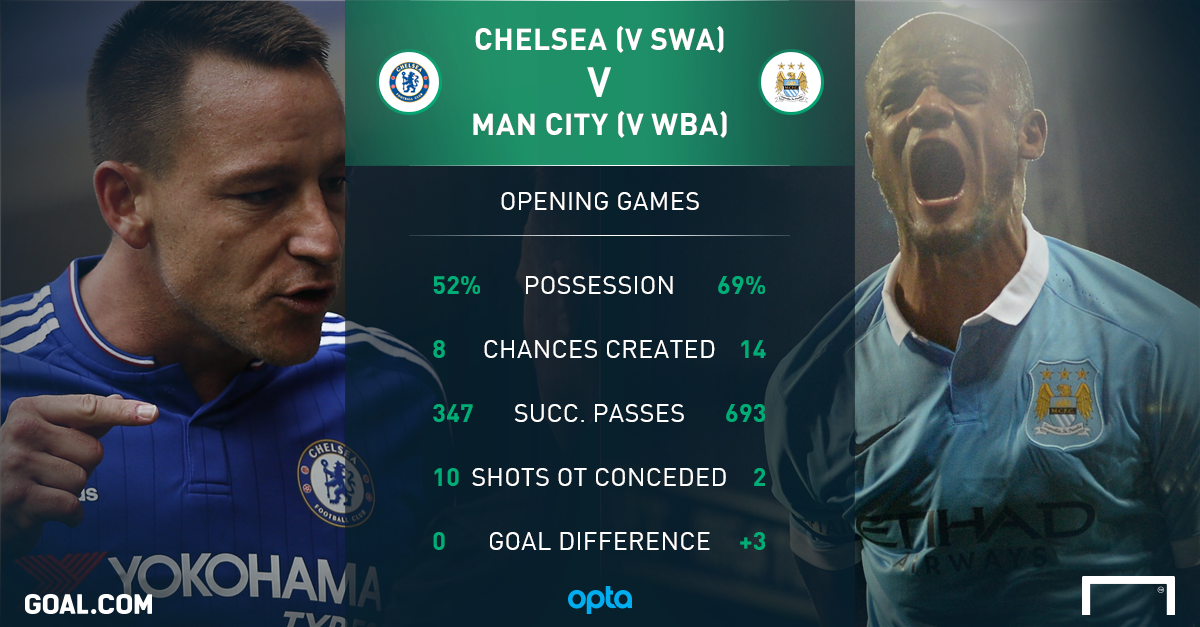 Now the two sides meet at the Etihad Stadium in what will provide the first clear glimpse of how this season's campaign is likely to unfold; not just in terms of points – lose and the Blues would be five points adrift – but also in terms of style and tactics. Last year, Chelsea were a team of two faces: bold and attacking in the first half of the season, but restrictive and more cautious as the importance of matches grew.
Against the biggest sides, and in the biggest moments, the champions have always relied most heavily on their defensive nous and experience to see them through, and that has been especially true in matches against City. It was at the Etihad, for example, that Nemanja Matic first announced himself to the Premier League, his combative, tenacious, counter-punching style now the cornerstone of Mourinho's latest Chelsea iteration.
In the four Premier League encounters Mourinho has managed against City, none of which he has lost, his side have averaged just 42.5 per cent possession, with over half the chances they have created coming from either set-pieces or counter-attacks. It is a style at odds with how City – who have garnered 73% of their chances against the Blues from open play – have looked to brand themselves, and their footballing identity, since establishing themselves as an elite side.
There is a way to beat Chelsea that has already been executed with aplomb by Arsenal and Swansea in August alone, but it is a blueprint of frustration that does not quite fit with City's style. Soak up pressure, limit space in behind, double mark Eden Hazard – who, despite significant investment, remains the stand-out match-winner – and press aggressively, before springing on the counter-attack and breaking with speed and incision.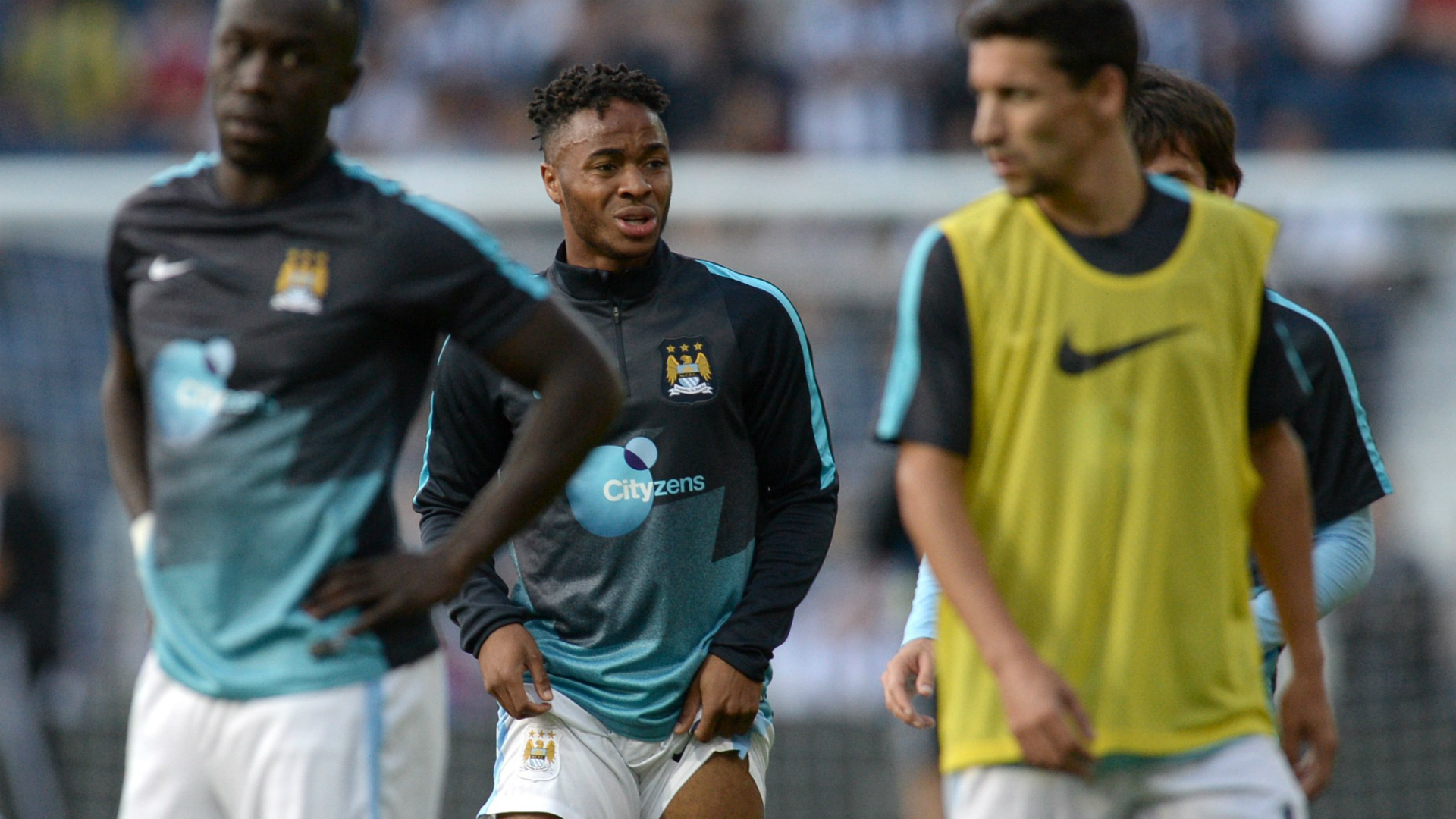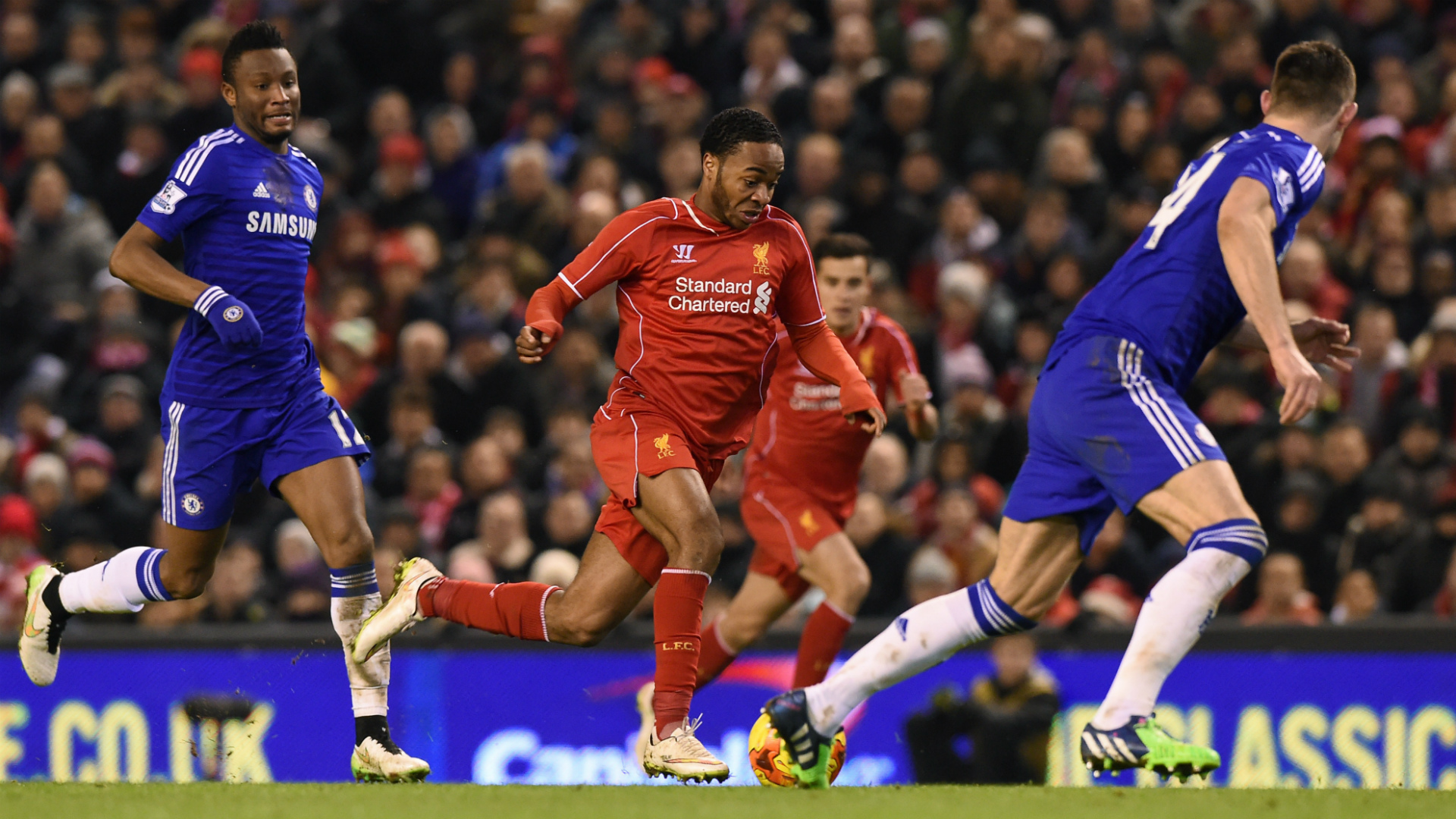 In both matches it was a winger who proved the biggest nuisance for Chelsea, first Alex Oxlade-Chamberlain marauding down the right flank and scoring a screamer, before Jefferson Montero terrorised an often isolated Branislav Ivanovic (only one player, the aforementioned Ox, successfully completed more dribbles that weekend). Fortunately for City, they have recently spent £49 million on a similarly rapid player.
But, these are tactics that City have rarely, if ever, attempted under Pellegrini – even in the Champions League against foes as deadly as Bayern Munich and Barcelona, the Chilean still looked to out-play his opponents. Asserting their own dominance has been easier for City against Chelsea than in Europe, taking control of the ball and territory, but using that superior possession to create chances, and win matches, has been less fruitful.
Generally Mourinho has kept their biggest weapons at arm's length, limiting them to three goals in four games, their worst return against any top-tier side. City have looked to their usual ploy of choking opponents with concerted pressure and imaginative through-balls, but Chelsea's compact shape, deep line and explosiveness on the break has been sufficient resistance.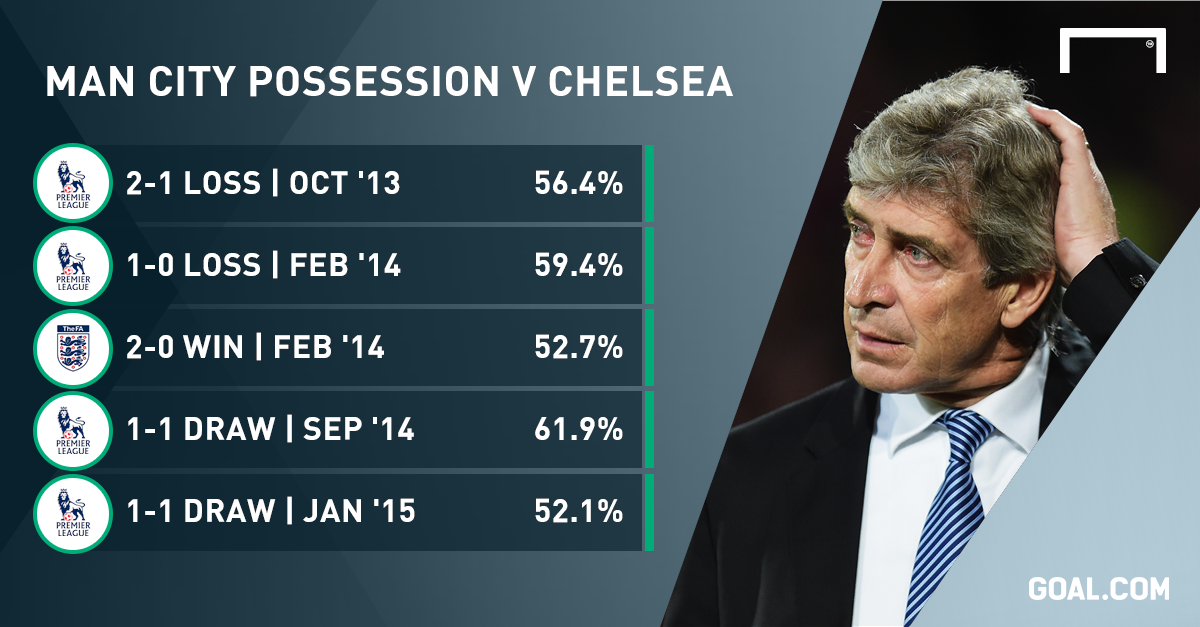 Arsene Wenger had struggled similarly against Mourinho-managed sides, failing to beat him in 14 attempts, spread over 11 years, until he triumphed in the Community Shield. It was not a typical Arsenal performance, though, with the Gunners forfeiting an unusual amount of possession at Wembley (Chelsea bossed proceedings with 58%), defending deep and playing 134 fewer passes.
Mourinho might even have allowed himself a wry smile at Wenger's change of tact; though he was not the victor on the day, he forced the Frenchman to ditch his long-held philosophy in favour of a more pragmatic approach straight out of the Portuguese's own playbook. But if Wenger sunk to Mourinho's level, both on and off the pitch as their verbal sparring exploded in the media, Pellegrini, you suspect, will not.
He may not always show it, diplomatically avoiding mud-slinging, but the Chilean dislikes Mourinho just as much as Wenger does – perhaps even more. The Chelsea boss is particularly fond of "accidentally" mispronouncing Pellegrini's name and mocked his work at Real Madrid after succeeding him. Not burdened by a long winless run against his nemesis, Pellegrini, you suspect, does not merely want to beat his counterpart, he wants to embarrass him playing the type of expansive football the Portuguese dares not employ in big matches.
That makes Sunday's contest all the more intriguing. Can City adapt, or will it be business as usual for Mourinho? Or, should City triumph in the manner that they dispatched West Brom, exerting full control, could they reveal a new chink in Chelsea's armour and cast doubt over their hopes of defending the title? Either way, with the Premier League runner-up having finished within four points of the champions in five of the last 10 years, Chelsea cannot afford to give their hosts too much breathing space even at this incredibly early stage of the season.