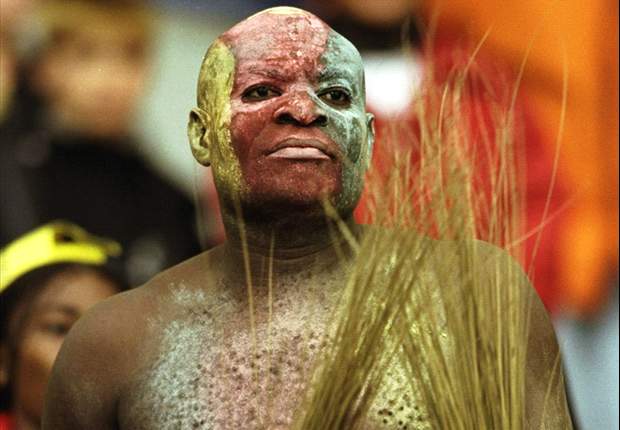 From fans painting themselves in national colours to players refusing to shake hands, the role of the occult could play a big part for some of this summer's finalists
SPECIAL FEATURE
By Sam Praise
Some tales told of the occult are pretty nasty and quite difficult to believe, while others may sound like mere ear-tickling fantasy.
Whether truly malicious or not, though, the subject of supernatural forces at work in African football continue to dominate discussions, especially ahead of this year's World Cup.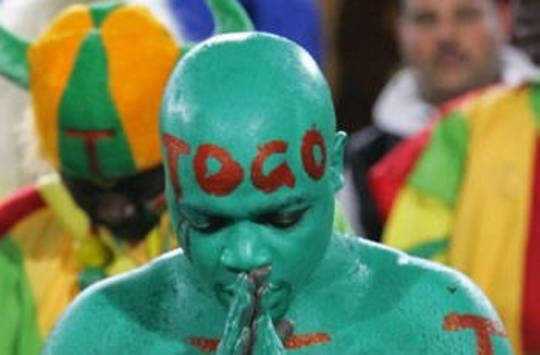 Praying to the football gods |
A colourful Togo fan at an Afcon tournament
What is deemed 'juju' expresses itself in varying forms. A spectator daubed in his team's colours and white chalk markings carrying earthenware within the stadium's inner perimeter; a player inexplicably refusing to shake hands with an opponent in a pre-kick-off ritual; a team official sprinkling some devilish-looking, foul-smelling concoction on the turf before a game - the list goes on.
And while you might see none of those during the 2014 World Cup in Brazil, don't bet against one or more of Africa's representatives employing subtle forms of black magic at the tournament.
It is the norm, after all.
The practice is particularly rife in Africa, a continent with its past steeped deep in animism and the worship of ancestral beings, and vestiges still remain centuries after foreigners introduced Christianity and Islam.
Belief in the supernatural is hardly limited to this part of the planet, however. Elsewhere in the world - even in the sophisticated sphere of European football - petty superstitions still hold meaning for many clubs, coaches, players and fans alike.
Consulting diviners and psychics who operate with tarot cards and crystal balls is still in vogue, and many are those actively involved in football who care to seek such services.
Personal omens abound, too.
Goal
's
Start Believing
series of articles has uncovered several weird ones that work for some of the west's finer players and managers, past and present.
Still, sub-Saharan Africa's thick history with spiritual practices ensures the intensity and passion with which they are indulged here would always be greater than elsewhere. Here, it goes beyond innocuous personal belief. Juju, voodoo or African 'electronics' are a potent charm - a tool utilised for multiple purposes.
Juju, per the context of African football, is simply explained as the application of supernatural beliefs, objects or practices believed to possess magical powers in a bid to gain a competitive edge over another.
For those who subscribe to its power, juju could make a career or break one, win or lose a game, as well as prove all the difference between a successful World Cup campaign and a failed one.
Teams - at both club and country level - are rumoured to have sought occult inspiration when faced with daunting tasks, and among these have been some of the continent's highly successful sides.
For one, there was always something mythical, even surreal, about the Zambian conquest at the 2012 Nations Cup. Some quarters had it that the 'spirits' of the Zambian squad that met its ill-fated demise over the waters of Gabon (one of that edition's host countries) nearly a decade prior had been summoned in some way to back the Chipolopolo's cause.
Cote d'Ivoire's maiden - and only, thus far - taste of continental success (in 1992) was credited, not to the tactical superiority of the team, but rather to the wonder-working abilities of certain fetish priests in that west African land.
Apparently the country's minister of sports at the time, perhaps drunk on the applause he received for that monumental achievement, declined to pay the wages of these men, and thus provoked an indefinite hex on the Elephants.
Over 20 years later, the Ivorian team, in spite of the fine generation of players that has constituted it in recent years, has failed to claim any international prize of note. They have suffered, among other disappointments, the agony of two lost Nations Cup finals, even after the peeved voodooists had been reportedly pacified.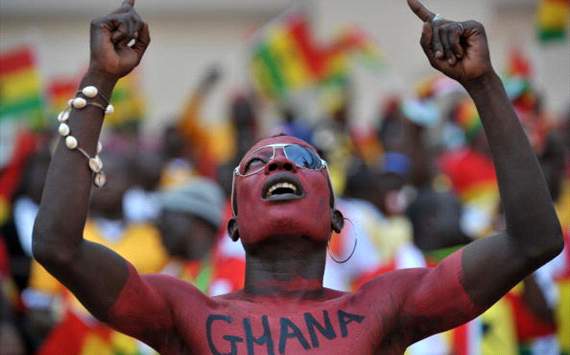 Hear our prayers |
A Ghana fan resorts to his God for redemption
Ghana's Black Stars, often packed with foreign-based professionals (who are supposedly more enlightened than their local counterparts), have not been rendered immune to such 'primitive' inclinations. The individual players allegedly work mischief via such forces against their own team-mates and mostly to a collective self-destructive effect, if ex-Ghana coach Goran Stevanovic's claims after the team's failure at the Afcon two years ago are worth believing.
With regard to juju's efficacy and just how it works, there are two major, contrasting schools of thought. One is that perceived forms of juju are merely adopted and enacted to give a side or player a psychological advantage of sorts over an opponent who believes in its might.
The other holds that while actual juju might exist, its potency is severely restricted by several other factors, mostly physical and physiological in nature, thus explaining why African sides have failed to make any significant strides at major international tournaments, where effort and hard work all too often trump black magic.
Some African teams that have qualified for the World Cup in the past have been known to hire ritualists, granting them official portfolios and even making allocations for their fees in the team's budget.
The trend notoriously started back in 1974, with the Zaire (DR Congo) side that qualified for that year's Mundial allegedly taking with them a bunch of potent medicine-men to the competition in West Germany, but still returning with the unenviable record of 14 goals conceded in three group matches and none scored. Covertly, the practice has persisted among Africa's subsequent World Cup representatives, especially those sides from black Africa.
Even so, the farthest an African outfit has ever reached at the Fifa World Cup is the quarter-final stage, and the sheer irony of that could hardly be lost on anyone.
The point, then, is easily driven home. On the biggest platforms, where tactics, good preparation, and ability count for so much, there is precious little juju - whether worked by a 'maalam', 'babalawo', marabout, or 'tikoloshe' - can do.
Ahead of Brazil 2014, Africa's five participants would do well to keep that fact in mind for, where it matters most, logic almost always beats magic.