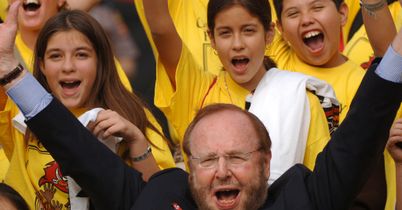 The American owner of Manchester United, Malcolm Glazer, has passed away at the age of 85.
Glazer bought Manchester United in 2005 and since then the club won five Premier League titles (2007, 2008, 2009, 2011 and 2013), as well as the 2008 Champions League title.
A statement on the website of NFL team Tampa Bay Buccaneers, which Glazer also owns, confirmed the news.
It read: "We are saddened to announce the passing of Owner/President Malcolm Glazer earlier this morning.
"A dynamic business leader, Glazer helped mold the Buccaneers into a model franchise and one respected league-wide. Since being purchased by Glazer in 1995, the Buccaneers franchise has earned seven playoff berths, five playoff wins, and captured its first Super Bowl championship in 2002.
"Known among his league peers as a pioneering thinker, Glazer infused his team and employees with the determination and dedication to be the best in the NFL. Glazer's commitment to building a championship organization has provided the foundation for continued success, on and off the field.
"Glazer's input was instrumental on the league level as well, as evidenced by his time serving on the NFL's Finance Committee. He also played a major role in Tampa becoming a host for the Super Bowl on several occasions."
He leaves behind his wife Linda, six children and 14 grandchildren.
Glazer's takeover of United was hugely controversial with fans because of the amount of debt he incurred in buying the club, which cost millions to service.
Financial analyst David Buik told Sky Sports News that he believes Glazer, who had been ill for some time, would have made all necessary arrangements for the running of the club in the event of his death.
"When you advancing in years at the age of 85, if you haven't made provisions for an unhappy event such as this then you have not done your homework," he said.
"I don't believe for one minute that an American businessman who has got exposure in debt, in a substantial manner - and having two sons, Avram and Joel who are hands on - won't have made provisions.
"Even though the debt at Manchester United is down from its height of £700m - it's down to about £380m now - this debt requires a certain amount of servicing.
"Tha banks will be keeping a very close watching brief. If you are reliant on one person, and that person dies, then by any standards that is bad management.
"I can't believe for one moment that the Glazer's have not got their affairs in order.
"What happens tomorrow morning? It possible the share price might come bit as a reaction. But the rest of the Glazer family is in place."