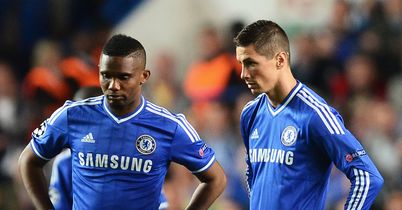 David Atana looks at the mistakes Chelsea chief Jose Mourinho and Bayern Munich boss Pep Guardiola made in the Champions League semi-finals.
David Connolly has played and scored in every division in England, as well as in the Eredivisie for Feyenoord and internationally for the Republic of Ireland. He has got the highest possible UEFA coaching licence and is still playing in League Two for Oxford, on loan from Portsmouth.
Every Thursday, David will provide an insight into life as a footballer throughout the leagues in his exclusive column for Sportmasta.
Pochettino is United class:
Last week, David mentioned Mauricio Pochettino as a potential future Manchester United manager and also hailed Roberto Martinez's approach to training.
Jose plays to strengths:
David defended Jose Mourinho's style of play at Chelsea and also had praise for Liverpool, Crystal Palace and Wolves.
Van Gaal a great coach:
David put Chris Hughton's sacking down to the form of Norwich's strikers and claimed Louis van Gaal would improve Tottenham's players.
Wembley cash misspent:
David suggested the FA misspent when building Wembley and also discussed the stadium situations at Spurs, West Ham and Manchester United.
United and Arsenal problem:
David argued that both Manchester United and Arsenal suffer from having too many similar players - and said David Moyes has bought badly.
Rodgers outfoxed Moyes:
David credited Brendan Rodgers for Liverpool's win at Manchester United and named the Northern Irishman as his Manager of the Year.
Jose got it wrong against Atletico
I
wrote a few weeks ago
that Jose Mourinho would have rather Chelsea were drawn against Bayern Munich than Atletico Madrid in the Champions League semi-finals - and so it proved.
Atletico are a great team rather than a team of great players - the whole is greater than the sum of its parts - and that is what made them such a difficult opponent.
Mourinho would have found it easier to come up with a strategy to face Bayern, knowing they play a possession-based game with a high line, or Real, whose athleticism and pace Chelsea could have countered by playing deep.
Atletico are arguably not as strong as either of those teams on paper but they seem to be able to play both styles equally as well. That's why I always thought this would be a difficult tie for Chelsea.
A 0-0 draw in the away leg put them in a good position but it seemed like Mourinho put all his eggs in one basket not to concede. Once they did, it was hard for Mourinho to change the shape with so many defensive-minded players on the pitch.
The selection of Cesar Azpilicueta at right midfield in particular seemed strange once Atletico had scored so it was no surprise to see him moved back to left-back once Samuel Eto'o came on, but even once Chelsea switched to a 4-4-2 I felt Eden Hazard was wasted on the left.
I thought Mourinho would use him centrally after seeing how isolated Fernando Torres became during the first leg; Hazard is so dangerous when he gets into pockets off the frontman, but it didn't happen enough. Instead, he was forced out wide onto his left foot a lot, often faced with two defenders, and his crosses were usually cut out.
I also felt Chelsea played too many long, diagonal balls up to Torres, who was actually terrific in possession. Once you have two strikers on the pitch you don't want your holding midfielder shooting from distance; Chelsea needed to get the ball into the feet of Torres and Eto'o in and around the penalty box otherwise there was no point in having them on the pitch.
In fairness, Frank Lampard was a big loss as Chelsea needed someone that could switch the play quickly but if Mourinho was able to play the game again I wonder whether he would have started Andre Schurrle over Ashley Cole or David Luiz.
Alternatively, perhaps he could have used three centre-halves and five in midfield as Juventus do to gain dominance, with two up front from the start. That would have given them an extra man going forward.
It's a risky formation and wouldn't work against the likes of Liverpool, against whom Mourinho got his defensive shape spot on with a tight back four, but Atletico do not have quite as much firepower as Brendan Rodgers' side.
Going forward, I wonder if Chelsea need a win again whether they might consider sacrificing a defender to go at opponents, particularly those who only play with one up front.
It's fantasy football, of course, but I am no different to any other fan in that I like to think about how teams could play. In a 3-5-2, Lampard could sit and pull the strings with Willian and Hazard ahead of him - and possibly Diego Costa as one of the two strikers next season.
The only concern would be Chelsea's lack of left-sided players unless Ashley Cole was given licence to attack - after he was withdrawn on Wednesday night, Chelsea were no longer to get down the outside and had to channel all of their play centrally, which played into Atletico's hands.
It's not all doom and gloom, though, as Chelsea's young players really impressed me in the first leg of the FA Youth Cup final earlier this week. They were just edged out in a cracking match against Fulham, who were outstanding, but there was plenty of talent on show on both teams. I look forward to seeing how these young men get on in their careers.
Real preparation paid off
A Real Madrid versus Atletico Madrid final will be a wonderful event, much like the Bayern Munich v Borussia Dortmund final last season with one country providing both teams, and a traditional powerhouse taking on an underdog punching above their weight.
Real certainly showed the power and the pace they have in their win over Bayern, not to mention their threat from set plays.
Pep Guardiola has taken his zonal marking system with him from Barcelona, which I am a fan of, but I felt deploying an attacker in Thomas Muller against Real's best header in Sergio Ramos was a mistake.
As a forward myself, I know how hard it is to switch to being a defender at set plays. It's something you have to do sometimes, but Muller could easily have slotted in across the six-yard line to allow Dante or Jerome Boateng to pick up Ramos. Having him as a man marker was not right.
I would always rather my team's best header went man to man against the opponent's best header with the zones acting as a safety mechanism rather than the other way around.
It may seem like a small detail but I have watched so many set piece set-ups over the years and looked at many more in coaching books looking for the ideal system to put into use when I get my chance as a manager.
Bayern nearly scored with a complicated corner routine whereby the taker gives it short, then its passed on before being reversed back to the original taker. It looked great and nearly came off but I had seen them do it against Stuttgart in the Champions League in 2010 and had written it down as one to use myself so it was no surprise to me!
At the other end, Real knew not to take inswinging corners as Manuel Neuer comes for most things but outswinging corners prevented him from doing so. You have to give credit to the coaching staff for putting such detail into their preparation as certainly I don't believe it was luck.
I spent time with my ex-Ireland colleague Steve Finnan discussing the pros and cons of various defensive set-ups at set plays over lunch. Rafa Benitez uses a great zonal system which I liked; I prefer a mix between zonal and man marking, but it really does depend on your players' heights, their willingness to head the ball, diligence in marking or blocking and so forth.
The danger in man marking was evident in the recent Liverpool v Chelsea match where Tomas Kalas got free after his man marker was blocked. There is no perfect system.
I wrote last week about the importance of keeping your team private otherwise the opposition can plan set plays in advance and decide on a player to isolate at a corner. It worked for Real at the Allianz Arena and would have worked for Chelsea at Anfield had Kalas not sent his header just wide.
As for the Champions League final, I look forward to a fascinating battle between two fantastic sides.
I hope the street-fighting Atletico win out but Real have a few absolute titans who can produce moments of magic and win a game by themselves.
That can often be the difference - remember Zinedine Zidane's volley on his so-called weaker left foot? Real have spent to acquire genius like that so it is going to be a wonderful tie.
Teams should stay off the beach
Domestically there is so much at stake for so many teams up and down the leagues in England at this stage of the season. Teams need to win to gain promotion, get into the play-offs, get into Europe, avoid relegation, win the league - you name it.
Massive clubs like Birmingham need points or face the prospect of Sky Bet League One whilst others such as Leicester and Burnley in the Sky Bet Championship are already promoted and are already thinking of their holidays. This makes it a very intriguing time as some results look unthinkable until you delve a little further.
Those needing points this weekend will want to play teams that are already safe or promoted.
Leicester, for example, were promoted and then subsequently lost 4-1, a result which was no doubt a cost of too much celebration.
In the Premier League, Newcastle have been safe in mid-table for a while and their results have subsequently tailed off, likewise West Ham, and although those teams are happy to be in the league next season their safety has meant performances have dropped.
Lower down at my club, Oxford, we cannot make the play-offs and our next opponents, Northampton, need a point to stay in the division. Wycombe, who need us to win to give them a chance of staying up, would hope that we needed a win so the intensity is there.
There are numerous examples of this up and down the country. As a professional you need to turn up and put on a performance no matter what but once the holy grail of safety is reached, a dip invariably follows.
As an outsider, you have no idea how these teams with nothing to play for are preparing. Perhaps they have had more days off than usual, maybe they had a few nights out, who knows?
These things go on but you hope all of the teams involved, regardless of whether they are already promoted, relegated or in mid-table safety, put in a professional performance so that everyone has a sporting chance on the last day of the season
Giggs could learn from Van Gaal
It would be great to see Ryan Giggs do well in his role as caretaker manager at Manchester United but it would also do him no harm to work under a different manager such as Louis van Gaal.
Giggs has spent all his club career apart from this season working under one manager and no doubt he has learned plenty about motivation and free-flowing football from the master.
Under Van Gaal he could learn under a master tactician and it will only help him be a better manager when the time comes.
Even Guardiola spent time as the reserve team boss and you wouldn't want to lose someone like Giggs to the game because he jumped straight in