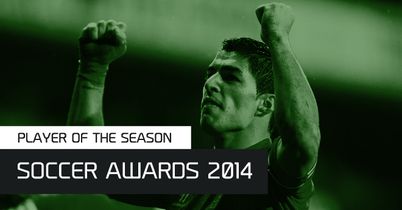 Matt Stead hands out the penultimate award of the 2014 TEAMtalk Soccers ceremony to the Premier League Player of the Season.
With the PFA, FWA, FSF and Barclays Premier League Player of the Season awards already handed out, the Premier League's finest have been waiting with baited breath for weeks to find out the destination of the prestigious TEAMtalk Soccer Award for Player of the Year.
Considering previous winners include Gareth Bale, Robin van Persie, Carlos Tevez and Frank Lampard, it's clear to see that only the best of the best can even be shortlisted for this award.
Indeed, this year's top five does not disappoint. That the likes of Steven Gerrard, Pablo Zabaleta, Sergio Aguero, David Silva and Gary Cahill fail to feature after fine seasons is a testament to the competition. Also, despite polling one vote each, Tony Hibbert, Jon Obi Mikel and Curtis Davies somehow miss the cut.
So, without further ado, let's reveal your top 5 Premier League players this season.
5. Eden Hazard (Chelsea)
Unfortunate to finish as low as fifth, Hazard enjoyed a more than stellar season at Stamford Bridge. With 18 goals and 10 assists in all competitions - the highest for the club on both counts - the winger gradually became Chelsea's focal point more and more as the season wore on.
Some, including his own manager, still scrutinise his supposed slack work-rate and perceived defensive frailties but, in truth, Hazard is Chelsea's standout player by far.
This campaign has truly strengthened his standing amongst Europe's established elite, which, given he is still only 23, is quite remarkable. The Blues' transfer priority this summer should be to keep hold of the Belgian, with the likes of PSG possibly waiting with a monumental bid.
Considering Hazard's age, it's scary to think that he may not quite have hit his peak yet. If this last season is anything to go by, an improved Hazard could be the league's best in years to come.
4. Daniel Sturridge (Liverpool)
Of the most improved players this season, Sturridge would surely head the list. Having scored 42 goals in 153 games in all competitions for Manchester City, Chelsea, Bolton and England before joining Liverpool, his record as a striker was less than inspiring.
There was always promise there, however, as a move to Liverpool last January has most certainly proven. His record of 26 goals in 39 games this season is certainly a strike-rate that most players in world football will envy, as the Premier League Player of the Month for August and February doubled his previous best single season in terms of goals scored (13 in 2011/12).
This season was his most productive ever in terms of assists, too (7), as he went some way to shedding his 'selfish' tag. His contribution to Liverpool's unlikely title challenge cannot be understated, either.
Sturridge's goals won Liverpool 20 points this season
, more than any other player in the Premier League. Indeed, if his strike partner wasn't a certain Uruguayan, you feel that Sturridge's achievements this season would receive higher praise.
With just team-mate Luis Suarez besting his goals per Premier League game ratio this season (0.79 gpg), the 24-year-old will hope that his incredible improvement will carry into the World Cup this summer.
3. Aaron Ramsey (Arsenal)
Considering he managed to feature in just 22 games this season, the fact that Arsenal's new talisman finishes so highly on this list is outstanding. Ten goals and eight assists in an injury-beleaguered season is a brilliant return - especially for a midfielder.
While his goals will understandably claim the headlines - much as his winner in the FA Cup final earlier this month did - his all-round contribution should not be ignored. Without Ramsey, Arsenal often looked like a completely different beast to the one that occupied the Premier League's top spot for the majority of the season.
Another young star on this list, the 23-year-old encapsulates a promising future for Arsenal, having inspired the end to their trophy drought. Despite missing nearly half of their Premier League campaign, the midfielder has likely still been the standout player for the Gunners this season.
Indeed, what may have been for Arsenal's season had the Welshman remained fit.
2. Yaya Toure (Manchester City)
Don't let his or his agent's recent actions shroud your opinion of Toure's season, as the towering midfielder went some way to deciding the destination of the title this season.
Polling 33.33% of reader votes, Toure would probably be a runaway winner in any other season.
As it is, he'll settle for the runner-up prize alongside his Premier League winners medal. No striker would turn down 20 goals and 9 assists in a season, never mind a midfielder whose previous best goal tally for a season was 10.
It's not just his goals that has set Toure's season apart from most others, though. As well as becoming the second midfielder to plunder at least 20 goals in a Premier League season, Toure also topped the ranking for average passes per game (71.5%), and was amongst the best for his pass success percentage (90.1%).
While such statistics should be examined in context, they only add to Toure's importance for the Premier League champions this season, and he is a more than worthy runner-up.
1. Luis Suarez (Liverpool)
Having won the PFA, FWA, FSF, FTBpro and Barclays Premier League Player of the Season awards, Suarez will have to make room for yet another gong on his mantelpiece as your votes mean that he is the TEAMtalk Premier League Player of the Season for 2013/14.
Nearly two thirds of the votes calculated (61.5%) backed Suarez for the award, and rightfully so. Amongst his achievements above, this season has also seen him named in the PFA Team of the Year, while he was also the Premier League Player of the Month for both December and March.
On top of his Premier League golden boot - won by nine clear goals - the Uruguayan's incredible goal haul also earned him the European Golden Shoe, shared with Real Madrid's Cristiano Ronaldo.
His 31 goals has also equalled the record for a 38-game season, in which his 10-goal haul in December 2013 set a new Premier League record for goals scored by one player in a single month.
It truly has been a record-breaking season for a man who came so close to joining Arsenal in the summer. His previous on a football pitch is well-documented - both good and bad - but Suarez's exploits this season have often been mind-boggling.
The striker isn't without his critics, having been labelled as a 'flat-track bully' for his propensity of scoring against 'weaker' sides but failing to punish 'bigger' sides, but his incredible feats simply cannot be downplayed.
A previous criticism was his profligacy, with a shot conversion rate of 8.6% over 2011/12 and 2012/13 combined. Over this season, the striker has improved this rate to 20.4%; testament to both himself and manager Brendan Rodgers for turning a supremely skillful player into one of the best players in the world.
On only a handful of occasions has a player truly taken a Premier League season by storm and made it their own. With his quite incredible 2013/14 season, Suarez has surely joined this elite group, and is the overwhelming winner of the TEAMtalk Player of the Season Soccer award.