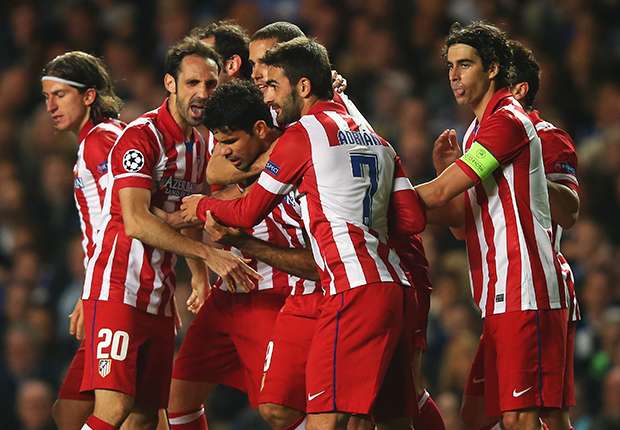 Diego Simeone's men booked a final clash with their local rivals Real Madrid with a tremendous win over Chelsea and are 90 minutes from one of Europe's great stories
The most incredible dream could yet come true for Atletico Madrid after Wednesday's 3-1 victory over Chelsea secured one of the most improbable final appearances in Champions League history.
The Rojiblancos turned in a marvellous away-day performance, straight out of the same textbook they have been using during a magnificent campaign which puts them three wins away from an astonishing double triumph.
While many of the world's biggest clubs – Chelsea included – have been able to splash the cash on some of the game's greatest players, the Spanish underdogs have instead based their quest for both domestic and European glory on a small squad containing rejects and so-called has-beens, all moulded together by the genius coaching of Diego Simeone.
And it is fast becoming one of the most wonderful stories the European game has ever seen.
The 0-0 draw in the first leg at the Vicente Calderon suited them down to the ground. Chelsea had not particularly wanted an away goal, and as soon as Atleti got one of their own the tie was all but done.
Many teams would have folded after Fernando Torres had given Chelsea the lead, but Diego Simeone's men are not cut from that kind of cloth.
Match Summary
Chelsea 1 - 3 Atlético de Madrid
Champions League
30/04/2014 19:45
Referee: Nicola Rizzoli
|
Venue: Stamford Bridge
Gary Cahill

31'

Fernando Torres

36'

Samuel Eto'o

Ashley Cole

54'

Demba Ba

Fernando Torres

67'

André Schürrle

Willian

77'
Adrián

44'

Diego Costa

60'

Diego Costa

60'

Adrián

65'

Raúl García

Adrián

66'

Arda Turan

72'

José Sosa

Diego Costa

76'

Cristian Rodríguez

Arda Turan

84'
Adrian Lopez struck after Eden Hazard failed to track Juanfran's run, and from that point on there was never any doubt which team was heading for Lisbon. Diego Costa slotted home the second from the spot after being felled by Samuel Eto'o, and Arda Turan followed up his own header off the post to well and truly kill off the tie.
By the end, it could have been 5-1, or even six. Atleti went about putting their foot on Chelsea's throat, partly because the Blues began to coast but mainly because it is the only way the Spaniards know how to play.
Simeone has drilled a magnificent ethic into his team. They were expected to fall away in February, but didn't. They were written off in March and April too, but as May begins, they are six points away from winning La Liga and booking their flights for the Champions League final.
Tiago Mendes told Sky Sports after the game that the coach has changed the club's entire ethos.
"I think Simeone has a lot to do with it," he said. "He changed our mentality. We all work together, we work as a team. I think playing as we play we are the strongest team in the world and we deserve what we have.
"It is true we have achieved nothing yet, but we are close."
With Simeone's help, they have shown the way for clubs outside of the sugar daddy-run elite. Far from sulking and resigning themselves to defeat every time they are faced with a traditional giant, they have proven that with the right mentality, the right tactics and the right physical approach, anyone can find a way to beat the assumed best.
Milan, Barcelona and Chelsea have all been brushed aside by a better team. They have all been beaten by a more united bunch, a group with neither heirs nor graces, a collective in every sense of the word.
Simeone's men are cautious yet adventurous. They are structured yet full of flair. They are a model - on the pitch - for the rest of the world's underdogs to follow. And, most importantly, they are heading for the Champions League final and a clash with their local rivals Real Madrid.
The fairytale has one chapter remaining.