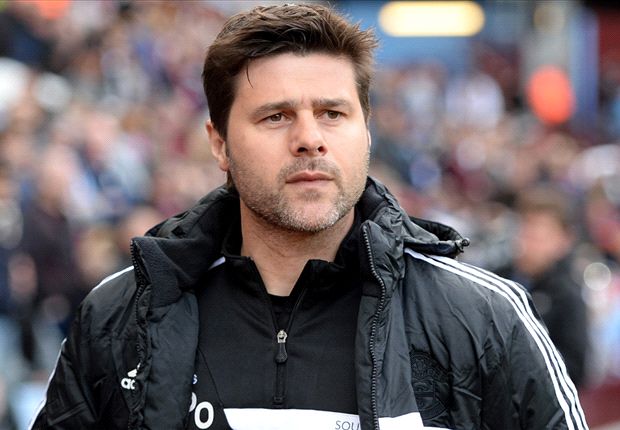 The Argentine's intensive pressing is perfect for the pace of the Premier League, and his appetite to attack and entertain should appeal to a fanbase obsessed with 'the Spurs way'
Given the rumours linking
Tottenham
with Louis van Gaal and Frank de Boer, the news that
Mauricio Pochettino
is
set to become the new head coach
carries just a whiff of disappointment.
There had been a sense that Spurs needed a proven manager with pedigree and authority, someone with the acumen needed to deliver a top-four finish, instead they have gambled on a coach still learning his trade.
Pochettino was beaten twice by former incumbent Tim Sherwood and sacked by Espanyol barely 18 months ago with the side bottom of La Liga.
The fear for many fans is that Pochettino is merely the manager easiest to tame for chairman Daniel Levy. While the explosive and talkative Sherwood was publicly attacking De Boer's overtures, the Southampton manager kept his distance from reports linking him with the Spurs job.
But, in a manoeuvre that hints at the political savvy he will need at White Hart Lane, the Argentine shrewdly never distanced himself from the speculation either.
Unlike Sherwood, meanwhile, who wanted to rip up a side he deemed deficient in desire and rebuild with an English core, or De Boer, who wanted to take control of every minutia of the club's philosophy from grassroots up, Pochettino will work with the squad at his disposal and is happy to defer to a director of football.
On the face of it, Pochettino is simply the choice that does not rock the boat, a somewhat uninspiring 'yes man'. And yet he is so much more than that.
It is quite remarkable how quickly he has turned Southampton, 15th and three points above the drop zone when he arrived on the south coast in January 2013, into a club that feels as though they are, and always have been, a top-half Premier League side.
But that supposed status belies the fact that they were winning promotion from League One just three years ago and were in a battle to stay in the top flight when Pochettino arrived. Now, they have set a new club-record Premier League points tally and their eighth place finish is their joint highest since 1990. Pochettino has far exceeded even the loftiest of expectations, all the while playing attacking, high-velocity football.
English Barclays Premier League


Home
Away
Pos.

Logo &

Team
P
W
D
L
W
D
L
GD
Pts
14
Sunderland
22
4
3
4
2
4
5
-5
25
15
Southampton
22
3
4
4
2
3
6
-10
22
16
Newcastle United
22
5
1
5
0
5
6
-12
21
RAPID IMPROVEMENT | Southampton were 15th when Pochettino arrived, above, and finished this season in eighth, below
English Barclays Premier League


Home
Away
Pos.

Logo &

Team
P
W
D
L
W
D
L
GD
Pts
7
Manchester United
38
9
3
7
10
4
5
21
64
8
Southampton
38
8
6
5
7
5
7
8
56
9
Stoke City
38
10
6
3
3
5
11
-7
50
After such an excellent season, then, it is curious that a looming announcement should carry such a sense of the underwhelming. He is not the established, proven, exotic name fans might have hoped for, but in many ways it feels as though Pochettino provides the chance for Levy to right a wrong – or, rather, two.
The Tottenham chairman fell for the wrong man when he appointed Andre Villas-Boas two years ago, and the decision to hire Pochettino has unquestionably been influenced by the successes of Brendan Rodgers and Roberto Martinez on Merseyside after they had been overlooked for the Spurs post previously.
Neither would have prompted much awe or excitement then, much like Pochettino currently, yet the decision to shun two managers who have excelled away from White Hart Lane feels, in hindsight, like a major error of judgement. Limbs would be cut off if it meant there was a chance that either could be lured to north London now, so why does the same fervour not surround Pochettino?
The 42-year-old's achievements dwarf those of his counterparts at their previous clubs, and he's even done it on a similarly meagre budget. Detractors will of course point to the club's £36 million summer outlay and outstanding academy, yet the Saints' wage bill – a much truer indication of a club's stature and their place within the food chain – stands at just £47m, placing them 18th in the division.
In fact, each point Pochettino has won this season has cost approximately £839,000, which is less than the cost of each point for Martinez's Wigan (£1.22m) in the 2012-13 campaign. In pure transfer fees, Southampton's most-used XI this season is less expensive too, costing £2.15m per head compared to £2.3m for the Latics. There are even similarities between Pochettino's tenure at Espanyol, Rodgers' ill-fated spell at Reading and Martinez's relegation.
Pochettino has Southampton punching far above their weight and, more impressively, he's done so playing an exciting, pulsating and thoroughly modern brand of football. Even if he does not have the trophy-laden CV Tottenham fans might have wanted, his philosophy feels like a cosy fit for the style and panache Spurs fans demand.
The hallmark of Southampton is their relentless, structured pressing, which draws parallels with the intensity shown by Barcelona in the early years of Pep Guardiola's tenure. "Our style of play is to win back the ball as soon as possible and then play it," says Pochettino. "It may seem like we are running more, but really we are just running in a more organised way."
Unsurprisingly, only Manchester City (147) and Chelsea (153) have won possession in the final third more often than Southampton (146), while only the Londoners have completed more tackles in the opposition's third.
Such aggressive defending from the front, coupled with a more disciplined shape, has turned the Saints into one of the hardest sides to breakdown. Statistically they have the sixth best defence in the division, having conceded 46 goals, while Man City (122) and Chelsea (123) are the only sides to have conceded fewer shots on target than the Saints (130).
They are the Premier League's arch-disruptors too. Every single side in the Premier League saw their pass success fall compared to their seasonal average in games against Southampton (with an average drop-off across the division of 7.4 per cent), every side recorded their worst or second-worst pass success in games against Southampton, while Crystal Palace (by all of 0.4%) were the only team whose possession didn't dip significantly below their average when they took on the Saints.
Incredibly, all this has been done with a back-line that looked woefully inadequate under Nigel Adkins. When Pochettino took over, the club were conceding 1.8 goals per game. Now they concede 1.2. On average, Southampton take 4.4 shots per match more than they concede under Pochettino – a shot difference that ranks them only behind the league's top three – but under Adkins they conceded 1.7 shots per game more than they took. It's an absolutely staggering swing.
This transformation has been enacted with the second youngest side in the Premier League, with an average age of just 24.03, and Pochettino's willingness to teach and educate players will appeal to an equally young Spurs side.
As well as having a style of play that feels very current - Atletico and Real Madrid showed the benefits of physical, counter-punching football to reach the Champions League final. Southampton can also match their frenetic pressing and pacey countering with more methodical play, as their average possession of 58.7% – the most in the Premier League – attests. In fact, only six teams in Europe have better possession stats.
Far from Pochettino being a manager focused on defence, he encourages his side to play expansive, free-flowing football. "Mauricio always wanted his teams to treat the ball well, to be very proactive, not just to wait for the opposition," revealed Ramon Planes, Pochettino's sporting director at Espanyol.
"He wanted his teams to be dynamic, brave and attacking – and that's still his approach. He wanted the pace to be high and for the team to really press. [He] gives the players freedom to express themselves. He gets on very well with the players; he takes the pressure off them and makes them feel free. He's not a policeman."
It also gives an important indication as to the psychology Pochettino wants to instil in his side. They never fear opponents, never go into matches feeling inferior and always look to impose themselves.
"Southampton produced the best performance anyone has done here this season," said Sir Alex Ferguson after Pochettino's Southampton had visited Old Trafford 12 days after the Argentine took over from Adkins. "They pushed right on top of us and didn't give us time to settle." The 42.6% possession United managed that day was their lowest all season.
Until Chelsea's recent visit to Liverpool, meanwhile, the Saints had been the only side to win or even keep a cleansheet at Anfield this term, while the 44% possession Manchester City posted against the Saints was, by quite a margin, their lowest against any opposition.
"He's given us a belief that no matter who the team is in front of us, whether it's Manchester City or a lower-league team, we can go out and beat them," says James Ward-Prowse. That willingness to try to dominate loftier, supposedly superior opposition is exactly the type of mentality Spurs need if they are to claim a Champions League berth.
Pochettino is a fascinating manager because of how adaptable he is, a rare quality among a peer group who can become fanatically attached to one set philosophy. His sides are capable of dropping deep and playing on the counter, or taking command of possession, and there is wonderful harmony between discipline and freedom. At White Hart Lane he will have a group of players that suit his style, and who will welcome his more charismatic, inspiring presence after a fractious spell of discontent under Sherwood.
The Argentine may not be the type of star-dusted appointment that provokes butterflies in the stomach - though perhaps he ought to - but he is an excellent selection nonetheless and feels like a great fit for Tottenham. The north London club may have erred by passing up on Martinez and Rodgers, but in Pochettino they may finally have got the right man.