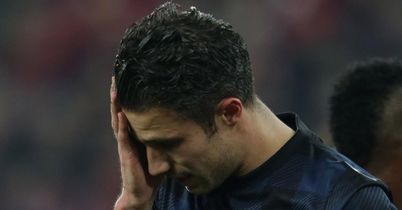 Robin van Persie has described Manchester United as "lousy" but insists David Moyes needs time to put things right at Old Trafford.
United's season went from bad to worse on Tuesday night when they went down 2-0 to Greek champions Olympiakos in the first leg of their Champions League last-16 tie.
Given United, the defending champions, are currently some 11 points off fourth spot in the Premier League, it has been suggested that Moyes is on borrowed time.
Van Persie, however, has backed his boss.
"He is new and needs time. He's working hard and so are we," van Persie is quoted as saying by
The Sun
.
"It's easy to point at the manager but that's not who I am. We need to do it on the pitch."
But the former Arsenal man refused to pull any punches on their current plight.
"We are lousy - in a lousy position in the league, out of the cups and this looks a difficult one also," he said.
"We are very disappointed. It's a tough season.
"Sometimes we play good but not always. And we are not lucky. That's no excuse, though. We need to turn it around.
"We are able to play in a high tempo with massive power but in Greece it was all too slow.
"Olympiakos didn't create a lot either. The first goal was lucky, the second goal was a great one and for the rest of the game they didn't have any good chances."
Van Persie insists that United can still go through against Olympiakos but concedes things won't be easy.
"It is possible to beat them at home with 2-0 or 3-0, but it won't be easy," he concluded.