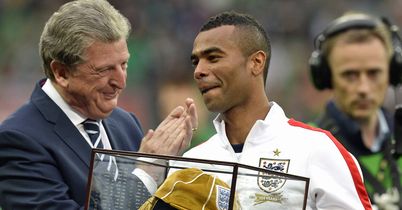 Roy Hodgson admits he may have to leave one of his experienced players out of the squad for this summer's World Cup.
The England boss gave the clearest indication yet of the players who are in his thoughts for the tournament - which gets under way on 12 June - in naming a 30-man squad for next week's friendly against Denmark.
Ten of those named have fewer than five caps and Hodgson says he may have to disappoint some of the country's established players when he names his squad for Brazil.
"I am very conscious of the fact that I could have to leave a big name out," said Hodgson.
"It was a very different kettle of fish a couple of years ago (before Euro 2012), I don't think there was much debate then.
"It wasn't easy before the Euros to be honest. This time it is going to be even harder.
"Because before the Euros at least I was choosing names of players I knew and players I had seen play but had never really worked with.
"This time I will have to disappoint some people I have worked with who have maybe done a good job for me and the team."
The spotlight is likely to fall on the likes of Chelsea duo Ashley Cole and Frank Lampard and Manchester City's James Milner, who are not regular starters for their club sides.
Cole, especially, is under pressure, with Southampton's Luke Shaw receiving his first call-up to the squad for the Denmark again, along with established left-back Leighton Baines.
Cole has 106 caps to his name but has only made 12 appearances for Chelsea this season and Hodgson admitted Shaw would likely get a chance to impress next week.
"It is a logical thought but I can't make promises," he said. "I think everyone who has watched him play recently will not deny that he deserves a place in a large squad like this.
"It would be nice if he gets to play on Wednesday night, but that decision hasn't been made."
The deadline for final squad submissions for the World Cup is 2 June 2, but Hodgson is keen to name his party early so he will announce his 23 players on 13 May, with an additional seven players on standby.
However, he admitted that his squad could well change from the one named for the game against Denmark.
"This is not a definitive list," he added. "The fact someone is on this list does not say he will be going or be one of the seven standby players because I reserve the right to change my mind on those subjects."