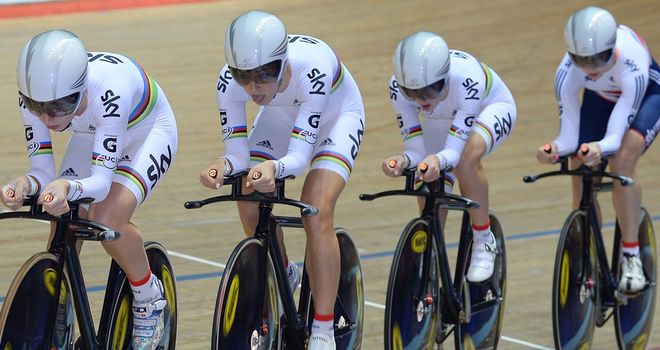 Great Britain's women's team pursuit squad have played down the prospect of breaking their own world record at the Track Cycling World Championships in Colombia this week.
The quartet have set new best times on no fewer than six occasions since the event was expanded from three riders over 3km to four riders over 4km ahead of the 2013/14 season.
They last smashed the record at the Track Cycling World Cup in Aguascalientes, Mexico, in December, when high altitude and a notoriously quick track helped Dani King, Joanna Rowsell, Elinor Barker and Katie Archibald set a blistering mark of 4min 16.552sec.
However, the track for the world championships in Cali is not only lower and generally regarded as slower than Aguascalientes, but it is also open-sided, meaning the riders can be exposed to wind, and even rain, coming into the arena.
'More variables'
King consequently believes breaking the world record for the seventh outing in a row in Thursday's race is unlikely.
"It is going to be hard to go quicker than the final in Mexico just because of the altitude and that track was so fast," she said.
"We are always progressing, but I am not sure we will go quicker than Mexico just because that was such a special track. Cali is at altitude, but it is not as high as Mexico. With the sides being open and things like that, there are a lot more variables."
Trott, who sat out the team pursuit in Aguascalientes but is back in the frame for the worlds, has experience of Cali's track and while she enjoys racing there, she is aware that it can generate unexpected outcomes.
"We really want to win and we have got a bit of a run going on at the minute, so it would be nice to keep that."
Laura Trott
"I have been to Cali twice before," she said. "There are times when I have been there when one straight is a headwind and one straight is a tailwind, but if you are lucky enough that the wind dies down at the end of the session in the last heat, you haven't got any wind. It could be a mix, but it is a nice place and I like it over there. It is a nice track."
Hot streak
The British squad has become one of the most dominant teams in world sport over the past three years and have travelled to Colombia having not been beaten since before the London 2012 Olympics.
They are heavy favourites to win the world title for the fourth successive year and although anything but that outcome would rank as a huge shock, Trott insists a defeat would not be a disaster.
"It is not win or nothing for us," she added. "Obviously we really want to win and we have got a bit of a run going on at the minute, so it would be nice to keep that, but for us, as long as we keep improving and we go out on the day and perform the best ride that we can, then that is all we can do."
The Track Cycling World Championships take place from Wednesday to next Sunday.